Get Featured: Gerardo Korn
Gerardo Korn, a German Argentine who lives in Buenos Aires, is a fine art photographer who specializes on black and white film photography.
His father taught him at an early age the basic rules of photography and gave him his first SLR-camera (a Minolta SR-T 101) for his 15th birthday back in 1977 during a trip through Asia. There, in Indonesia, Hong Kong and Japan, he shot his first two film rolls. Since then a lot of water has flowed under the bridge, but he never lost his enthusiasm for photography!
His work has been exhibited in Buenos Aires in 2016, at the prestigious Centro Cultural Borges, and in Berlin in 2017, at the Argentine Embassy in Germany.
In 2018 the Buenos Aires City Legislature declared the series "Buenos Aires – Revelaciones" (Revelations) of cultural interest.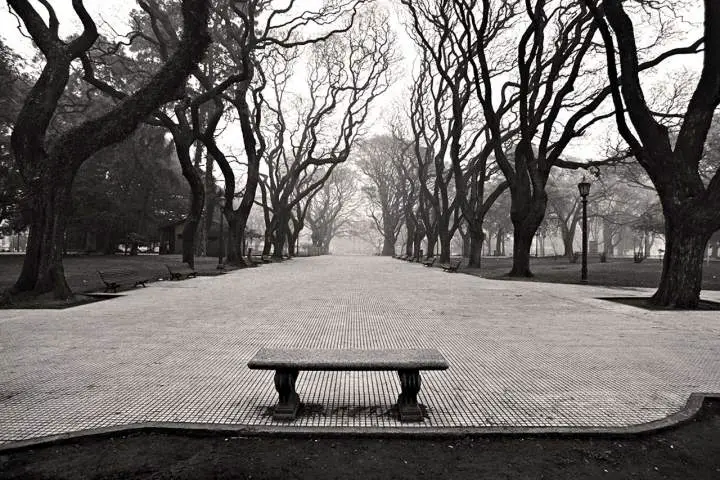 From "Revelations Of A Dreamer"
(by Virginia Fabri,
International Relations & Photography Department at
the Centro Cultural Borges in Buenos Aires and 
curator of his exhibition there in 2016)
What is it that moves Gerardo to wake up in the middle of the night to photograph the metropolis of Buenos Aires, timeless, full of beauty, in the absence of people, while the rest of us sleeps?
For Jorge Luis Borges, all that exists outside oneself is an illusion. When almost everyone sleeps, only a few can perceive the external reality and dream the world, a world that would cease to be if everyone all at once stopped perceiving it. And Gerardo is without doubt one of these dreamers who keeps up this world alive, this illusion.
Like a romantic, he continues to use the same camera he purchased new more than thirty years ago; he loves to photograph at dead of night or in the wee hours of morning; he likes empty spaces where one can sense the fullness and beauty of the neighborhoods and their streets bathed by diffused light and by dew, leaving an indelible mark on the pavements.
The inner urge to portray his hometown off guard and to be the only witness to it. An almost spiritual journey, a revelation…
Photographs from the series "Buenos Aires – Revelations" taken with Kodak Tri-X black and white film between 2011 and 2016 using a Canon "New F1" bought new in 1982.

Last November he had an exhibition of his work in Germany, at the Wintershall Holding company in Kassel, and very soon he will be holding his first exhibition in Asia, at the Cosmic Heart Gallery in Mumbai, India.
(new website coming soon)
Click on this link and send in your project/work: 
Get Featured
. *I am looking for mainly projects, not individual images*
Oh, and click here to see a few of the photographers that have been on the site before https://www.japancamerahunter.com/?s=featured
Please submit your images (not website links)  1500px across. It would also be extremely appreciated too if they are numbered and sequenced appropriately.
There is currently a wait of around 3-4 months due to the level of submissions. Thanks.
Please make sure you come and comment, polite and constructive critique is welcome.
Thanks
JCH