Family photos pulled from Hurricane Harvey's floodwaters
After the horrific devastation of the Hurricanes in the USA, it is heartwarming to see a story of saving memories that were very nearly lost.
By Michael C. Duke
Record-smashing rainfall brought by Hurricane Harvey flooded tens of thousands of homes across the Texas and Louisiana Gulf Coast, including my grandmother's home in Southwest Houston.
Despite being located in a flood-prone area, her single-story house had never flooded before in more than five decades of her living in that house.
As a result, my grandmother, Jeanne Samuels, who will be 94 this December, was caught off guard by the foot of floodwater that made its way into her house a few hours after Brays Bayou crested on Sunday morning, Aug. 27.
My wife and I were dealing with our own flooding situation at our home near Downtown Houston that morning when my brother called me in a panic after speaking with our mother, who, along with a cousin and a friend, thought they'd be safe at my grandmother's house upon Harvey's arrival.
Quickly getting off the phone with my brother, I called our mother to insist that they evacuate the house as soon as possible. I then phoned several of my grandmother's neighbors in search of an evacuation route. Thankfully, we found one. My grandmother and everyone else in the house, along with three dogs, managed to wade through rising floodwaters in the backyard, crossed through a small opening in the fence, and found shelter in a friend's multi-story house the next block over on higher ground.
Over the next 36 hours, residents in my grandmother's neighborhood of Willow Meadows became first responders, performing hundreds of rescue operations, often by boat, throughout flooded streets in the area.
When floodwaters receded two days later, we were able to access my grandmother's house. Virtually everything from the floor up to about a foot was destroyed.
Family members, friends, coworkers and waves of perfect strangers then proceeded to re-flood my grandmother's house with help, tearing out damaged flooring, drywall, furniture, appliances and property.
By the following Monday, much of her life and reminders of 67 years of marriage to my grandfather, Joseph Samuels, who died in 2011, had been piled up in mounds of discarded debris that has consumed most, if not all, of her front yard.
On Saturday morning, Sept. 2, we were busy mucking out one of the back bedrooms in my grandmother's house when my brother and mother discovered a wooden suitcase at the bottom of a closet.
Inside, we discovered a large cache of photographs and negatives, the oldest of which were dated from the early 1920s. They had belonged to my great-grandfather.
The items had sat, submerged, in floodwater for at least a day, plus however long it took for their eventual discovery. By the time we got to them, the contents were well on their way toward become a solid block of pulpy slime.
Initially, we tried to peel some of the prints apart and laid them out on folding tables in the yard, weighted down with small stones to keep the wind from blowing them away. I called my sister in Kansas City, who works in the museum world, and my brother-in-law, a skilled darkroom photographer, to ask for further advice.
They quickly searched online and found that by re-submerging both the prints and the negatives, we might be able to mitigate some damage and possibly even save portions of the mass.
Grabbing every available bin and tray we could find inside the house, half-a-dozen volunteers, including another photographer friend of mine who rushed over after I called her, dumped the entire lot into a bath of soapy water, followed by a clean-water rinse.
Over the next eight or so hours, we washed, separated and laid out to dry on tables and racks as many prints that could be salvaged. Meanwhile, we crisscrossed several hundred feet of electrical wire throughout my grandmother's backyard and used clothespins to individually hang dry every negative.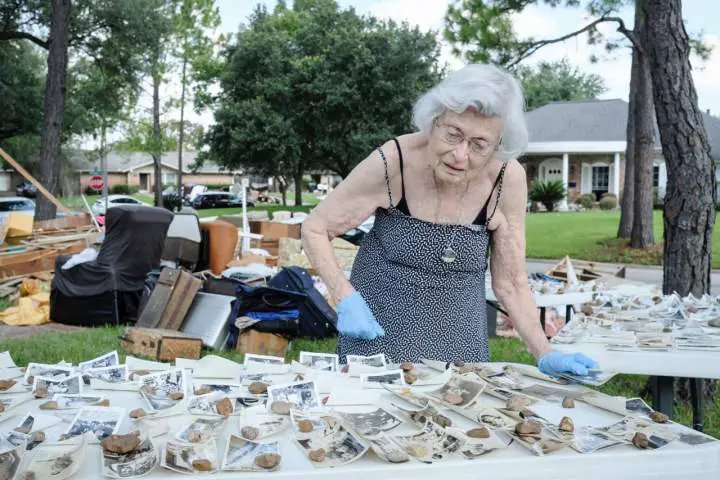 Jeanne Samuels inspects old family photos, which suffering flood damage during Hurricane Harvey, laid out to dry in her yard in Southwest Houston.
In all, we hung up about 1,500 negatives, and laid out another 1,000 or so prints. We also unspooled and stretched out a few 100-foot rolls of 8mm movie film.
Among the prints that survived, about 80 percent suffered some damage, though faces more or less are still readable. We lost an estimated 10 percent of the overall lot.
Family members spent hours washing flood-soaked negatives and hanging them to dry on lines strung across the yard.
While there are a few dozen negatives that suffered obvious emulsion damage, it appears that a majority somehow escaped destruction. I'll know for sure over the coming days and weeks, when I'm able to scan each individual negative for inspection.
Eventually, my goal is to digitize the entire archive and make it into a book for my grandmother and anyone else who'd like a copy.
Of all my grandmother's losses from Hurricane Harvey, the old family photos have been among the hardest to accept – for my grandmother and for the entire family.
After giving the negatives 24 hours to dry, I picked one out from the pile and ran it through my scanner. The image was of a woman clutching a newborn baby.
I texted the raw scan to my mother, who then showed it to my grandmother. I received a response within seconds, despite it being late at night.
"That's my mother and me when I was new!" my nearly 94-year-old grandmother replied.
The other test scan I've included, here, is an image of my grandmother and a cousin from 1927. The results are promising.
Family members worked together to lay out 1,000 photos discovered in a suitcase submerged in Hurricane Harvey's floodwaters.
Raw scan of a negative pulled from Harvey's floodwaters, showing its owner, Jeanne Samuels, 93, as a baby in her mother's arms.
Thanks for sharing this heartwarming story, Michael. I am so happy to hear that you all managed to save so many of the memories.