Get Featured: Jessica Hobbs
I am plughing my way through the submissions. Jessica sent this one in a while back, but I didn't have time to feature it. Fortunately I do now and she was able to add some more of the project. Check it out.
My name is Jessica and I am a film photographer based out of Montreal, Quebec, Canada. My most recent project, Festival, was born out of the desire to leave the confines of my apartment, to become less anti-social and more creative, in combination with a yearning to travel the world. Never having had the rite of passage of the grand European backpacking adventure that many Canadians embark on following university, I hatched a plan.
Growing up on the outskirts of the city, I have often heard people refer to Montreal as the "City of Festivals", but I have only recently discovered how true a statement that really is. Having begun the project in March 2016, I made the decision to attend as many festivals and events as humanly possible within 1 year while capturing images that showcased a city in perpetual celebration. After 12 months of intense scheduling, I attended a total of 225 festivals.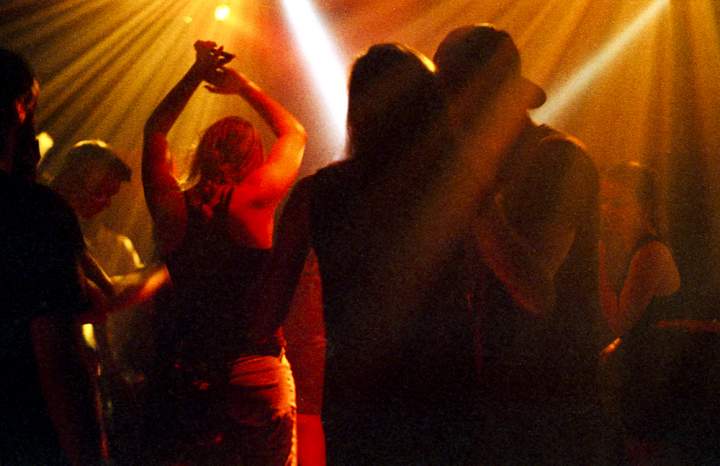 This project allowed me the luxury of hopping from country to country without having to endure the public spectacle of a full-body x-ray scan on a stopover at LaGuardia or JFK; without having to worry about my film getting fogged as it passed through customs; without, in fact, having to leave my own city.
Every day was a new adventure.
Through my experiences, I have learned that there is literally something for everyone. A veritable smorgasbord of celebration, there are a myriad of cultural, food, drink, music, art, film, and many more festivals that can't even fit into a traditional category. The sheer volume isn't just astounding, it verges on the ridiculous.
There is a festival dedicated to jazz music, one dedicated to doom/sludge metal music, and another where a composer has the horns of the ships moored in the Old Port all tuned together to play a piece of music created expressly for that day and inspired by none other than Agatha Christie.
A winter maple syrup festival, a day celebrating the croissant, and a festival for our national food dish consisting of French fries, sauce, and cheese curds, aka. the Poutine. A shopping extravaganza for cat lovers, one for dog lovers, and many more dedicated to artisanal and local talents.
There is a wide variety of film festivals to delight all ages, even a few that are held outdoors in parks around the city. Countless ethnic festivals highlight the diversity and pride of Montreal's multicultural make-up while street theatre and dance performances clamour for attention. And that is but the tip of the iceberg, there are just too many to name them all.
I found myself in a period of my life where depression was getting the better of me. I had no desire to leave my home and interact with the world around me, I wanted nothing more than to hide away. I felt lost and so, through my viewfinder, I have shed the layers of the person I did not want to be.
Over the last year I have learned to come out of my shell and connect with complete strangers through my 50mm lens, and I have had many amazing conversations with people I would never have met otherwise. I am walking away from my year with so many memories, both good and bad, many of them captured on the 100+ rolls of film now awaiting my attention.
While the choice to shoot my project on film was a no-brainer for me, which film to choose was another question. I remember flipping through the images that my friends would bring back from their travels around the world, the vivid colours popping off the photographic paper leaving me feeling as though I was there with them in the busy streets of New York, or the bustling markets in Morocco, or the winding alleyways in Italy.
I wanted a film emulsion that would mimic the creamy graininess and rich colours to evoke the very same emotions I felt back then… which led me to Agfa Vista 400. This film never ceases to amaze me, and it pushes to ISO 1600 ever so beautifully, when the occasion calls for it. As well, I had a budget to consider, which immediately ruled out Fujifilm (at $20 a roll at the time, it wasn't even really an option), and even Kodak Portra was still a little too rich for my blood, given the immensity of the project ahead of me.
Now complete, I am sitting on over 3,600 negatives and just beginning to make sense of it all. My ultimate goal would be to publish a book showcasing 1 year in Montreal's festival scene, and while I look forward to the challenges to come, the selection process will undoubtedly push me to the verge of total breakdown!
At the moment, my website is still dedicated solely to Festival as I have been keeping a blog of my adventures for all to follow along:
www.jessicahobbsphotography.com
… and I also post photographs and some updates from time to time on my Facebook page:
https://www.facebook.com/festivalprojectmtl
Jessica
Thanks for sharing your work with us, Jessica. I am seriously impressed, that takes a huge amount of stamina. Well done.
Click on this link and send in your project/work: Get Featured. *I am looking for mainly projects, not individual images*
Oh, and click here to see a few of the photographers that have been on the site before https://www.japancamerahunter.com/?s=featured
There is currently a wait of around 3-4 months due to the level submissions. Thanks.
Please make sure you come and comment, polite and constructive critique is welcome.
Thanks
JCH