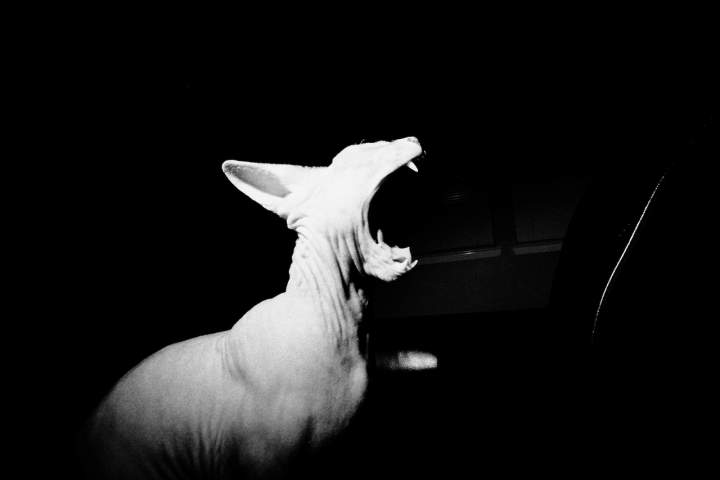 Get Featured: Clifton Barker
Clifton has a very different approach to photographing his pets. He shows his Sphynx cats energy and spirit in this yet unfinished project. All shot on film, of course. Check it out.
Thanks for your consideration for my (as of yet untitled) Sphynx project.  I submit this to you, firstly because it's truly a labor of love, and second to gauge the interest in this project—these photos have been created in a vacuum of sorts.  They are not exactly photos that the cat fancier would fancy, and my hardcore street photography cohorts are not as interested in candid cats.  Perhaps there is some overlap, could you and your readers weigh in?  DISCLAIMER* I know that Leicas are sacred, and I do also adhere to the Leica creed of 'street photography or die', but why not use the best cameras in the world for what you're passionate about?  J
I recently moved to Houston, from Austin.  Austin was a great town for street photography, something I enjoyed immensely.  Houston is such a commuter town, there are hardly any people on the streets, and those that are may be packing pistols!  (Texas is lovely, but wild)  Subsequently, I sold all my digital cameras, and moved to 100% film, I've got japancamerahunter.com to thank for that, in large part.  I love it so much; the patience it takes to perfect loading the reels, the pinkish tint of the rinse when you know you've got the antihalation layer off the 400TX, the look of strips drying with their perfect rectangles, the beauty of the matte side of the emulsion as it dries… it's a kind of magic, man. 
The cats have been my muses.  They've been gracious models for trying out new developing techniques, new lenses, new cameras, and most of all new FILM STOCKS!  As time progressed, the street photography aesthetic crept back into the photos.  The cats were much too fast for autofocus, manual focus was completely out of the question too.  To overcome this, the easiest way to get acceptable sharpness was to use a Super Angulon 21mm at f/22.  Eventually a Zeiss Distagon 18/4 and CV 15/4.5 joined the party, along with a pair of Leica MDa's, which are perfectly suited for this project.  You'd be surprised how close you can focus with an ultra-wide angle lens at f/22, the depth of field reaches behind the plane of the film!  But, stopped all the way down, even with all the lights on in the house, there was no way to get enough light in the frame.  Bing!  Flash.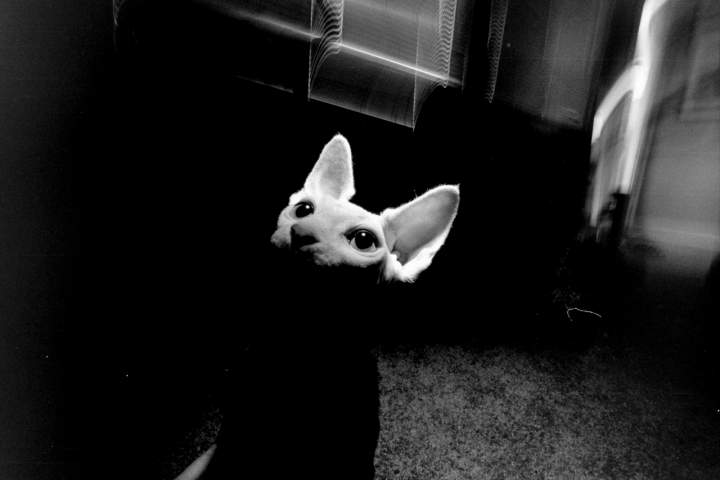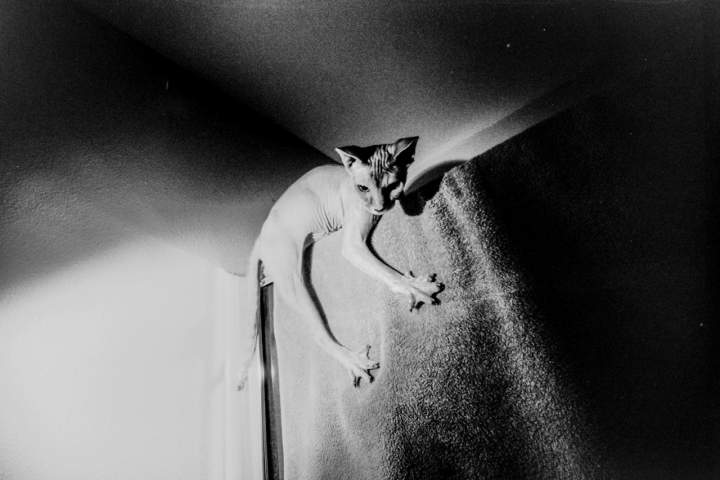 It was an organic move, I had wanted to try gauging film developed at different ASA's and different subject distances/flash levels to try and hone some skills for street photography.  I had spent a wonderful weekend in New Orleans shooting about a dozen rolls of film.  But, the rolls pulled out of the tank were disastrous!  It was evident that more practice experimenting in 'the lab' was needed.  The cats seem to love the flash, they would get excited and purr and wrestle when it went off.  The photos have been a huge source of pride.  I've spent countless hours shooting, developing and printing in the darkroom.  Current roll count as of 1/10/16: 863 x 36 exp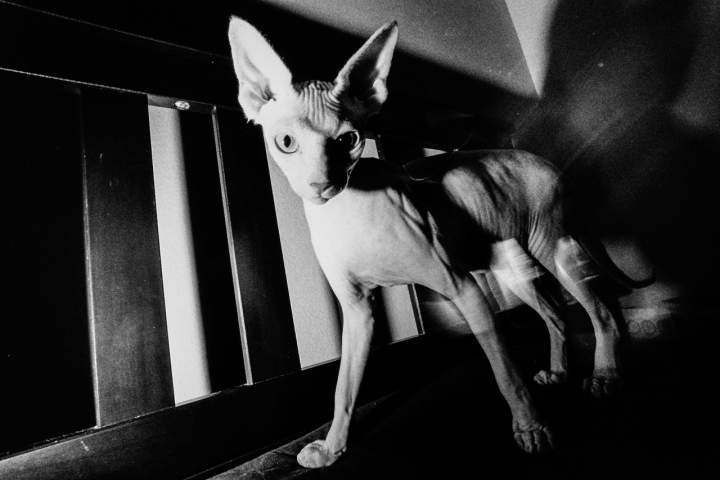 So, is there a possible book in here somewhere?
My kit:
Leica MD-2 w/ Leica SuperAngulon 21mm f/3.4
Leica MDa w/ Zeiss Distagon 18mm f/4
Leica M2 (very old black repaint) w/ CV 15mm f/4.5
Leica M2 w/ Zeiss Biogon 35mm f/2
Leica MP Hammertone w/ Leica 35mm Summicon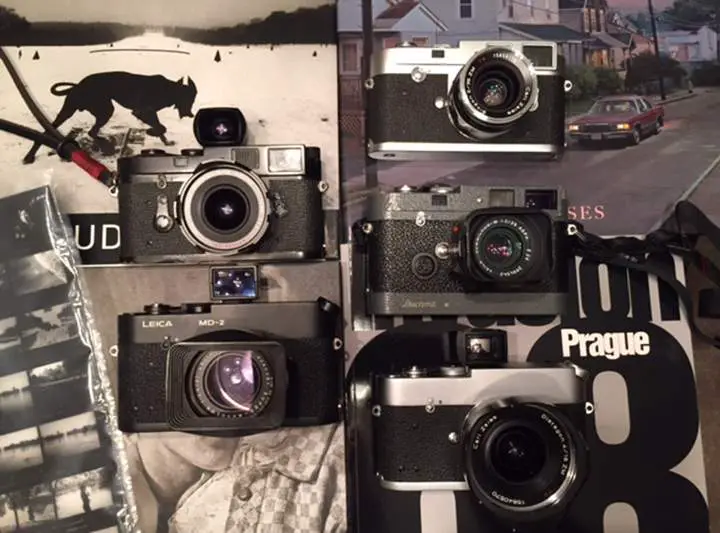 Film:
Kodak 400 Tri-X / Ilford HP5+ @ 1600
Ilford Delta 3200 @ 3200
100 TMAX @ 400
All souped in HC-110 @ 68°F
Website:
IG: sphynxonfilm
Clifton Barker
Thanks for sharing your work with us, Clifton. It is not often I see a piece of work of someones pets and actually like it, but this is excellent stuff. A really interesting way of shooting these cool cats.
Come on, share with us what you have and get yourself featured.
Click on this link and send in your project/work: Get Featured. *I am looking for mainly projects, not individual images*
Oh, and click here to see a few of the photographers that have been on the site before https://www.japancamerahunter.com/?s=featured
Please make sure you come and comment, polite and constructive critique is welcome.
Thanks
JCH