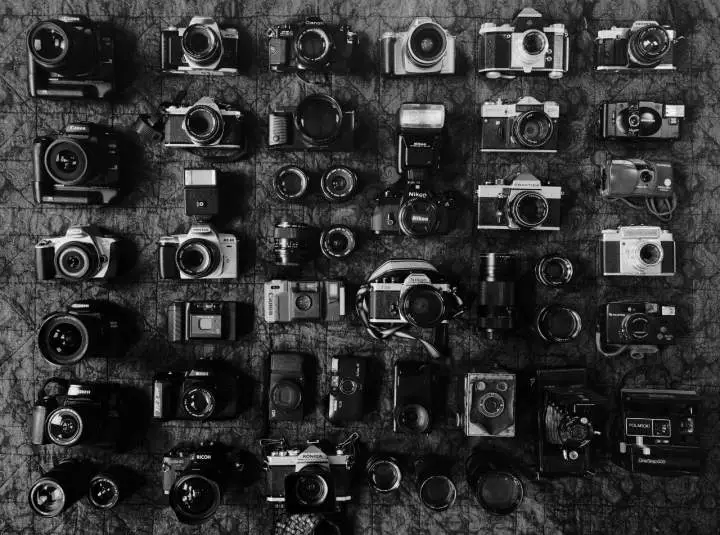 In your bag No: 1328, Nathan 
Don't let the feature image fool you, Nathan does actually have a bag. But he thought it might be nice to share an image of his collection too. Normally I wouldn't feature something like this but it is such an impressive shot I felt compelled to.
Thanks for running a neat blog! It's always cool to see people keeping weird old cameras running, especially given the increasing difficulty of buying and developing film.
My favourite articles are the reviews of obscure cameras and lenses, if you get time to do more of those it would be great! You're pretty well positioned to get your hands on a lot of different gear, and unlike the gushing rookies out there who blithely praise their first Zenit as some marvel of engineering and write a review, you actually know the difference between a slappy mirror and a slick one, for instance…
In Brisbane, the last traditional photo shop shut its doors last month, much to my dismay, so developing colour is now going to start at $15 a roll (and Australian dollars aren't cheap!) at the print-focused pro lab unless I import some Tetenal kits and do it myself. So I've been straight black and white since then, which is not so bad.
I have my own darkroom setup, but for the most part employ a hybrid film and digital workflow: shooting film almost exclusively, and scanning with my Canon 550D and a macro lens, suspended over the top of an improvised softbox.
With so many film shooters sharing their kits on your site, I'm always surprised at the dearth of bag shots taken on film. It's a fine way to use the last few shots on a roll! So to rectify that I've got two shots covering 4 different shooting setups. Both on Rollei Ortho 25, one with a Kodak Six-Twenty Brownie and one with a Canon AE1-P & FDn 35/2.8. I'll leave it to the discerning audience to guess which was which…
My passion is for getting out into the bush to photograph trees and rocks and creeks as they go about their business.
My weapon of choice for this is the peerless Fujica GSW690. Shot with care it puts as much detail as any 35mm lens onto a negative the size of an iPhone. My preference is for slow films like Rollei Retro 80S; add a red Cokin filter and once you're stopped down for depth of field shutter speeds out to 30 seconds or more are possible even during the day.
This makes the cable release and tripod a necessity.
The Gitzo Explorer tripod in carbon is actually my most expensive photography purchase (barring one lens in the next photo), however once I'd laid hands on it I knew no other tripod would do. With the Arca-Swiss p0 Monoball head, it simply lets you put the camera wherever you want, pointing whichever way you want, on any terrain you can imagine, and then holds it still. Sounds simple til you've tried to do it with inferior equiment. It's the best.
Lastly, I bring a 35mm camera; for metering (the Fuji doesn't have one), macro, and everything else. This one is a Nikon EM, with a 50/1.2 Ai-S. Small and light, with a great analogue meter in the viewfinder that makes it very easy to read off shutter speeds and transfer them to the other camera. And say what you will about Ken Rockwell, but he's right about one thing: these old aperture priority Nikons will make perfect automatic exposures out to at least a minute in any light.
Everything but the tripod goes in a small backpack, with a few filters, spare film, some water and some lunch, and that's me. I tend to prefer bringing another camera body if I want use different lenses; juggling two lenses, caps, a camera and a bag when you want to change in the field is a fraught activity, and wastes time.
My next shot is of a few kits I might bring with me for more casual shooting, out with friends. They're all suited to varying levels of low light, as well as user intoxication… No bags most of the time; a camera in a bag takes very few photos, in my experience.
First up: A Canon FD body (AE-1P and T70 shown), and either the FDn 50/1.2L or the FDn 85/1.2L, loaded with HP5+. The lenses were bought at the same time in a rush of late-night eBay delirium, before I even had a camera to shoot them with. I regret nothing. Absurdly good lenses. If it wasn't for the 8-bladed apertures, I'd say they were perfect. These light-vacuums, with the great latitude of HP5, make it possible to hand-hold in almost any light you can see by.
Second: What I believe to be the most advanced manual-focus K-mount camera, the catchily named Ricoh XR-X 3PF. With all the PASM exposure modes, spot or CWA metering, continuous motor drive, electronic DOF preview, built in TTL flash, a split-prism viewfinder with full exposure info shown by LED, and a big ugly plastic body, think of it as a Pentax T90. I use it with Rollei Ortho 25, a Sigma 14/2.8 that doesn't really need to be focused to be in focus (or even pointed in the right direction to get the subject in the frame), and the fantastic Nikon SB-24 on an extension cable, always at full power. Works as a demented point and shoot, I love the results from this.
Third: The most foolproof combination of the lot, for the nights with the most beers forecast. A Pentax PC-555 loaded with Fuji Superia 200. All auto everything, with a surprisingly powerful flash and a big simple viewfinder. It's got a really crisp 35/2.8 lens and autofocuses perfectly in the dark. With just the one button, and costing me a grand total of $0.50, I don't have to worry too much about handing it around for snapshots at parties, and if it gets a drink spilled on it or it gets left in a taxi, there won't be too many tears.
So those are a few of my 'bags', thanks for taking the time to read! I'll be in Japan in late November, and definitely haunting the Tokyo camera shops and galleries I can find, so if I see you I'll say hello! I'm hoping to add an F1, an FM3A and a GW690 to the collection while I'm there…
Nathan 
Thanks for sharing your bags and your gear with us, Nathan. A very impressive selection.
Check out the links and make sure you come and comment.
Keep them coming folks, we need more submissions, so get your bag on Japancamerahunter.com.
Send me a hi resolution image of the bag. Optimum size is 1500 across. Please ensure there is a bag in the shot, unless you don't use one. The more you can write about yourself the better, make it appealing and tell us a story. Snapshots of your gear with a camera phone and no words will not be featured.
Oh and don't forget your contact details (twitter, flickr, tumbler et al). Send the bag shots here. Please understand that there is a long wait now as there is a backlog of submissions. Not all make the cut, so make sure yours is funny/interesting/quirky. And please make sure the shot is of good quality, as the ones that are not do not go up.
Cheers
Japancamerahunter