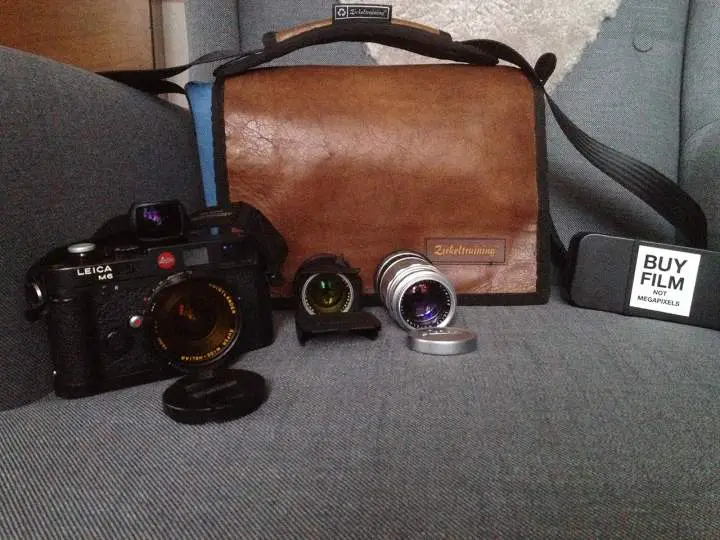 In your bag No: 1327, Christian Thiele
Christian has a very interesting bag. Not just for the simple setup, but for the bag itself. I don't think I have ever seen anything quite like it. Very cool stuff, check it out.
I followed your site for quite a year now and after your respond on facebook about the M2 vulcanite i want to contribute something too.
My name is Christian, i am 26 and living in Germany in Duisburg. From early on i was interested in photography as my grandfather and his father were taking photos. Grandfather used a Leica III but after WW2 they had to swap it for something to eat. So unfortunately this camera might be lost forever.
Personally i had my first digital camera, a Nikon D50, about 10 years ago. It taught me the principles of f-stop, iso and shutter speed. So all in all i learned about photography with a digital camera and extensive walks outside whilst taking photos. About 7 years ago i talked to a guy who was filming local punk concerts and in his spare time he was a film aficionado. He explained that developing and printing black and white images has nothing to do with sorcery, so i digges into some books and internet forums and soon started to take black and white images with my mothers cosinon camera from the 80s.
I tried out a lot of cameras from nikon to canon to contax and finally i landed on the leica. I first got a M4-P with a 35 mm summicron, which i have sold after a few years because i needed money for my car. Sorry about that, i loved this camera.
After gaining a new job i started to save money for another Leica, an M2. As time went by i got a 50 mm 2,5 Summarit lens, a 90 mm Elmarit from the 60s and finally a M6. I took a walk with my girlfriend when i saw the M6 at a local photo dealers window. After some chit-chat i could acquire the M6 for a reasonable price and shes with me almost everyday on a nice Artisan&Artist strap. The M2 is also still with me but unfortunately only as a backup camera or for higher ISO films while travelling.
My latest acquisition is the 15 mm Voigtlaender with matching viewfinder. I like it a lot !
I carry that stuff in my Zirkeltraining photobag, which was the best idea for my needs. The bags are made of old mats and leather from the gym, so they look beautifully used and at the same time they are a pleasure to used. Please have a look at www.zirkeltraining.biz for more stuff.
You can find some of my images on my tumblr: www.christian-thiele.tumblr.com. Although an update would be necessary.
Actually i am working on a series about bridges over the rhine in my area, because mainly i'm studying history and it is interesting to look out for stories about the bridges here. Some of them are really old while some are from newer dates, but often they have interesting stories to tell.
So, if you liked it thus far, i might have another bag for you in the future as i'm also using my beloved hasselblad 503 CXi.
Thanks a lot for your site and take care
Christian
Thanks for sharing your bag with us, Christian. That 15mm is a brilliant lens, a bit wide for my tastes though.
Check out the links and make sure you come and comment.
Keep them coming folks, we need more submissions, so get your bag on Japancamerahunter.com.
Send me a hi resolution image of the bag. Optimum size is 1500 across. Please ensure there is a bag in the shot, unless you don't use one. The more you can write about yourself the better, make it appealing and tell us a story. Snapshots of your gear with a camera phone and no words will not be featured.
Oh and don't forget your contact details (twitter, flickr, tumbler et al). Send the bag shots here. Please understand that there is a long wait now as there is a backlog of submissions. Not all make the cut, so make sure yours is funny/interesting/quirky. And please make sure the shot is of good quality, as the ones that are not do not go up.
Cheers
Japancamerahunter