IN YOUR BAG NO: 1708 – Martin Šnajdr
Martin shares with us his bag and his love for the Olympus OM stystem. This one is a doozy.
Dear film camera lovers,
My name is Martin Šnajdr and I'm a software developer from Czech republic. I bought my first film camera in 2008 (Olympus OM-2) and I have been a huge photography / camera enthusiast since then. I have a bachelor degree in photography from local university, however I don't have any ambitions to become a professional photographer.
I'm surrounded by computers / digital technologies my whole day, so analogue photography became some kind of a therapy for me. But don't get me wrong – I use digital cameras too. The digital cameras are very convenient, but I just don't like using them as much as I love using the film cameras.
I have fallen in love with OM System philosophy and its slickness, so I have been using Olympus cameras since I got my first OM-2 and I don't have any plans to change brands anytime soon. I had a few medium format cameras (like Pentax 6×7), I have tried a few compact cameras, but the OM cameras are still closest to my heart.
I have always loved the idea of something being a rare thing and there are a lot of rare items in the film camera world and the OM System world. You don't need the expensive and rare stuff to create great photos, but using something non-ordinary adds a new dimension to the experience for me. You somehow feel responsible for preserving those items for years to come, so you have to take a good care of them.
For many years, I have been a huge instant photography fan, but then my favorite instant films were discontinued (FP100C / FP100B / FP3000B) and I got very sad about it. In combination with manual cameras like the Polaroid 180, you could really get amazing results you can't match with the current films on the market. Instax films are ok, so I got myself the Instax Wide 300 camera and I use it at occasions like weddings and other events, but those are still the consumer-level products (the camera and the film), so are nowhere near the Polaroid 180 + packfilm combo.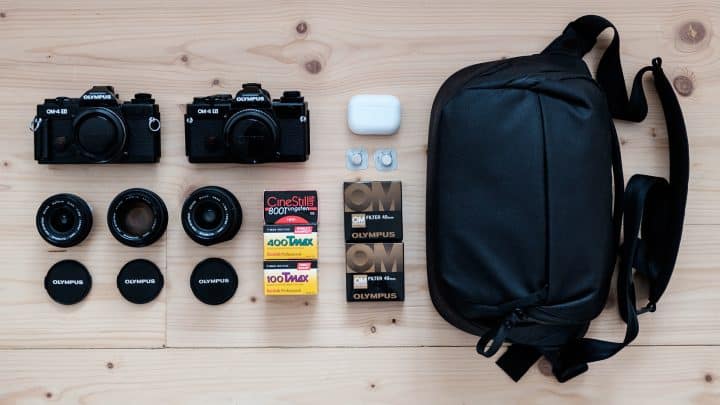 Current gear
As I said, I like to collect rare camera gear, because it makes the whole experience much more satisfying for me. I guess my gear seem not to be so rare in Japan, but in Europe it was quite hard to find and buy.
– Pair of OM-4Ti's: both mint condition, one is really late one (around 2000) and it has the rare 2-13 focusing screen installed + original OM Grip 1. The second one is basically new, 1-10 focusing screen installed (I use it in combination with the Zuiko 35mm/f2.8 Shift lens) and it has a hard to find OM Eyecup 2 accessory installed. I have been using a pair of OM-4's previously, but I find the OM-4Ti's much more reliable. The OM-4 camera had a battery drain problem (and needed a circuit upgrade) and I had to change the batteries quite often. I would like to buy a OM-3Ti in the near future, but only because I love that camera, not because it's better in any practical way. OM-4Ti is the best and most practical film camera Olympus have ever made. OM-3Ti is purely a mechanical marvel.
– Zuiko 35mm/f2.8 Shift: very rare late version with a high serial number. The late version is MC and Olympus have only made around 1500-2000 of those. Really amazing lens, quite fast for a shift lens, yet it still has a 49mm filter thread, so it is not that big for a shift lens. I love photographing architecture / city, so this is currently the lens I use the most. Universal focal length, fast aperture and the possibility to shift: perfectly balanced.
– Zuiko 50mm/f1.2: To be honest, the basic cheap Zuiko 50mm/1.8 is enough for most of my uses, I don't need to have f1.2. But man, this lens is a beauty. It has a 49mm filter thread, so it is really compact for such a fast lens and it makes me happy every time I'm using it. It makes the viewfinder incredibly bright, even at night (especially in combination with the 2-13 focusing screen). Bought this one almost new, boxed, with all the original papers.
– Zuiko 21mm/f3.5: The recent addition to my collection. It's the latest version (MC, but without MC writing at the front), with a beautiful serial number 123400. They have made just around 6000 of those latest versions and I bought it with an original lens screw-in 49mm hood, which is pretty uncommon too. The lens is really really sharp stopped down and it's worth every penny. If you don't need the mighty 21mm/f2 performance, it's the best (affordable) wide-angle Zuiko out there. I had the 24mm and 28mm Zuiko lenses before (f2.8) and this one is the best.
– Filters: I use original Olympus OM Skylight / UV filters to protect the lenses (not in the photo) and orange / red filters for B&W. I also sometimes use original Olympus OM C-POL filter, which is incredibly hard to find. It took me several years to get one.
– Pair of SR44 batteries: always have them around, just in case. LR44 are not working properly in the OM-4 / Ti and the SR44 batteries are not as widely available, so it's good to have a backup pair.
– I love the Kodak brand and the fine grain of the T-Max films, so I mostly use those in all their variants. I shoot mostly B&W, but I recently bought a few packs of the Cinestill 800T film, so I will test it at night with the 50mm/f1.2. I love the colours of the Tungsten film.
– AirPods Pro: I don't use headphones that often (mostly listening to music at home), but if I need to be in a quiet place with some background music, the AirPods Pro with its noise cancellation is the best choice for me.
– Bag: I usually cary only what you see in the picture, so the Peak Design Sling 10L has enough room to carry my gear around.
– Not in the photo: I sometimes use Zuiko 85mm/f2 (also latest version), but I mostly use wideangle & standart lenses, so I didn't include it in the picture.
Photography goals
I like photographing unusual moments in my ordinary world. Unusual in terms of coincidence, probability, used film material, used camera gear. Finding those moments in my everyday life is what makes me passionate about photography, because it takes time and patience. There is lot of interesting places around the world where you can take tons of amazing and extraordinary photos, but I have never been such an adventurous type of person. As an introvert, I have never really felt comfortable photographing people, so people are not usually a subject of my photos. But I like urban landscapes and beautiful hidden city places, so you still can feel the presence of the people even though there are no people in the picture.
I would love to do more vintage car photography, but right now it just a far away dream. I hope someday I will get a chance to satisfy the petrolhead inside me.
You can find my photos here:
https://www.martinsnajdr.com (mostly art school projects)
https://www.instagram.com/martinsnajdr/ (assorted photos)
Thank you for an opportunity to share my camera bag!
Best regards,
Martin
Keep them coming folks, we need more submissions, so get your bag on Japancamerahunter.com
Send me a high resolution image of the bag. Optimum size is 1500px across. Please ensure there is a bag in the shot, unless you don't use one. The more you can write about yourself the better, make it appealing and tell us a story. Snapshots of your gear with a camera phone and no words will not be featured.
Oh and don't forget your contact details (twitter, flickr, tumbler et al). Send the bag shots here. Not all make the cut, so make sure yours is funny/interesting/quirky. And please make sure the shot is of good quality, you are a photographer after all. 
Cheers
Japancamerahunter