In your bag No: 1323, Padraic O'Meara
Padraic is back. and with a whole new upgrade of a bag setup for us all to drool over.
This is my 2nd bag submission, and it is in my opinion a wonderful upgrade from the previous bag.
It was this one,
https://www.japancamerahunter.com/2015/04/in-your-bag-no-1165-padraic-omeara/
and this is the work I shot with what is this bag while in Mexico in April(amongst lot of others too :)
http://padraicomeara.com/Nayarit
But since then I have changed it up a bit and so I present to you my current bag which I just did another trip to Mexico with, and shot only B&W with(even though I brought some color for just in case…which I didn't use.)
This for me is a series of clear upgrades that have come from selling some gear investing a little more here and there and truly honing in on the way I am shooting.
So…
I am still using the same Filson McCurry Tote bag, this thing is amazing, I pack it to the brim when traveling with all you can see here for the plane and getting to where I am staying. Then when I arrive I unpack a little and just take the essentials over my shoulder for the day. I either throw it over one shoulder, or I sling it over both shoulders like a backpack if I find myself needed to climb up a hill or through a jungle to a beach. I find it is better for me than a backpack, as it's more versatile and helps me look more "local" and less like the traveling vagabond I am.
The cameras that are in this bag are,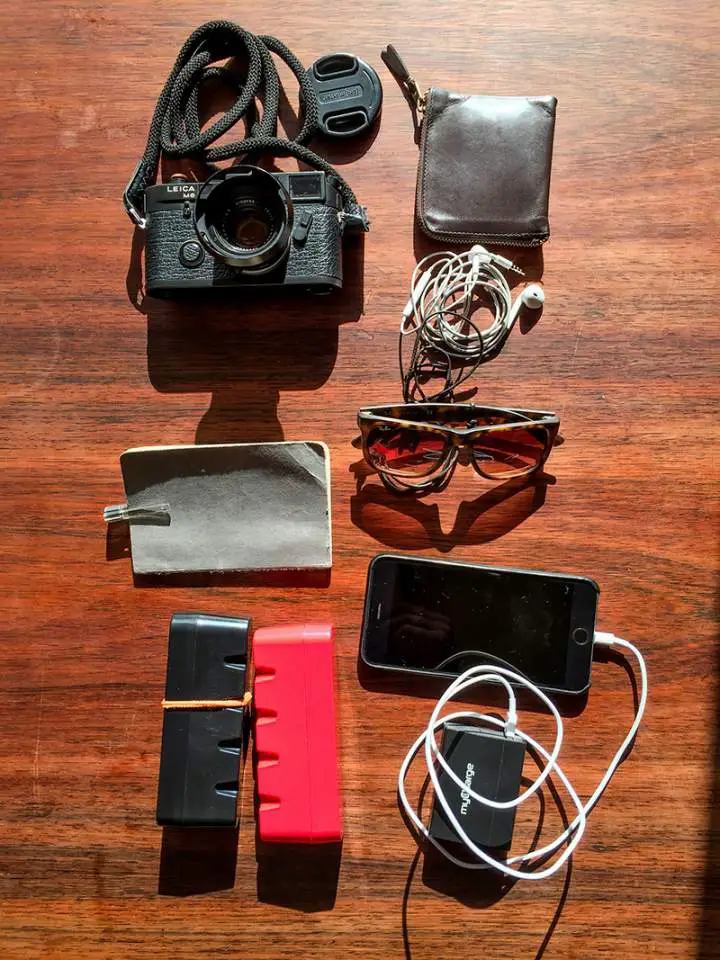 Leica M6 classic black, w/ wooden soft release, Street Strap, 35mm Summilux 1.4 Pre-Asph
This setup has slowly come to me through some awesome deals and like magic I have the Leica setup I could only ever dream of. I love being able to meter in camera with the M6, although my time with the M2 taught me to do so without a meter, so I feel fast and clear, but still have the meter as a backup when I need it. 
The Summilux is a magic lens… open it up to f1.4 and its a crazy dreamy look that glows like magic, but stop it down anywhere from f2 onwards and it sharpens up like a Summicron and gives you the most perfect images you can think of.
The street srtap allows for smooth movement of the camera when kept across the chest. 
The soft release is great for low speed shots, and I like the hair trigger feel in all circumstances.
50mm Summicron DR, with Close Focusing Eyes, wrapped in a yellow soft wrap
Having this lens in my kit is again like having multiple tools, I renders colours amazingly and is sharp as a tack. And then being able to get super macro close with the eyes on allows for the full frame portraits I love taking.
Canon 270EX II Speedlite, Pretty fun little flash that fits with my canon gear when it needs to, but plays nicely with the non TTL M6 as long as you know its guide no.
Contax TVS, this is a dream compact, it meters perfectly every time, is sharp as a tack, gives me a lens from 28mm-56mm which is my perfect range. Is super fast an intuitive to use and the manual zooming function is something I love.
JCH film cases, Red for color(currently holding Cinestill 50D & 800T), Black for B&W(currently holding T-MAX) Extra hairband so that the case doesn't open when dropped and also for my long hair.
Domke Lead Film Bag, Mostly a place to hold the multiple rolls I need when traveling, and since I always ask for a hand check it's a little unnecessary since I have been shooting at 400 speed lately. But when I shoot at 1600 or up I like to have the added protection from X-rays. Filled with mostly T-Max 400, some Portra 400, and a little extra Cinestill.
Yellow and Daylight correction Series 7 filters. More contrast, and the ability to shoot Cinestill 800T in the day light
Iphone 6S Plus, I wasn't sure at first about this size, but since using it I have fallen in love with it. so fast, such a great camera and big enough to do real image editing and writing on. The only "computer" I need when traveling.
Commes De Garcon Wallet, leather the best.
Shure headphones, love these things, block the sound of plane and great drivers and sound.
Raybans, I like being where the sun is.
Mycharge, gotta keep the "computer" going.
Pens, Lamy fountain pen, Sharpie, Blackwing Pencil & Sharpener, Muji fine tip ball pen.
Pads, Moleskin, softcover small and medium.
Ipod Headphones, Throw them in a pocket if needed.
House Key, To get in…
Lighter,
Hair tie
Burts Bees chapstick
Business Card holder from Muji.
Batteries, lens cloths.
A book, Setting Sun, Writings by Japanese Photographers. Was hard to find and then very expensive to buy, but amazing, inspirational and worth every penny.
I've also added a picture of what I might typically carry on a walk about if I don't bring everything with me while shooting.
As always, have a look at my Instagram here,
http://instagram.com/padraicomeara
and my website here,
Thank you Bellamy!
Have a great day.
Thanks for coming back to us again, Padraic. That is a very cool setup you have there. I love it. Chaotic and purposeful.
Keep them coming folks, we need more submissions, so get your bag on Japancamerahunter.com.
Send me a hi resolution image of the bag. Optimum size is 1500 across. Please ensure there is a bag in the shot, unless you don't use one. The more you can write about yourself the better, make it appealing and tell us a story.
Oh and don't forget your contact details (twitter, flickr, tumbler et al). Send the bag shots here. Please understand that there is a long wait now as there is a backlog of submissions. Not all make the cut, so make sure yours is funny/interesting/quirky. And please make sure the shot is of good quality, as the ones that are not do not go up.
Cheers
Japancamerahunter