In your bag No: 1268, Frits Vandenweghe
Frits is a bit naughty. This is not his first bag shot, and he broke the rules on the last one, by not showing a bag. This time he shares a bag, and all of his gear. But I can forgive him, because he has an awesome sound system in the background. Check it out.
The site keeps on being one of the most awesome sites for analog lovers!
Back in 2012 I submitted my bag back then (without a bag though) Sorry about that.
Now, a couple of years have passed and I have acquired some new gear…
(1st of all, sorry about some of the crappy pictures, It's shot with an Iphone, the others are shot with the X-Pro1. And second of all, sorry for the not so perfect english, I'm not a native speaker.)
(From left to right: Polaroid SX-70 model2, Cactus, Leica M6, Hasselblad 501C, XF18, XF35, X-Pro1, Canon FD 28, 50mm f1.4 S.S.C., 35-105mm, 135mm, Canon AE-1 Program. And some film behind the X-Pro1 and my bag, a Chrome Bravo bag)
My name is Frits and I graduated as a graphic designer and Art Director last year. After a hard year of job hunting and crappy jobs, I recently started working as a graphic designer and back office employe in a camerastore. Which is nice to be able to test most of the gear before buying stuff.
So some gear has changed, for instance, I jumped ship, from canon to fuji. I changed in the bulky 7D to the much smaller X-Pro1. And also have the XF 18, XF 27 and XF 35mm lenses. I made the change just because I shoot less and when I shoot I don't want to lug around a big heavy camera. So yay for the small and indiscreet X-Pro1!
Of course I don't use all my camera gear at the same time. I usually have just one camera in the bag and maybe also my instant camera, so a max of two cameras at the same time.
(If I'm not mistaken, the front element of this lens is slightly radioactive? Always fun to mention to other camera fans :p )
​I still shoot with my AE-1 Program, although this camera has endured quite a lot of beating. Thats why I'll pick up a canon F-1 to replace it in a couple of weeks. No changes in the lenses as well. Still rocking the awesome 55mm f1.2 S.S.C. The 55mm is on the camera for like 95% of the time. Though the other FD lenses I use from time to time are the 28mm, the 35-105mm and the 135mm that I barely use.
(This was a picture of when I was shooting some test rolls)
​A new camera in the bag is my Leica M6. Although I have the camera for about two years now, I still don't have a decent lens on it now. Right now I have an elmar 5cm LTM lens. It's the lens from an old family leica IIIf camera, so quality wise it's not the greatest lens. That's why I don't use my m6 that much. Recently I tested out two summicrons from the shop and not much of a surprise, those blast away the old collapsible elmar.
So after I got the F-1, I'll probably get a 50mm summicron.
For medium format I still shoot with my Hasselblad 501C and the stellar plannar. I just love this camera and everything it can do!
There's not much to say about this camera, 6×6 format is just awesome to work with. I often take the camera with my at night and even with the dimmest light source the photos come out so nice!
Another new camera in the bag is my polaroid. When I bought it the fake leather covering was crumbling apart so badly that my bag was constantly filled with dust and crap of the fake leather. So I decided to remove the fake leather and added some chestnut wood on the camera. The only downside is that the impossible film is insanely expensive in comparison to the fuji instax film. But now I'm just complaining, because this camera is so much more sexy then any instax!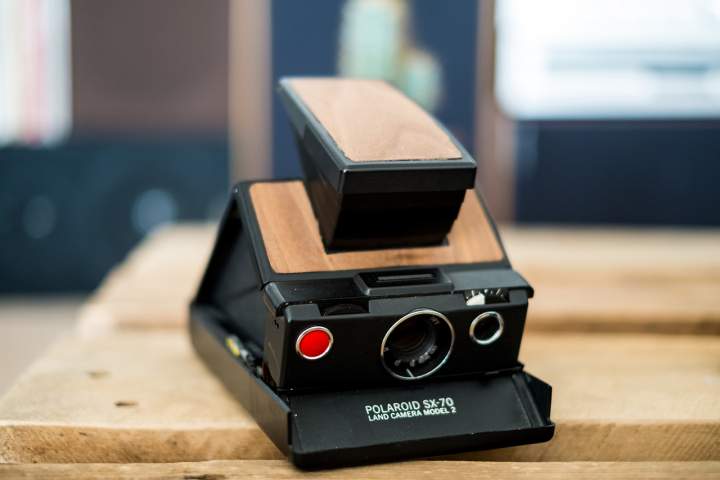 ​
The film I use is Ilford HP5 plus, both for 35mm and for 120mm film. I love the contrast it gives! I also like to shoot some near infra film, SFX 200 is an awesome film!
The colorfilm I use is just regular agfa vista, though I do prefer black and white film instead of color.
Though I love black and white when shooting 35mm and 120mm, I really don't like it on instant, it just misses that extra punch of contrast. So thats why I use the Impossible color film.
And now finally the bag. It's not a camera bag though. As I'm an avid biker I use a Chrome Bravo bag. It's a sturdy rolltop bag and water/wheaterproof. These bags are built to endure a beating and have a lifetime warranty. It gives me enough space to ad some extra clothes, laptop, bikegear aside from putting the camera in the bag. And if I go shopping for groceries and the bag being 20L becomes to small, I can expand it to 40L!
So this is my bag and different cameras I putt in the bag. I hope you'll like it.
If anyone want's to check out the results of what I shoot with my cameras.
These are my social media:
– My site
– Instagram
– Tumblr
​
Thanks for sharing your gear, and finally your bag with us, Frits. Nice gear and a very nice hi fi as well.
Check out the links and please make sure you come and comment.
Keep them coming folks, we need more submissions, so get your bag on Japancamerahunter.com.
Send me a hi resolution image of the bag. Optimum size is 1500 across. Please ensure there is a bag in the shot, unless you don't use one. The more you can write about yourself the better, make it appealing and tell us a story.
Oh and don't forget your contact details (twitter, flickr, tumbler et al). Send the bag shots here. Please understand that there is a long wait now as there is a backlog of submissions. Not all make the cut, so make sure yours is funny/interesting/quirky. And please make sure the shot is of good quality, as the ones that are not do not go up.
Cheers
Japancamerahunter