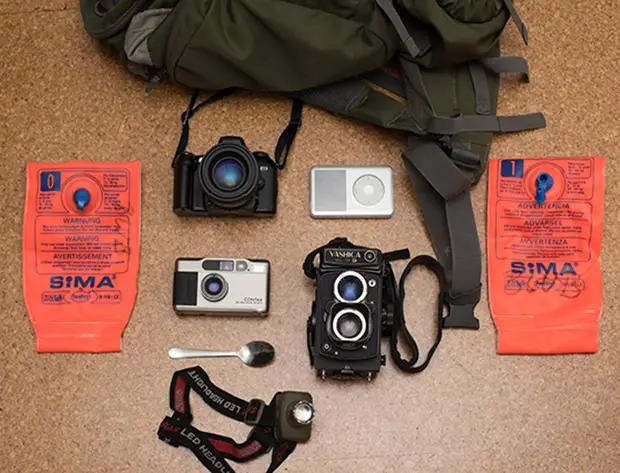 In your bag 1166, Max Heimann
With some floating devices and a spoon amongst the gear in this bag, I can certainly say this is one of the more random bag shots we have had. Check it out.

Hej! My name is Max Heimann, German photographer and hunter of the weird. I enjoy the inspiration I get from the "In my bag" stories so much that I could not resist to share my own bag and story with you!
It all began on my first trip overseas in 2010. I flew to Tokyo and my first night was exactly like the movie "Lost in Translation": heading to Shibuya in a taxi, neon lights flashing past my eyes, partying, Hanami in the park. I bought my first DSLR in Kyoto next to a 9h cubicle hotel to document what I was experiencing. At this point I was not even paying attention to what I was doing, only shooting randomly at beautiful seeming things. A true friend taught me apertures and the art of seeing, later on.
Since then I am always searching, looking, looking for that special, unordinary subject. My work as a Sports Photographer brought me the technical knowledge that I yearned for. I now could control my DSLR blindly. However, it sped up my workflow so much that I became unhappy when shooting for fun in my free time.
So the medium format found its way into my life: Yashicamat 124G freaked my rusty viewing experience – I love it! I use Portra 400, but am trying out new films soon. Suggestions anyone?
The Nikon F75 SLR shoots cheap film from the supermarket – a Fuji noname. I put black tape on the Nikon logos and let my partner sew up the strap with black fabric. I found that people react negatively to all the logo mania. This effect is reversed when using the Yashicamat 124G – people want a photo so bad. I would love to hear from peoples experiences regarding that subject.
In my Tatonka hiking backpack:
A pair of floaties – the next object for a portrait series. Collected at an abandoned fun park in Berlin
Nikon F75 with 50mm f1.4G – lightest Nikon SLR and a true secret
Yashicamat 124G – makes me feel excited like a complete novice
Contax T2 – read so much about this camera on JCH and found it in the camera store the next day. I was powerless.
Ipod Classic – Erlend Oye's new album
Spoon – essential
Flashlight – Got lost in the jungle once and the only thing keeping me from falling to sure death was the pop up flash from my Nikon D90. I always carry a torch. Always.
Not included: Notebook, Kefir drink.
Links:
www.maxheimann.de Photos and stories in German
www.flickr.com/16tigers
www.facebook.com/maxheimannfotografie
Thank you Bellamy!
Thanks for the bag shot, Max. I think that is the first time we have had some floating armbands in a bag, at least as far as I can recall.
Check out the links and make sure you come and comment.
Keep them coming folks, we need more submissions, so get your bag on Japancamerahunter.com. Send me a hi resolution image of the bag. Optimum size is 620×473. Please ensure there is a bag in the shot, unless you don't use one. The more you can write about yourself the better, make it appealing and tell us a story. Oh and don't forget your contact details (twitter, flickr, tumbler et al). Send the bag shots here. Please understand that there is a long wait now as there is a backlog of submissions. Not all make the cut, so make sure yours is funny/interesting/quirky. And please make sure the shot is of good quality, as the ones that are not do not go up.
Cheers
Japancamerahunter