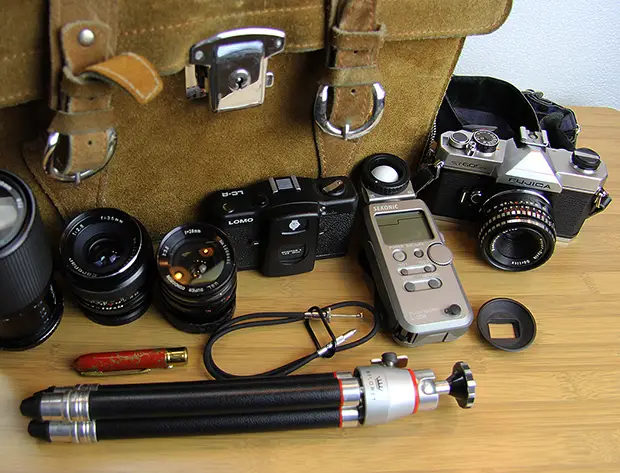 In your bag 1100, Henrik Heigl
It is funny how quickly this moves. One minute we were on bag 100 and wondering how long it would last, now we are at 1100 and there are plenty more in the archives. Come and check out this beauty of a bag.

My name is Henrik Heigl and I'm from Germany. I'm in photography since the early 90's and now I want to present my actual analog gear to you.
Mostly I use the analog cam in addition to my Canon EOS60D for Concerts and landscape Photography.
My bag is a 60's/70's wild-leather bag 38 x 24 x 18 cm (B x H x T) with much space in it. I very much love that bag.
In it I carry my Fujica ST 605N with a Meyer-Görlitz 50mm / f2.8 lens and I also have a 75-200mm / f4.5, a 35mm / f2.8 and a 28mm /f3.5 which I do not use much, but in case its good to have it in the bag.
I also have a Lomo LC-A as backup in the bag which I bought in the 90's.
A Cable release, a Sekonic L358 with an additional Wireless Modul which can trigger Yongnuo Flashes and a Bilora Biloret 2037 Tripod which came sometimes very handy.
My Webpage:
http://www.henrikheigl.de/
Facebook:
https://www.facebook.com/HenrikHeigl
I hope you like it
Henrik Heigl
Thanks for sharing your bag with us, Henrik. I do like it, very much. Rare to see a Fujica nowadays.
Check out the links and make sure you come and comment.
Keep them coming folks, we need more submissions, so get your bag on Japancamerahunter.com. Send me a hi resolution image of the bag. Optimum size is 620×473. Please ensure there is a bag in the shot, unless you don't use one. The more you can write about yourself the better, make it appealing and tell us a story. Oh and don't forget your contact details (twitter, flickr, tumbler et al). Send the bag shots here. Please understand that there is a long wait now as there is a backlog of submissions. Not all make the cut, so make sure yours is funny/interesting/quirky. And please make sure the shot is of good quality, as the ones that are not do not go up.
Cheers
Japancamerahunter