Camera Geekery: The Leica MP-3
I think the site has been lacking in camera p*rn lately, what with all the featured books and bags, it is about time we had something about a camera. And what better camera to feature than the stunning Leica MP-3.

For those of you in the know, the Leica MP-3 was produced for LHSA (Leica Historical Society of America) back in 2005 and became an instant classic. The LHSA has had a very close relationship with Leica over the years and they have put out some really special cameras, including the Hammertone MP (a personal favourite and the M6 TTL 'Millenium'). In fact, if it wasn't for the prodding from LHSA we would be without some really stunning cameras.
And the MP-3 is one of those stunning cameras. It is based on the workings and design of the original MP, a camera that commands over $100,000 nowadays. The MP-3 has all of the classic features, the M3 raised edges on the windows, the M2 framelines and counter, the early Bhudda ear/dog ear lugs. But it also has the modern touches, with a hotshoe instead of an accessory shoe and a proper lightmeter. This is a modern classic in every sense of the label.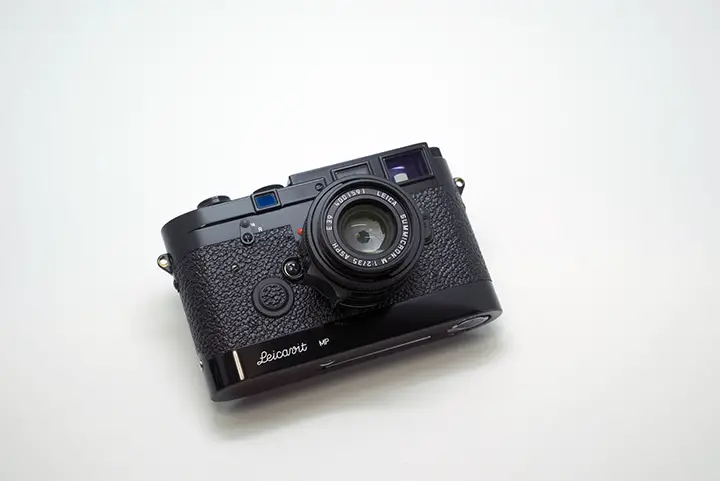 For those of you who are not in the know, a little bit of info about this gorgeous bit of kit. Back in 2005 LHSA and Leica produced 1000 sets of the MP-3. 500 in chrome and 500 in black paint. All of the sets came in a very spiffy presentation box, with the camera, Leicavit winder (classic style) and a special edition 50mm Summilux APSH (not pictured here).
So, 1000 cameras out there, not all that rare, right? Well, it is, as many of them were snapped up by collectors, never to see the light of day again for many years. I know that a lot of them were sold in Japan and tucked away for a rainy day. So it is actually not all that common a camera to be seen in the wild. But what really makes it desirable is that classic MP look, the one that everyone wants. I mean, this camera really looks gorgeous.
Except, there are not actually 1000 sets. There are actually a few more than that. A special edition MP-3 Set with matching Noctilux in chrome was released for the Leica Shop Vienna (with an insane price tag). 20 sets where made, so that would be a few additional cameras. I suspect they have a few more waiting around in the store room somewhere waiting for another 'special' edition. Personally I would like to see one in Military Green.
*edit for accuracy*
The LHSA version is called MP-3, whilst the Leica Vienna version is called M3-P.  They are not entirely identical, as they differ on the following:
– Frame counter: the LHSA is external whilst the Vienna is internal.
– Strap lugs: the LHSA is of the "buddha ears" type whilst the Vienna is the standard type.
– Shutter dial: LHSA has a cutout for a light meter… Vienna doesn't.
– Rewind lock lever: LHSA has a taller lever similar to the original M3, whilst the Vienna lever is more stubby similar to the moderen MP.
– Engraving: The Vienna camera doesn't have "Solms" engraved on the top plate, whilst the LHSA does.
– Screws: The Vienna camera doesn't have front facing screws in the leatherette, whilst the LHSA does…
Thanks to David Hansen for the extra geekery.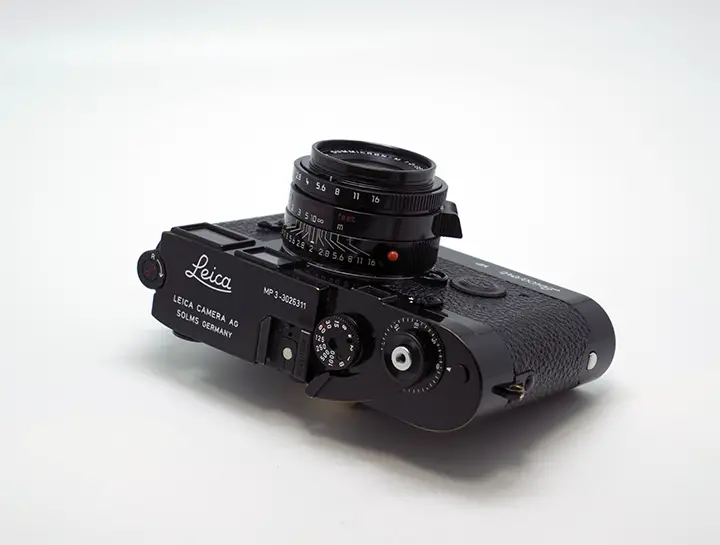 And what makes this camera even more expensive now is the lens. Many of the sets where split up (as this particular camera was), as the owners wanted the lens more than the camera. So finding a complete set with the lens is something of a rarity now. They are out there though, and you should expect little change for $25,000 USD for a full set nowadays. A body on its own will set you back about half that. This is one camera that has really been a solid investment for a number of people.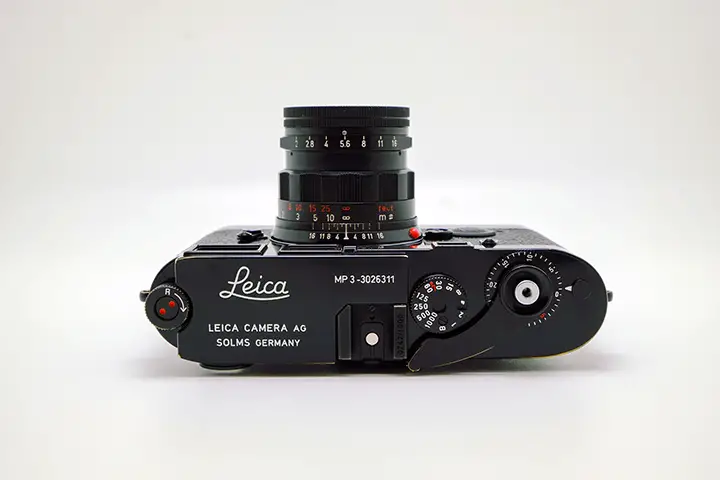 Prices are pretty stable on these cameras now, but the collectors still like them and I think in the future they will command even higher prices. They are already 30% up on what they were 4 years ago. That is a pretty good rate by any standards.
OK, so it is an expensive camera, but it is not a historical piece, so provided you have the readies this is a collectible classic that you can actually use instead of locking in a museum. I would have one in a heartbeat if I didn't already have more cameras than I could possibly use.
Want me to find one for you? Or something similar? Then drop me a line and we can make wonderful things happen click here for the magic to happen.
Cheers
JCH