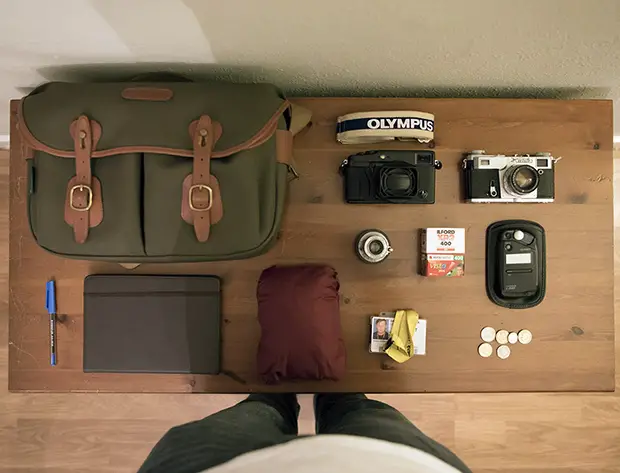 In your bag 1052, Oliver Evans
Oliver has a very nice bag for a 20 year old. Youngsters these days eh, with their fancy range of cameras. Check it out.

I'm Oliver and this is my camera bag (one of them anyway), I'm a 20 year old photography student from London. I've been into photography my whole life but only picked up a camera about 4 years ago and i don't think I've really put it back down since.
I often prefer the rangefinder or rangefinder style of camera, this is because my eyes aren't exactly 20/20 and i sometimes struggle to focus with an SLR, saying that one of my favourite cameras ever is the Canon AE-1.
The bag I use is the Billingham Hadley Pro because it looks the best, and on this day I decided to carry my trusty Fujifilm Xpro-1, probably the most used camera in my collection, with the beautiful 18mm F2. I also had the Industar-22(50mm f3.5) from my Zorki 1 rangefinder, this lens doesn't get much use, but it makes some lovely pictures on the fuji. As well as the fuji i was carrying an actual rangefinder in the shape of the Kiev 4a(Contax copy) with the Jupiter-8m 50mm f2, with the choice of either Agfa vista 400 or ilford XP2(I ended up using the XP2 just cause it felt right).
Also in the bag: Waterproof kagool(because I live in London)
Notebook and pen
University pass
Sekonic flashmate I-308s light meter
Money
My website- http://oliverevans.clickgarden.net
Thanks for sharing your bag with us, Oliver. I have not seen a Zorki for a long time.
Check out the links and make sure you come and comment.
Keep them coming folks, we need more submissions, so get your bag on Japancamerahunter.com. Send me a hi resolution image of the bag (please make sure it is horizontal) and its contents, with some details about yourself and what you shoot. Oh and don't forget your contact details (twitter, flickr, tumbler et al). Send the bag shots here. Please understand that there is a long wait now as there is a backlog of submissions. Not all make the cut, so make sure yours is funny/interesting/quirky. And please make sure the shot is of good quality, as the ones that are not do not go up.
Cheers
Japancamerahunter