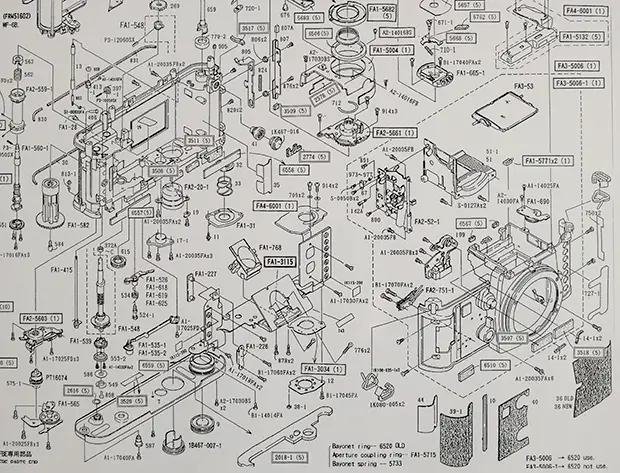 Nikon F3-P Parts Diagram
So, the other day on my Instagram I shared a picture of part of a Nikon parts diagram, and lots of people asked me to share the whole thing. So I thought it might be nice to tell the story behind it.

A while back Eric Kim came to visit and did a little interview with me in my cramped office. During the course of the interview some people saw a poster on my wall and asked me to share it. So I when I shared the picture on IG it got a pretty good reaction from people, asking where I got it and what it is. So I thought it would be good to share the complete image and the story about it, as it is the story of how I became JapanCameraHunter.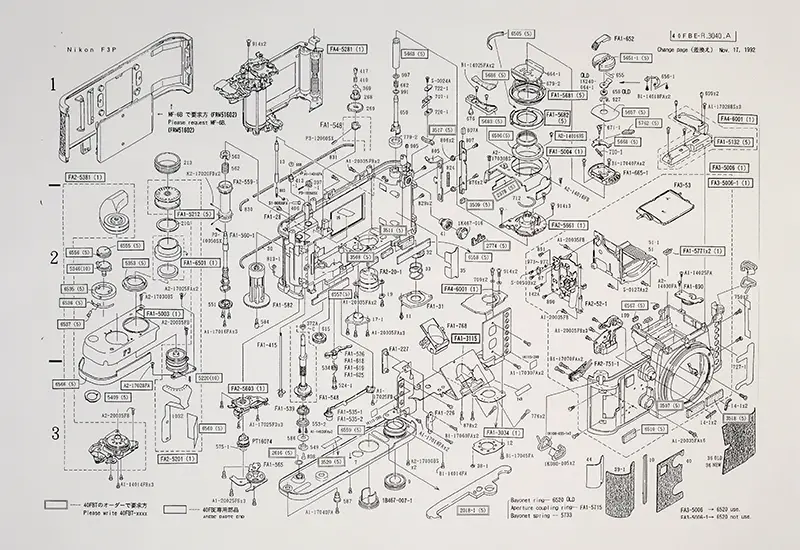 So this is it. The poster is of an original schematic drawing for the parts list of a Nikon F3P camera document number 40FBE-R.3040.A
The image details all of the mechanical parts in a Nikon F3P with their parts numbers. I would presume that this was made for repair and service manuals/engineers so that they could get the exact parts that they needed. Though I cannot be sure exactly where it came from, more on that later.
Incidentally I was actually offered an original Nikon declaration document recently. It was the signed agreement between all parties to commence the manufacture of the final design of the Nikon F3. The price? Only a cool $15,000 USD. Apparently it was sold to the owner of a very large camera chain in Japan.
But how did this make parts diagram play a part in me turning from a mild mannered salaryman into JCH?
Well, when I was working in the photographic supply industry in Tokyo years ago I worked with a man who became a great friend of mine through our shared love of photography and Nikon cameras.
At the time I was shooting a digital Nikon, until he pointed out that I didn't need to own one, as the company we worked for had a rental department with everything Nikon (and all the others) made, so there was no point in owning a digital camera.
He had a beautiful Nikon F3, a camera I had admired greatly when I was young, but had been out of reach for a mere student. But now I didn't need to own a digital camera it was actually a viable possibility to own one of these beasts. So I traded the DSLR in for a pittance of what I had paid for it and got myself a Nikon F3/T and a 50mm 1.2 lens and I was set. This re-kinldled my love of cameras, photography and ultimately film photography.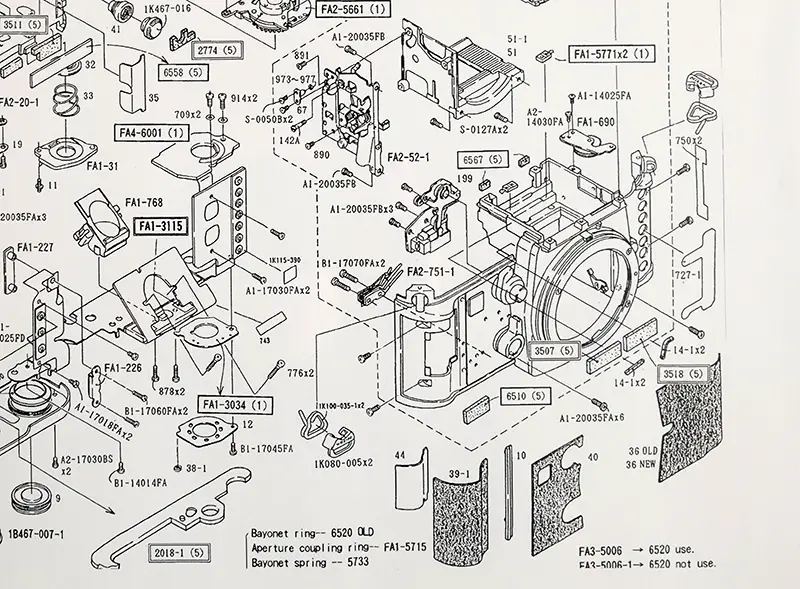 After I had purchased the F3/T (which I used for years and sold for the price I paid for it I might add) my co-worker presented me with this copy of the parts diagram as a present, knowing how much I would really appreciate it. I don't know how he got it or where he got it from, but put it this way he is my camera sempai (kind of like a teacher) and has connections to the Nikon underworld that I could only dream of.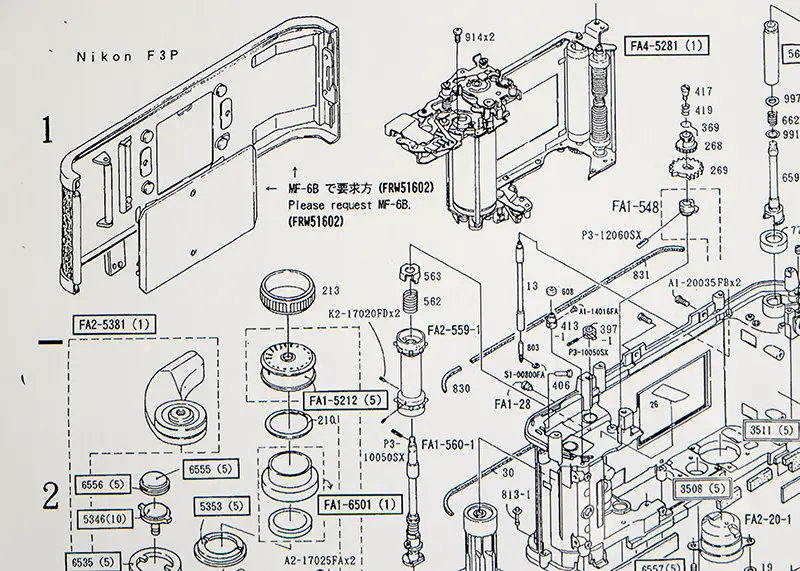 After falling in love with film cameras all over again I decided to make it my business, and when I set up JCH I hung this on the wall of my office. This is not the original (I wish it was), it is a reprint, but it is something I am very proud to have on my wall. It reminds me of what I went through to get where I am and the people that helped me to get there.
I love the detail of the image, all hand drawn, back when that was the only option. My father was a draughtsman at one point in his career and I can really appreciate the work that went into detailing something like this.
I would love to make this available as a print or a download, but I am not really sure about the ramifications of doing so, and I wouldn't like to have Nikon breathing down my neck, so for now these images are the best I can do. I hope you enjoy them.
JCH