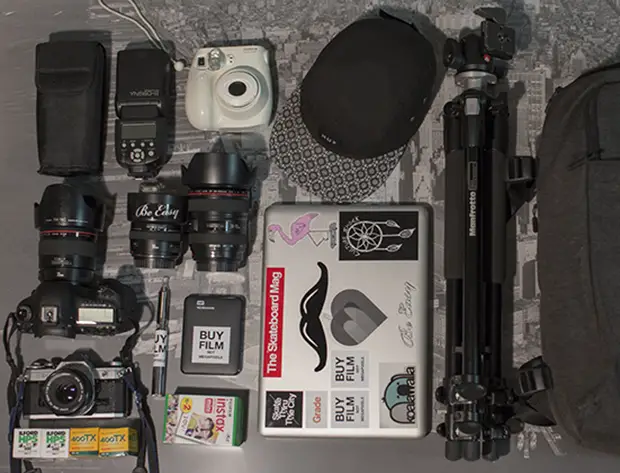 In your bag 837, Jay Gao
Jay is back, Jay is back! And with a whole bunch of different gear. Two bags today. Once digital and one analog. Come and check them out.

Hello JCH readers!
I'm back and quite frankly, my set up has really changed. For the better of course. It hasn't even been a year since I first displayed my old bag(which is still in this feature) but everything is different and more awesome!
I'm eighteen now, finally. I am a first year student at The School of Visual Arts. I'm learning a lot here about photography and I've been getting better(I hope). My professors have really pushed me to shooting more interesting and deeper images therefore, my shooting style has really changed and gotten really minimalistic though my bag says quite the opposite. Mainly I have various series to work on for school but I almost always have my Leica wherever I go so I've been doing a lot of street photography. Oh! I have a job now. So I'm constantly saving money for more and more stuff, it's quite nice. After my recent purchase of a Hasselblad 60mm CF lens I think I'm gonna stop for a while before I buy anything else.
Here we go! More gear.
Since coming to SVA and being a commuter from Brooklyn(to Manhattan) it is quite a pain to be renting the cameras from school given the time limit of 24 hours(weekends are an exception) to return the gear(or you get fined). Soooo I've sort of bought my own stuff, no pressure and no time limits now! It's much nicer.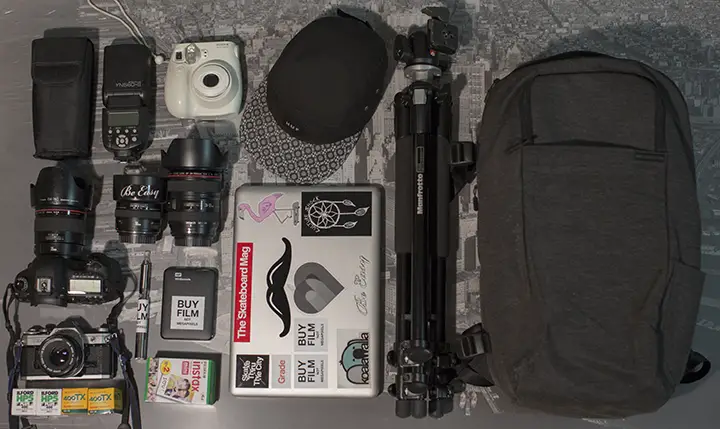 A couple of months ago, I've finally made the jump to full frame. Though I was going to purchase the new Canon 6D, my father actually told me that I should just get a 5D3.. So I did. Not much to say about this camera really. But I really do enjoy the features and its amazing performance. Surely wonderful in lowlight. I take this guy around whenever I go anywhere far to do landscapes.
Film is really great. Because SVA has all these wonderful facilities that allow me to process film I've been doing it a lot more. Actually… I barely shoot with a digital camera anymore(Sorry 5D). My professors and some peers really inspired me to get more into the film world. And since using the school's Hasselblads, I've really fallen in love with the V system. So I bought a 500C/M kit for a great price in the classic Black/Chrome finish. Accompanied by the Sekonic L-408 light meter, a nifty little meter.
Leica? Leica.
Before all this, I never even thought I'd ever own a Leica in my life. I guess I wasn't really that into film back then but things have changed! I've been exploring all the M systems and came to the conclusion of getting the M6. Many of my friends have it and have convinced me to get one. So here we have it. My Leica M6 classic paired with the Canon 50mm Serenar(which I bought first) and the Voigtländer 28mm Ultron. Both being LTM lenses with adapters. A lovely setup until I actually buy real Leica glass.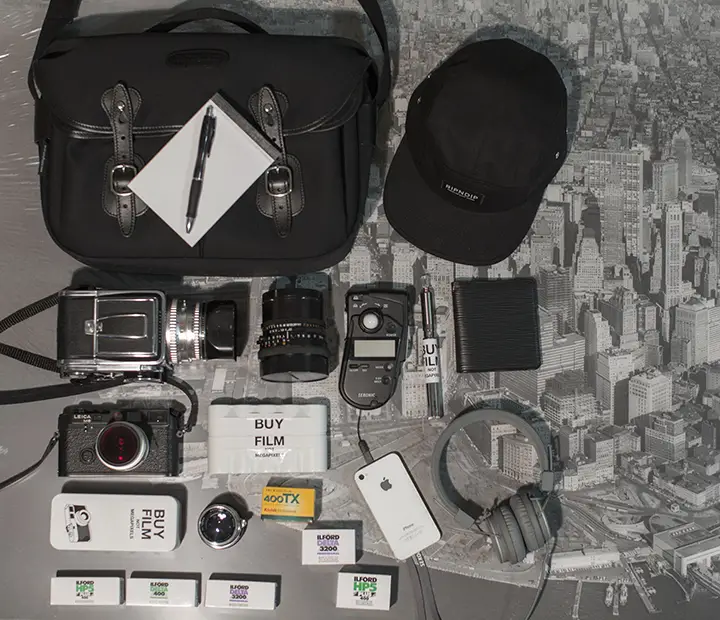 That's about it for the new stuff. Other than my Canon AE-1 which isn't really that exciting. But it's a great little SLR I use as a backup.
I've also just recently got into shooting color film so I'm excited to work with that too.
Gear list:
-Leica M6 Classic // Canon Serenar 50mm f/1.8 // Voigtländer Ultron 28mm f/1.9
-Hasselblad 500C/M // 80mm C* f/2.8 // 60mm CF* f/3.5
-Canon AE-1 // FD 50mm f/1.8
-Canon 5D Mark III // 24-105mm f/4L // 50mm f/1.4 // 35mm f/1.4L
-Fujifilm Instax Mini 7S
-Yongnuo 560EX II flashes
-Sekonic L-408
-JCH film cases!
-Manfrotto 190XB
-MacBook Pro
-Incase DSLR ProPack
-Billingham Hadley Pro
Thank you for reading everyone! You can follow me here at:
http://www.JayGaoPhoto.tumblr.com
http://www.facebook.com/JayGaoPhoto
or on instagram @makejayfamous #jayscameraporn
Until next time!
Thanks again Bellamy! and shoutout to Grade Select for having awesome stuff!
Cheers!
-Jay
Thanks for sharing your bags with us Jay. I hope that you are having a good time shooting in NYC.
Check out the links and make sure you come and comment.
Keep them coming folks, we need more submissions, so get your bag on Japancamerahunter.com. Send me a hi resolution image of the bag (please make sure it is horizontal) and its contents, with some details about yourself and what you shoot. Oh and don't forget your contact details (twitter, flickr, tumbler et al). Send the bag shots here. Please understand that there is a long wait now as there is a backlog of submissions. Not all make the cut, so make sure yours is funny/interesting/quirky. And please make sure the shot is of good quality, as the ones that are not do not go up.
Cheers
Japancamerahunter