In your bag 466, David Delagdo
An ex Graffiti artists bag? Yes please. David have a lovely mix of the old and new in this simple and delightful bag. Come and check it out.

Hello my name is David Delgado I am a graphic designer from Bronx, NY. As per tradition ill give you a little of my backstory.
I began as a graffiti artist in the late 80's early 90's but mayor gulliani was cracking down so i had to find a new hobby thats when i got my first camera a Petri Color 35 that i still own, so to make a long story short i shifted my artistic ideas to design and photography to fuel my inspiration. Also with my children getting bitten by the photography bug it's become a family affair to go out and shoot together.
Here is my camera bag it is a Lowepro exchange messenger bag although this camera bag has very little padding it is the most discreet bag I have been able to find and isn't ugly. The gear that is in my bag 90% of the time is as follows.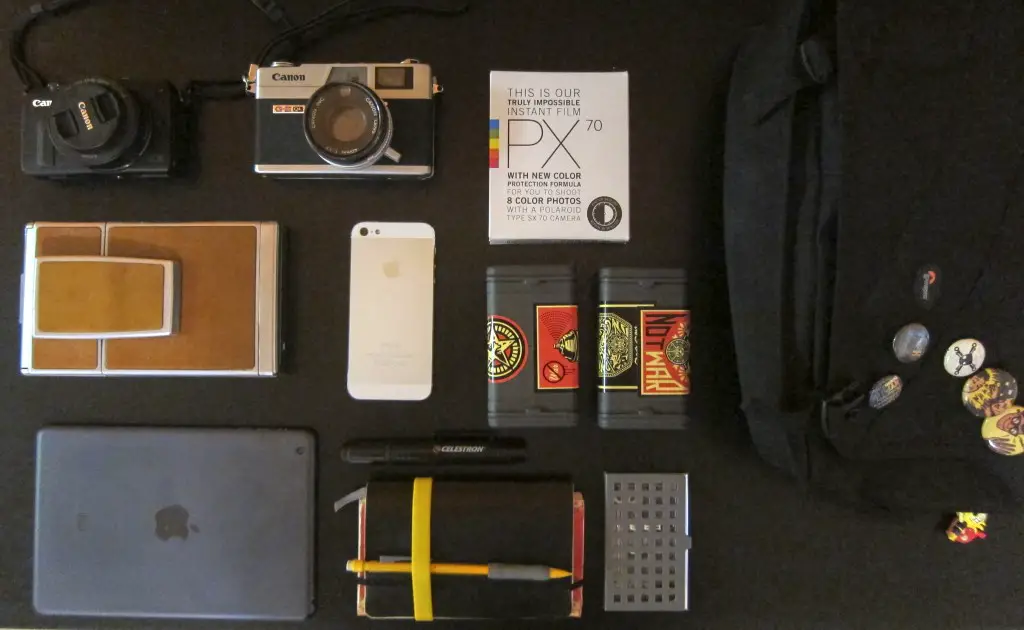 My Eos M with a 22mm lens a 35mm equivalent due to the crop factor (I sold my last DSLR a 7d for something less menacing while doing street photography). The Eos m's auto focus is horrible but luckily I like to focus manually besides that this camera is awesome it's so small and with the 18mp aps-c sensor it's a perfect replacement to a DSLR for street photography and with the adapter i can still use my DSLR lenses when i'm not doing street photography.
Canonet Ql 17 g-III (The poor man's Leica, I plan on getting a M6 in the near future) I love the quality of this camera and the size is perfect, i don't need to rave about this camera there is enough positive reviews out there to get your fair share. All i can say is this camera has made me fall in love with film all over again.
Two Hama film safe-x (lead lined post 9-11 you never know when you will run into a x-ray machine) film safes full of ilford Hp-5 and Delta 100.
iPhone 5 with me 100% of the time (as the saying goes the best camera is the one you always have with you….or something to that effect) I use hipstamatic to shoot my images or snap seed to convert my photos to b&w and crop for Instagram. Many Photographers look down at instagram I embrace it and use it to display my iphoneography.
**side note: my pet peeve is when Instagram users upload photos taken with DSLRs or Medium format cameras, if you have skills show it with the medium the site was designed for!! **
Polaroid SX-70 alpha I picked this camera up for $20 in a thrift store with the original case. I use impossible project's px70 color protection film I feel it's their best film so far. I use it for candids and portraits, I'll give shots to some subjects that I've captured on my other cameras.
Celestron lens pen
Moleskin notebook with a mechanical pencil for notes
Business cards
Some stickers when I want to reminisce on my vandal days
and finally a ipad mini to read this blog, magazines, books or surf the internets!
You can check out my work here
http://500px.com/David_Delgado
http://jpgmag.com/people/DEEBLOCK1833
http://instagram.com/730design
http://730design.com
https://twitter.com/NY_PHOTOGRAPHER
Thanks for sharing your work with us David, it is cool to see someone getting back into loving film.
Check out the links and make sure you come and comment.
Keep them coming folks, we need more submissions, so get your bag on Japancamerahunter.com. Send me a hi resolution image of the bag (please make sure it is horizontal) and its contents, with some details about yourself and what you shoot. Oh and don't forget your contact details (twitter, flickr, tumbler et al). Send the bag shots here.
Cheers
Japancamerahunter