Film News: Ferrania needs you!
As some of you may recall, I did a little interview with Ferrania last year about them bringing their film back on to the market. A year passed and everyone was wondering what had happened. Well, the people at Ferrania had been very busy overcoming all kinds of obstacles to bring their film to us. And now they are nearly there. But they need our help, and here is how we can do it.

Ferrania are bringing back their film for us. We all know this and can't wait. But there are all kinds of difficulties when making film and these take time and money to sort out. And Ferrania has done that too (pretty cool of them, huh?).
But Ferrania are thinking of the long term. This is not about boutique production of hugely expensive and very limited films. This is about making colour films on a sustainable basis with enough production to keep the price reasonable. This is exactly how the industry needs to be thinking and working now. I heard from a source in the industry recently that film sales worldwide were up 5% last year (though I could not verify it), and we need to keep this momentum going.
So Ferrania have come up with a plan and they really really need our help to make it happen. This is something special, the chance to be able to safeguard the future of a film manufacturer which is run by film lovers, not corporate suits looking for a fat pay check. You don't often get an chance like this.
And this is not just for photographers, but for film makers too, as Ferrania are planning on making Super 8 and 16mm film as well!
So here is where Ferrania need our help. We must save Walter, Trixie and BigBoy!
In Ferrania's words:
We are FILM Ferrania and we are in the process of building a new kind of analog film factory in northern Italy. To be viable for the long-term, this factory must be self-contained – producing finished still photo and motion picture products from nothing more than raw materials.
We have a plan to make this happen, but we need your help to get over a pretty serious obstacle.
We have set up our new operations in the former Ferrania Research & Development (L.R.F.) building, which contains a miniature film production line. Our team has been working for more than a year to refurbish and re-engineer this building to prepare it to start. We can make film from this facility, but only a small amount – at a high cost.
We have created an ambitious new factory design that will allow us to produce enough film, at a reasonable price, to meet worldwide demand. We have already rescued tons of equipment (quite literally) from the old Ferrania buildings – but we need more and we are out of time. The buildings will be destroyed at the end of this year.
To truly be self-contained and ready for the next 100 years, we must save Trixie, Walter and Big Boy.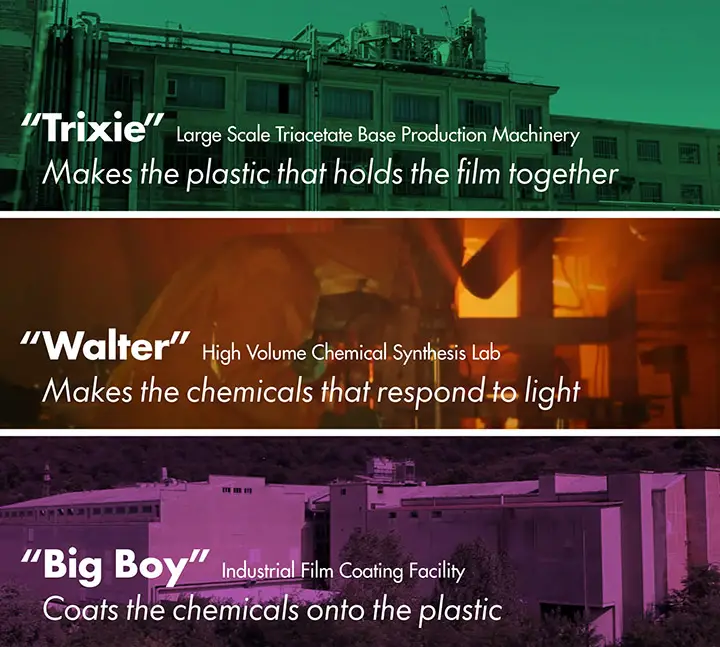 FILM Ferrania has an amazing opportunity. The one and only available color film factory in the world lies dormant at our feet. We have access to every last nut and bolt of large-scale machinery, and we can pick and choose exactly what we need to build something new out of the old.
This offer is open only to FILM Ferrania and we have spent the last year digging through the old buildings and stockpiling the machinery we need for the future.
But we've run the numbers and we simply cannot make our first batch AND purchase these last few machines before the deadline. And yet we must try to do both.
Kickstarter was born for stuff like this – ambitious and far-reaching projects that can be directly supported by everyone out there who is most eager for their success.
If you help us meet our goal, you get the first batch of film.
It's that simple.
For more about Ferrania, please check out "A Brief History of Ferrania" on our site.
This is a seriously important Kickstarter in my personal opinion. This is the chance to safeguard the future of a Film manufacturer. By supporting this we will be giving film photography a huge boost and opening up more creative opportunities for ourselves and the next generation of film shooters too.
The Ferrania Kickstarter will go live at 14.00 EST (17.00 GMT).
As there is no link for the Kickstarter yet I have linked Ferrania's Kickstarter profile page, so when it does go live you will be able to get to it from there. Once it does go live I shall post a link to it (it goes live at 3am my time, hence the early post)
https://www.kickstarter.com/profile/filmferrania
EDIT* The link is now live https://www.kickstarter.com/projects/filmferrania/100-more-years-of-analog-film?ref=users
Please check out their page and get behind this. Together we can make sure that everyone will have access to quality film for the next 100 years!
Thanks
JCH