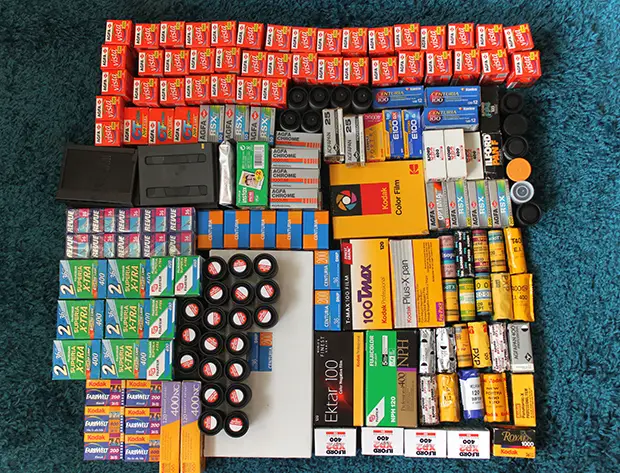 Show us your film : Suds and Silver
It has taken a while to but this together, as there have not been all that many submissions lately. But Bernard really came through and sorted us out. Come anc check these great collections.

Bernard Reznicek


Here's my film and part of my dark room setup. I can do medium format with paper size & trays for 16×20. Lots of burning & dodging these days on Oriental Seagull Paper. Selenium Toning.
B.

Bernard has been on JCH before. With his bag (link) and his absolutely stunning Imperial Canon camera (link).
Till Wichmann


My name is Till and i'm from Germany. I'd like to share my filmstash with you and your readers.
As i'm not yet able to process film on my own there's not much BW-film in there. It's also because the drugstore-labs can't get proper results with it.
So mainly color for now. They are mostly expired because i like to buy well kept film through Ebay.
Here is a list of the films:
DNP Centuria 200
Revue Color 800
Konica Centuria 100
Ilford XP2/FP4/Pan F
Fuji Instax Wide and Mini
Fujichrome MS100/1000
Fuji Superia X-tra 400Fuji 400 NPH
Kodak Plus/Professional XPan
Kodak Ektachrome E100 G/X
Kodak Ektar and Portra 400NC
Kodak TMAX 400 and 100
Agfa RSX
Agfachrome RS 1000
Agfa Vista and CT Precisa
Agfa Portrait 160
Very old Agfa low-Iso bw film
Various other dia, bw and color negative films…
Sadly, i do not have a scanner yet so i can't show you any of my photos.
Maybe i will try to get featured in the "in my bag" section soon.
Best regards,
Till.
Digby Pritchard


A have a mix of 120&35mm to feed my small collection of cameras. I always want to be able to settle upon a narrow-er selection of film products, but despite the supposed death of film, there are so many yummy choices out there and it's great to have your own film-lucky dip sitting at home.
My family like to joke that my fridge has only film or beer in it. Clearly this is unfair as the evidence demonstrates. I also have oranges.
A sound example to all the kiddies out there – use film and drink good beer. You won't go wrong.
Oh, and a link to my flickr-
http://www.flickr.com/photos/101126703@N05/
Cheers,
Digby
You guys have the right idea. Beer and film. That is what a fridge should have. In fact, I am going to go and buy a dedicated film fridge today. Just to be safe (the missus has threatened to throw out my film as it is in her way).
I would love to see your collections, so if you want to send them in feel free. Perhaps you can include a couple of shots taken with your favourite films, that would be fun. Click here to send your stash. Please make sure you send the submissions to this link, otherwise they will not be featured.
Thanks
JCH