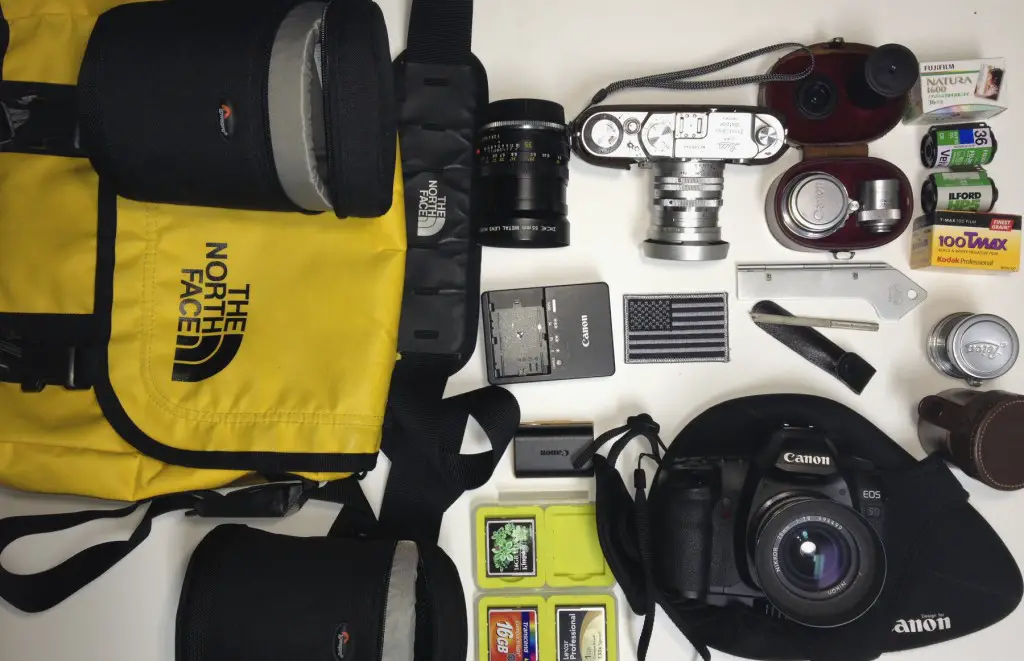 In your bag number 42, Bernard Reznicek
Bag number 42 coming folks and we have an interesting mix of old and new in this one. This bag belongs to Bernard Reznicek who I shall leave you in the capable hands of.
The bag contains my Canon 5Dm2 with a Nikon Ai-S 28mm f/2.8 with EOS Adapter. Additionally I have the Leica R 35 Summicron with EOS Adapter.
I may attach Lowepro lens bags to the outside of my camera bag to include the Canon 70-300 DO lens or a Hasselblad 150mm F/4 T* with EOS adapter or if night, the Contax Zeiss 85mm f/1.4.
For film, I bring the Leica IIIf with the Summarit 50 f/1.5 and the Canon Rangefinder 28mm f/3.5. I usually bring along film for day to night –Velvia 50 and HP400 and TMax. Additionally, because of the small size, I toss in the collapsible Sumitar 50 f/2 and the Leica Ablon and Cutter.
Extra battery and charger included with some extra memory cards (one contains latest Canon 5Dm2 firmware). I usually find people who will let me recharge the extra battery in their shops as needed.
In the USA, it's a whole different ballgame. I can leave extra cameras and lenses in the car. Nothing like Tokyo's full day out excursions where everything must fit on one's shoulders. Love using [email protected] to decompress with that load. The free ice cream or coffee is always nice.
If you are looking for some fun equipment on the low end, check out the www.shopgoodwill.com site under cameras. I picked up a Fujica 801 in black with Fujinon EBC 55 1.8 lens for about 3500 yen and recently a Minolta XD11 for 2500 yen.
I should be detailing my equipment list later with photos on my website.
Photos
http://jpgmag.com/people/reznicek
Twitter: KabukichoKing
https://twitter.com/#!/KabukichoKing
Blog
http://www.exptech.com/wordpress_EN/
Thanks Bernard for sharing your bag with all of us. It is really interesting to see the adapted lenses, that is true camera nerd territory.
Keep them coming folks, we need more submissions, so get your bag on Japancamerahunter.com. Send me a hi resolution image of the bag (please make sure it is horizontal) and its contents, with some details about yourself and what you shoot. Oh and don't forget your contact details (twitter, flickr, tumbler et al). Send the bag shots here Send the bag shots here..
Cheers
Japancamerahunter