In your bag 800, Ming Thein
Seeing as Ming was number 400 (link), it seems almost fitting that he is back at 800. And with a heart stopper of a bag. This is a very cool new direction. I am very much looking forward to the next 800 bags!

I recently purchased a large format camera, to satisfy my curiosity of technical movements. It does just about fit inside my Billingham 307, and that works much better if I've got to walk – however, large format is about planning and premeditation rather than serendipity. Plus, I'm out of dry cabinet space, so this thing will also have to do double duty as storage – preferably airtight to avoid the usual problems with humidity in the tropics. Without further ado, we have:
– Fitting inside a Pelican 1520, except the tripod of course:
– An Arca-Swiss F-Line 4×5″ monorail, fitted with a Schneider 150/5.6 APO-Symmar
– Four film holders – more are on the way, along with film from our host
– One dark cloth
– Cable release
– Voigtlander VC-Meter II
– A Nikon F2 Titan with 45/2.8 AI-P for spontaneous moments.
– The tripod is a Gitzo GT5562LTS Carbon Systematic with geared column and Arca-Swiss C1 Cube head. The 4×5 really needs as much stability as you can get; it can go on a 1-series Traveller, but you'd better be very careful with the ball head…
Cheers
MT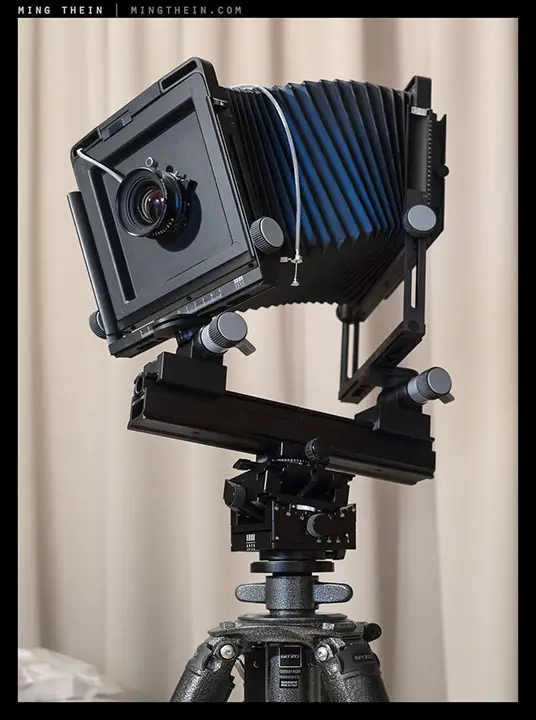 A big thank you to Ming for sharing this outstanding bag. And a huge thank you to you all for all of your support. You lot give me the energy to do this every day. I look forward to seeing lots more fantastic bags.
Check out the links and make sure you come and comment.
Keep them coming folks, we need more submissions, so get your bag on Japancamerahunter.com. Send me a hi resolution image of the bag (please make sure it is horizontal) and its contents, with some details about yourself and what you shoot. Oh and don't forget your contact details (twitter, flickr, tumbler et al). Send the bag shots here. Please understand that there is a long wait now as there is a backlog of submissions. Not all make the cut, so make sure yours is funny/interesting/quirky. And please make sure the shot is of good quality, as the ones that are not do not go up.
Cheers
Japancamerahunter