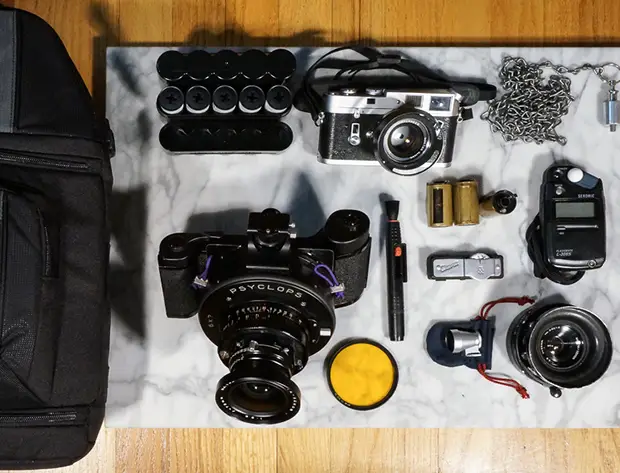 In your bag 759, Kai McBride
This is one incredible bag. I have never seen a camera like this one. Today, we are fortunate enough to see the inside of a photography teachers bag.

My name is Kai McBride.  I live in Brooklyn, NY and teach photography and manage the photography department at Columbia University's School of the Arts.  Big fan of JCH's In Your Bag series and after just receiving my JCH 120-film cases I thought it was time to send in my own setup.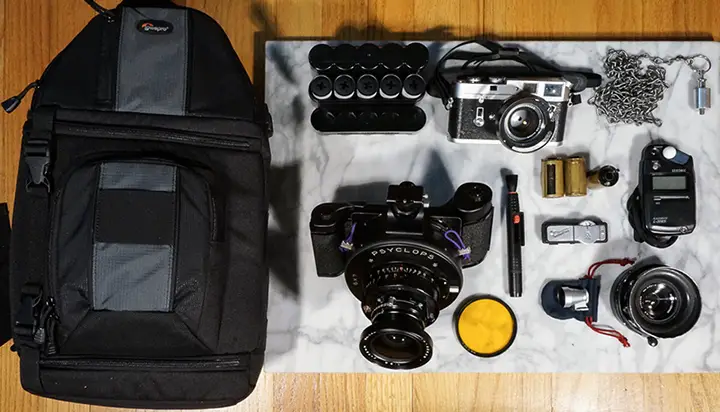 I have had several different style bags, from generic gator-mouth tool bags to a number of great Domkes, but my primary means of getting around in the city to photograph is either by motorcycle or bicycle and I needed a bag that held tight and traveled well on two-wheels.  This Lowepro Slingshot 202 AW fits everything perfectly, stays on my back through turns, and provides a nice platform when swung around to open up the back of the PSYCLOPS and load 120 film.  Extremely happy with this setup.
My primary camera is one few people have seen, the medium format PSYCLOPS 6x? which I usually shoot with the 6×9 back.  This is a limited-edition (only 6 made) camera that the photographer Thomas Roma and I designed and built in his machine shop here in Brooklyn.  He has been manufacturing cameras since the 1970s and I was lucky enough to convince him to make another camera and teach me machine shop practice.  The round black-anodized PSYCLOPS body bayonets on Mamiya Press lenses and attaches to Mamiya Press rollbacks through the M-Adapter.  The Viton O-ring which separates the lens board from the body enabled us to set the lens absolutely parallel to the film plane (it isn't even off by a half a thousandth of an inch). You can see more pictures of it on the Siciliano Camera Works website:  http://sicilianocameraworks.com/albums/3/  or watch this fetish video on vimeo: https://vimeo.com/6886173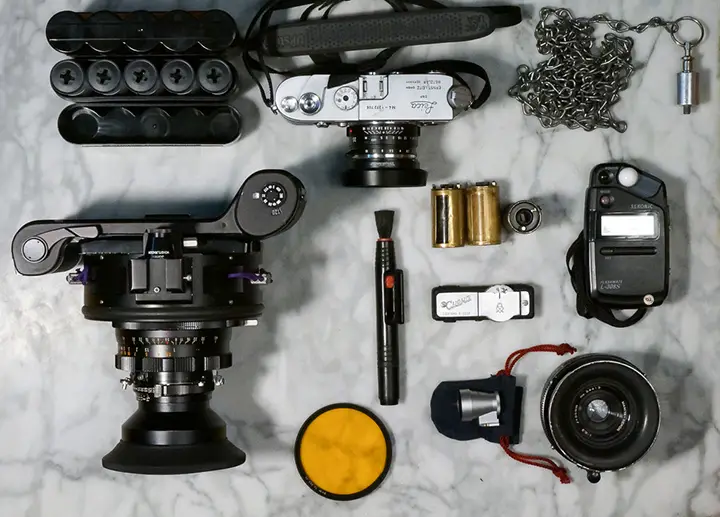 The PSYCLOPS has the 75mm on it which is my normal lens, but I also pack the 65mm with me and the 28mm voigtlander bright line viewfinder to pair with it.  The camera is scale focus only, so I have this russian 1950s SMENA accessory rangefinder–get them on eBay from the Ukraine–for harder to estimate close-up work .  B+W Orange filter for the 75mm lens.
Sekonic L-308S flashmeter. Bring this along for indoor and low-light work where estimating exposures is tricky.
10 rolls of Ilford HP5 120 film in *NEW* JCH film cases.  I've been shooting HP5 since 1990 and have stuck with it after briefly exploring other films.
Leica M4 with Voigtlander 35mm Nokton Classic with Upstrap.  3 rolls of bulk loaded Ilford HP5 in brass Leica IXMOO cassettes.
Brush for cleaning the inside of the cameras and dust on the lenses.
Chain-pod made from 5ft of window-sash chain and a custom-machined aluminum 1/4-20 thread base.  The section attached to the ring is from a keychain quick-release that we incorporated.  I use this anytime I'm making an exposure under a 60th of a second and actually I should use it all the time.  Extremely compact and lighter than bringing along a monopod or tripod.  Typically the base is screwed into the bottom of the camera I'm using and I have the chain in my pocket or over my shoulder ready to go.  I have easily made sharp exposures for up to 1-second and with a couple of tries it is usually possible to go as long as 4 or 5 seconds if you hold your breath.  Thomas Roma told me about the benefits of the chain-pod, he's been using them and making them for his students since the 1970s.
You can see some of my work on my website, http://kaimcbride.com and follow my photo rants and raves on twitter https://twitter.com/KAIMCBRIDE
The Kudzu and Newtown Creek work is all made with the PSYCLOPS.
I keep all of this loaded in the bag and ready for a quick departure.
thanks,
-kai
Thanks for sharing your amazing bag Kai. I have never seen the Psyclops, that is an amazing camera.
Check out the links and make sure you come and comment.
Keep them coming folks, we need more submissions, so get your bag on Japancamerahunter.com. Send me a hi resolution image of the bag (please make sure it is horizontal) and its contents, with some details about yourself and what you shoot. Oh and don't forget your contact details (twitter, flickr, tumbler et al). Send the bag shots here. Please understand that there is a long wait now as there is a backlog of submissions. Not all make the cut, so make sure yours is funny/interesting/quirky. And please make sure the shot is of good quality, as the ones that are not do not go up.
Cheers
Japancamerahunter