Featured Photographer – Xaris P
Whilst searching for photographers and cameras on Flickr I sometimes come across a photographer who makes me stop. Xaris was one of those. Another one of this new breed of skilled Greek street photographers, Xaris has a dark visual comedy and a strong skill for shadowplay. Come and find out more about Xaris.

First of all, welcome to JCH, please tell us about yourself.
Hi and thanx for inviting me Bellamy! My name is Haris Panagiotakopoulos (aka Xaris P) and I am a 44 yr old greek guy born and grown up in Athens, living and working on Crete the last 18 years. I discovered Photography late in my life in 2009 after following some beginners courses at the Hellenic Photographic Society. I started with a Canon 50d and the last year I use 99% a Fuji X100…
Your images vary in styles, from shadow play to landscape to street. How would you describe your style of photography?
Hmmm. You have a point actually I would describe it as a big fucking mess haha.. In fact I discovered early that I was attracted by SP. I love the streets, I like walking around with my camera catching moments, it's a huge theater out there with hundreds of small or bigger comedies, dramas, love stories etc etc being played every day. I love all this,and I am glad I have the chance to shoot some of it and try to transform it into good photographs. Most of the times I fail ,but the few times I manage it it's a great feeling. Anyway in both cases I am having a lot of fun. On the other hand if I have a nice landscape (nice in photographic terms) in front of me how its possible not to take my camera out and shoot it?
I am also very interested in portraits. I think it's the most  difficult kind of photography. In general I would say that I like to shoot everything that touches me emotionally depending on my mood every time.
After all as Winogrand said "I think that those kind of distinctions and  lists of titles like "street photographer" are so stupid.I'm a photographer, a still photographer. That's it."
There is a dark humour in your images.  Would you say it is a reflection of your character?
DEFINITELY. I deny to take life seriously, that's my defence to the reality.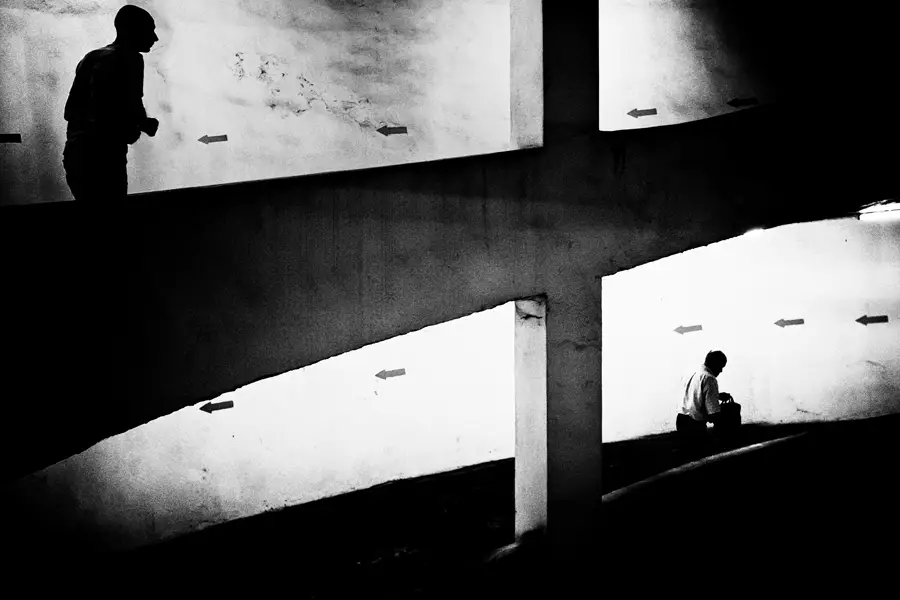 You mix and match colour and monochrome images, is this deliberate or by cause of experimentation?
Color is a difficult photographic "language". I am trying to learn this language so one day I can "speak" it fluently. B/W is easier ,there is one factor less to think of. Color cannot just be there, color must play part in the photo otherwise we have b/w images in color as Constantin Manos said once.
What is the biggest challenge you currently face with your photography?
To communicate, to talk about me, who I am, what I think, how I feel. I want my pictures to have "soul". It's not easy but it's worth trying.
Where would you like to see your photography develop in the future?
MoMA would be a good place to start with. Until they discover me my house walls are a good alternative even if my wife complains why I am hanging in the house photos of people I don't know.. But I do "know" them..
Do you have any upcoming projects or new pieces that you would like to share with the readers of JCH?
I am a new father so I spend a lot of time with my 1 year old son, in the house, in birthday parties, in playgrounds and places like that. So I am shooting a lot there and I hope after couple of years I have some good shots about childhood. At the moment I am sorry but I have nothing to show, it's very early.
I also started something with landscapes also very fresh project but I have a sample uploaded on flickr so if somebody wants he can have a look.(http://www.flickr.com/photos/xarisp/sets/72157635926731415/)
Which photographers have had the biggest influence on you and your work?
Winogrand,Koudelka,HCB,Sander,Robert Frank and many many others.
I also learned a lot from Stella Johnson (http://www.stellajohnson.com),Lukas Vasilikos (http://www.lukasvasilikos.com),Paris Petridis (http://www.parispetridis.com),Platon Rivelis (http://rivellis.gr/en/home) as I had the luck to follow their workshops.
And iam lucky to have 2-3 good friends and good photographers in the city iam living that we spend many hours together talking about photography,this is very educating too.
If you don't mind mentioning them they are Antonis (www.antonisdamolis.com),George (http://www.flickr.com/photos/55439732@N08/)and Lampros (http://www.flickr.com/photos/alejandrodondias/)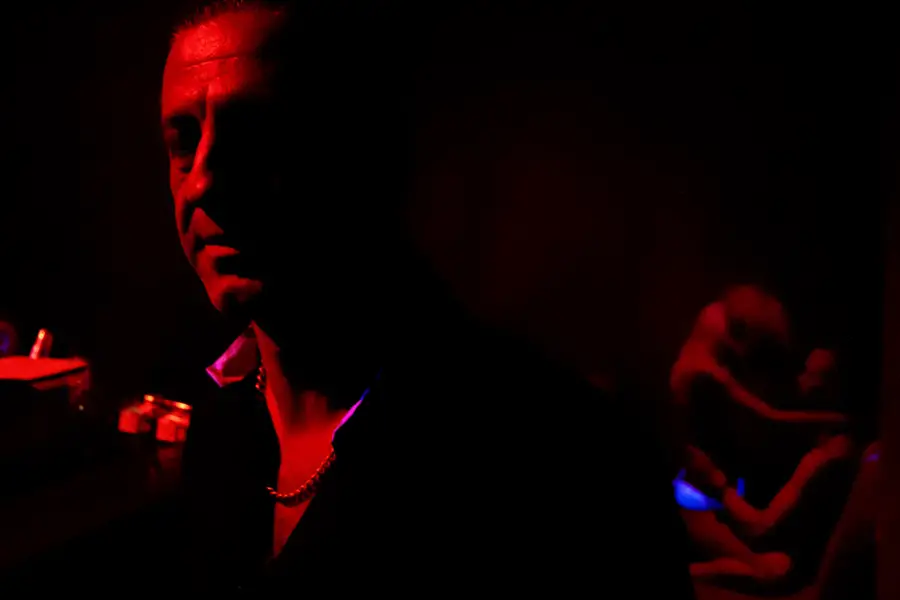 Any other words for the readers?
" Which of my photographs is my favorite? The one I'm going to take tomorrow."
Imogen Cunningham
More photos at : http://www.flickr.com/photos/xarisp/
A big thank you to Haris for being part of JCH and sharing his work with us. I feel that the dark nature of the images has an almost cynical joviality about them, which definitely appeals to my British sense of humour. I am looking forward to seeing how Haris develops his style.
Check out the links and please make sure you come and comment.
Thanks
JCH