Get Featured: Steve Hathaway
Steve shares with us a project that is more than likely not safe for work. A brief look at the inside of the pole dancing industry, backstage and without the soft haze of stage lights. Check it out.

Having drawn form an early age it was a natural assumption, by me anyway, that I would end up in an art college of sum kind. A few years later, at the tender age of sixteen that assumption became real.
I was the youngest one at my local art college by at least three years and I had to grow up overnight and I soon discovered wine, women and song but not necessarily in that order! Eventually, I gained my BA with Honors' in graphic design and went on to gain a Masters Degree at the Royal College of Art. I was then let loose on the world!!!
I was lured to the USA, New York to be precise and worked for a number of agencies working on blue chip clients and was fortunate to win a few awards and work with some of the best names in the industry and I learned a lot through briefing some of greatest names in photography where, I honed my eye of creating imagery.
After five years I came back to the UK, London and worked for and with the best that London had to offer in the creative industry and I was lucky enough to work on campaigns that won awards, ranging from multinational clients to home grown companies.
Eventually, after ten or more years I decided that I needed a change and I crossed the tracks, picked up a camera again after fifteen years and started shooting again. All I knew was that I wanted to shoot something worthwhile, something that mattered. Something that could make a difference somewhere, and to someone.
So, I started to shoot subjects that could be classified as reportage or documentary, basically something that told a story as I did this my writing abilities grew and I started to write the words that went with my pictures. I was never one to be told what to do and so, I ended up doing both.
Again I have been fortunate to have won a number of prizes and awards for my work.
I knew that this is what I wanted to do, and looking at the greats of the industry, from Capa, Freiedman, Jones-Griffiths, Smith, Frank Cartier Bresson, Ewitt, Natchwey, Towell, the list is endless only reinforced my desire to produce pictures. So, I threw myself in the deep end and went to war in the Balkans.
And although the learning curve was steep, very steep I learned a lot that has kept me in good stead forever. I enjoy what I do, I am what I do and as Georges Lois, one of all time great ad men said, 'I have found my bliss.'
Pole Dancer a photo essay showing the day to day lives of a group of exotic dancers from around the world who, have made London and its adult sex industry their home and workplace. Its a misconception that all the girls that work in this industry are on the game and are nothing more than hookers that dance.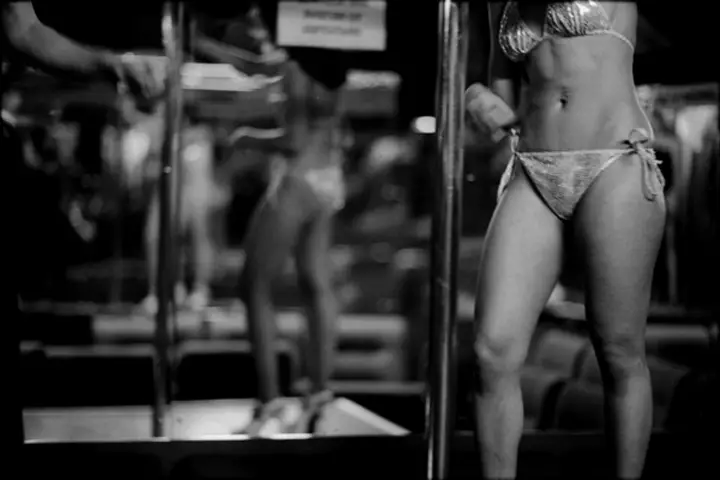 Many are professional dancers some, are even ballerinas who cant get a full time job in their profession or have come to the end of their professional dance career but still need that exhilaration they get when they dance in front of an audience. Whilst, others are putting themselves through college or sending their kids to private schools with the money they earn.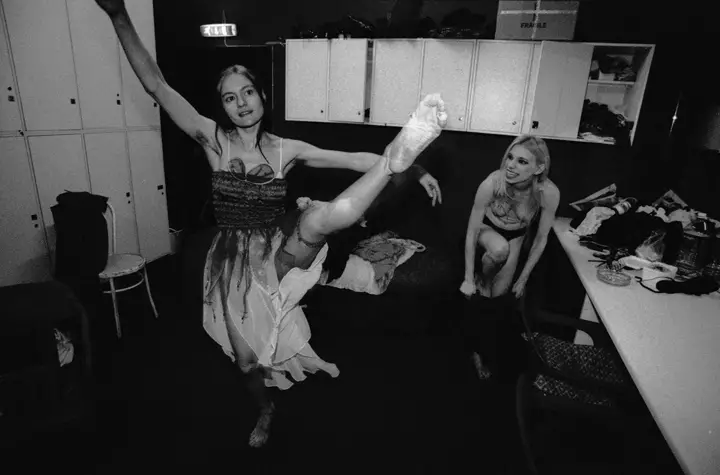 They are the ones in control, the ones that have the power and they know it. These are not usually weak women. They are strong-minded individuals who are comfortable in their skin which, is more than can be said for a lot of us.
You can see more of Steve's work at his site: www.behance.net/stevehathawayphotos
Thanks for sharing your work Steve. A very interested look at what goes on behind the makeup and the glitter.
Come on, share with us what you have and get yourself featured.
Click on this link and send in your project/work: Get Featured. *I am looking for mainly projects, not individual images*
Oh, and click here to see a few of the photographers that have been on the site before https://www.japancamerahunter.com/?s=featured
Please make sure you come and comment. Polite and constructive critique is welcome, offensive and disrespectful comments will be removed.
Thanks
JCH