In your bag No: 687, Peter de Graaf
Todays bag is cool, not just because it is a medium format beast, but because you have to see the bigger picture to take it all in. Come and check out this lovely setup.

My name is Peter de Graaff, and I live about 100km south of Sydney at Shellharbour, on the beautiful south coast of New South Wales. Our region has wild coastlines, beautiful beaches and rugged wilderness National Parks. I am a correctional educator who has had a lifelong interest in photography. In recent years I also spent 12 years working for the teacher union in this state, which meant writing lots of articles and taking photos of political campaigns and actions.
The first camera I owned was an Olympus Trip, which I bought when I was a teenager in the early 1970s. In recent years I have turned my back on digital photography, even though I was an early adopter of this technology, and re-kindled my love for film. I have built a sizeable collection of small, medium and large format cameras. During the last 12 months I have been teaching myself the basics of large format wilderness photography and also film development. I process all my own black + white, C41 and E6 film and love experimenting with development techniques.
For hiking in the wilderness I usually carry a number of cameras, lenses, and other equipment in my bag. Depending on factors such as distance, terrain, temperature and days out on the trail, I will set up the bag for the weight to be manageable, which sadly sometimes means leaving a treasured camera at home.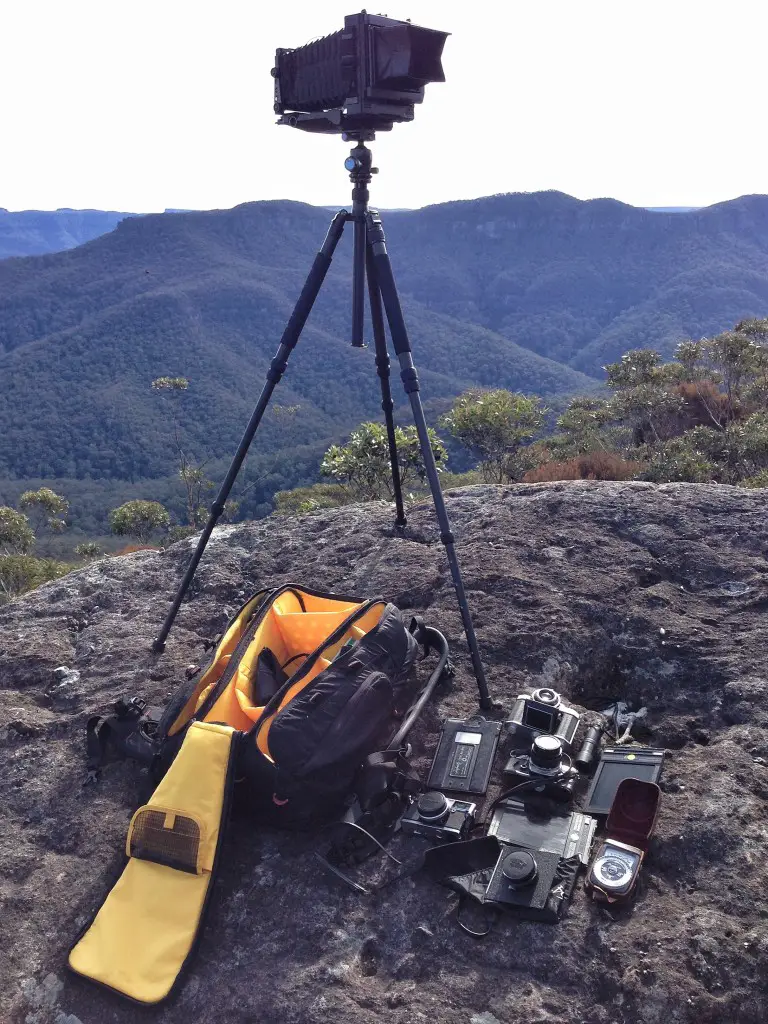 Always in the bag are my Toyo 45CF Field Camera with Nikkor-W 135mm and Nikkor-M 300mm lenses, cable release, and Sirui carbon fibre tripod. In addition I will often carry a Nikkor-SW 75mm and Nikkor-W 180mm plus lens filters.
Next to my bag for a day trekking in the wilderness are my: Olympus Chrome Six RIIB loaded with Reala, Olympus OM-1 with Zuiko 50mm f/1.4 lens loaded with Fuji Superia 400, Olympus-35 SP loaded with Ultrafine Xtreme 100, Grafmatic film holder loaded with Kodak TMax 400 sheets, 2 double dark slides loaded with Velvia 100 sheets, Gossen Lunasix light meter and a focusing loupe. I hasten to add that my Olympus OM-1 always goes with me everywhere on my chest. Inside the Kata bag are OM-1 extension tubes for wildflower photography, a  wilderness map of the Budawangs, a bottle of water, energy bars, Rodenstock lens tool, lens brush, lens cleaning paper, plus a few spare rolls of film depending on conditions (TMax, Velvia, Reala, Ultrafine, Superia 400 and NPH400).
My photography can be followed at
http://www.flickr.com/photos/peterdegraaff/
http://peterdegraaff.wordpress.com/
I also regularly contribute to http://52rolls.net/
Peter de Graaff
Thanks for sharing your bag with us Peter. This one is lovely. I hope you are out using it again soon.
Check out the links and make sure you come and comment.
Keep them coming folks, we need more submissions, so get your bag on Japancamerahunter.com. Send me a hi resolution image of the bag (please make sure it is horizontal) and its contents, with some details about yourself and what you shoot. Oh and don't forget your contact details (twitter, flickr, tumbler et al). Send the bag shots here. Please understand that there is a long wait now as there is a backlog of submissions. Not all make the cut, so make sure yours is funny/interesting/quirky. And please make sure the shot is of good quality, as the ones that are not do not go up.
Cheers
Japancamerahunter