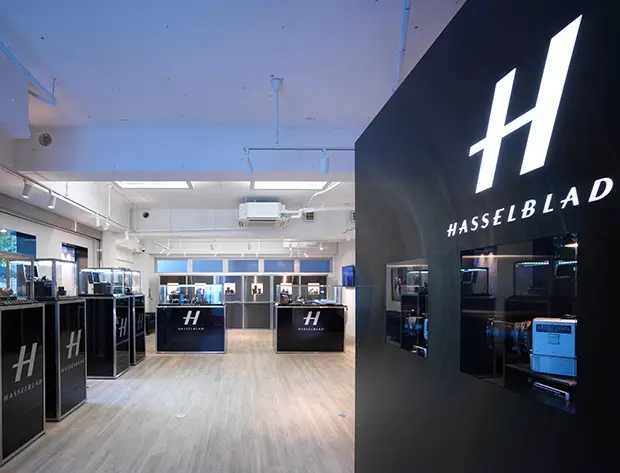 Hasselblad Boutique Tokyo
There is a new place in town, a place where you can go and not just buy some pretty sweet cameras, but also meet some great people and learn something new. Hasselblad have opened their first retail store in Tokyo, and it is pretty damned swish. Check it out.

Hasselblad is a name that is synonymous with photography. From fashion greats to out of this world NASA photography, Hasselblad has been part of the photographic landscape forever. So it seems funny that they come to the table late with a retail store. But better late than never.
When Hasselblad decided to open their first retail store, Tokyo was an obvious choice. The Harajuku area is choc full of top names in the fashion and design indusrty, so what better place to have a store for the worlds most recognised professional cameras? The store has already been a great success and now they are building on this by trying to bring the world photo community to Tokyo.
I got the chance to hang out at the store today and It was a really pleasant surprise. There is no stuffy atmosphere or snotty sales clerks. In fact, the staff are friendly and many of them are English speakers, making it even more accessible to visitors from out of town.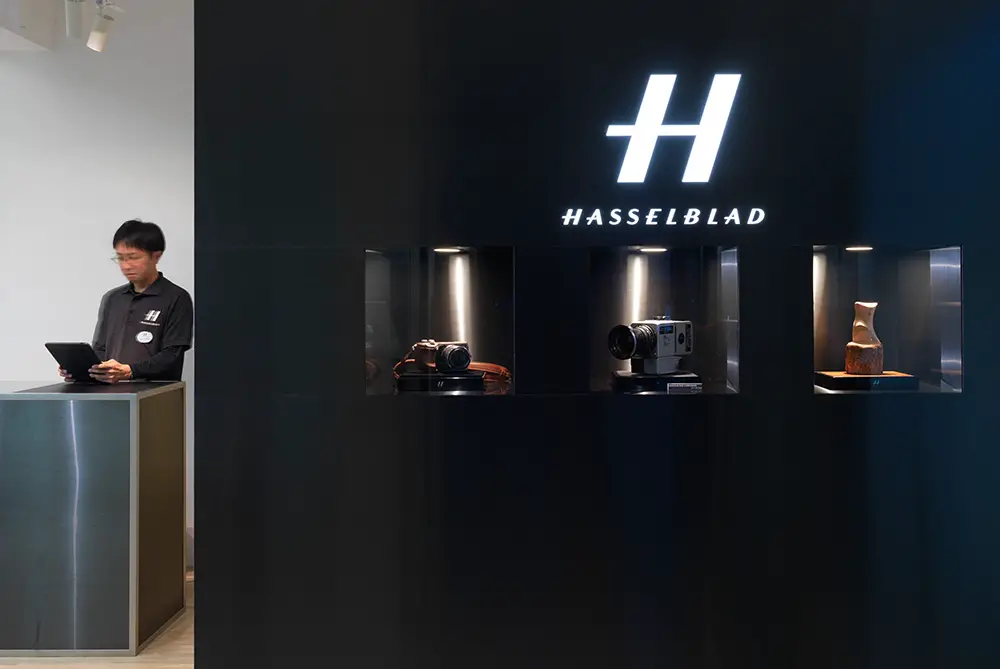 When you first walk into the new store you are faced with a wall of classic Hasselblad cameras from the past. And there are some real beauties there to drool over. But none of them are shelf queens. All have very obviously been used and abused, but I am reliably informed that all are working and still being used!
The President of Hasselblad Japan is a Brit by the name of William Penrice, and he even has one of his own cameras up on display. Talk about passion, this is a very early 1600F with a Kodak lens (before the partnership with Zeiss). That is always a good sign, when the boss is a camera lover too.
It seems that Hasselblad Japan has been making great strides into the photo community in Japan and they really want to get everyone involved. It is not just about selling cameras, you can really feel the passion for photography here.
The space is wide and open plan, with display cases full of the new toys (including the last 4 H4D stainless steel bodies left in the world). But what you cannot see in these pictures is the table football that is now in the store, or the coffee machine. In the adjacent building there is a mini studio where you can play with all of the latest gear too.
Will told me that he would really would like this place to become not just a showroom, but a place for photographers from all over the world to come and meet one another, talk shop, check out the latest cameras and share their love for photography. I think this is a very cool thing to do, as there is nowhere else like this of this scale currently in Tokyo.
The store is located in the super trendy Harajuku district and it is really easy to get to, just a 3 minute walk from Harajuku station. So not only is it central, but there are tons of photo opportunities on the way there and in the surrounding area.
One of the cool things that they are doing is the Wednesday open days. Every wednesday you can come to the store and meet other photographers from all over the world. Everyone is welcome. And then you can play with the latest Hasselblad equipment. But not only that, you can also get to learn about the classic Hasselblad equipment too, as the store is planning on doing classic camera sales too! Last week the had a pinhole class apparently. Now that is pretty cool. And the best thing? The open days are free. Lovely stuff.
Hasselblad Japan have really thought this through well and they have created a space that is quickly becoming the stop off point for photographers in Tokyo. There is always someone interesting to meet there and something going on. I am looking forward to some of the upcoming film workshops that will be taking place as there will be plenty of familiar faces there.
If you are in Tokyo or just visiting, make sure you drop by and say hello. Mention that I sent you and you might get a spin on the Ferrari camera (That is clearly not going to happen, but shy kids get no sweets).
Check out the Hasselblad links for more info on events, cameras, repairs and more.
Repair Centre
http://htv.hasselblad.com/video/hasselblad-japan-repair-center
Hassy Japan videos:
http://htv.hasselblad.com/channel/japan#channels
Events:
https://www.facebook.com/Hasselblad.Japan/events
Facebook page:
https://www.facebook.com/Hasselblad.Japan
Twitter:
https://twitter.com/Hasselblad_JPN
Google Map:
https://plus.google.com/105581228052985877958/about?gl=jp&hl=en
The lovely images of the store are courtesy of Hasselblad/Sean Conboy. Please do not re-produce without permission.
http://www.photo-genics.com/
See you there
JCH