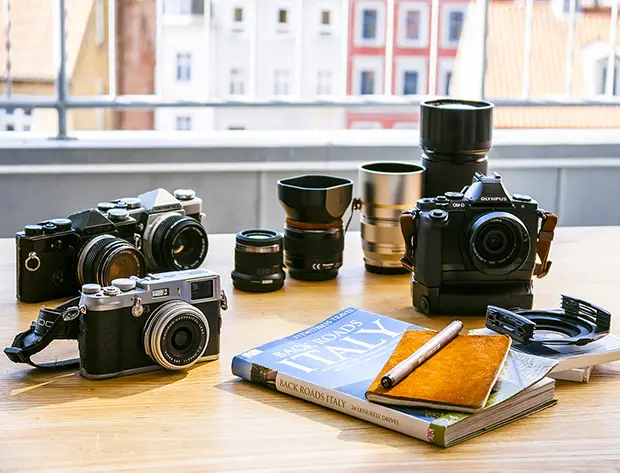 In your bag No: 662, Nicholas Dunning
Todays shot has no bag…And normally I wouldn't feature it because of that. But it is such a nice setup and so pure that I felt it should be included.

I have followed your site for a while now and I love the variety of gear and photographic styles that appear there.
I come from New Zealand but 5 weeks ago I moved to Denmark to study Architecture. For the past 5 weeks I have also been travelling around Italy with my m4/3 kit which I love to bits and has been beating my old canon full frame gear even.
I admit there is quite a lot of gear here but usually only one of the film cameras will come out and the big Canon 200mm f2.8 usually stays in the car unless I have a particular shot in mind.
As far as bags go, I use a Dakine Helipro backpack that has served me well on the mountains for the last 4 seasons and it's most useful feature is the camelback water insert. It is 40 degrees in Italy! But other than that, my m4/3 lenses fit in my pockets easily. I usually have the Panasonic 14mm and the Olympus 45mm in one pocket and my passport and the Olympus 75mm or Panasonic 25mm in the other.
Gear list:
Olympus OM-1n w/ 50mm f1.8
Olympus OM-1n w/ 28mm f3.5
Olympus 45mm f1.8
Panasonic 25mm f1.4
Olympus 75mm f1.8
Canon 200mm f2.8 fd
Fuji X100
Olympus OM-D EM-5 w/ battery grip + Panasonic 14mm f2.5
Back roads of Italy- Guide book that I highly recommend for finding towns you would otherwise not know exists, and a handmade suede notebook + some cokin P filters.
Nicholas Dunning
Thanks Nicholas. Very nice gear, although I would have liked to see the bag in the shot somewhere.
Check out the links and make sure you come and comment. Oh, and please try to include your bag in the shot, seriously.
Keep them coming folks, we need more submissions, so get your bag on Japancamerahunter.com. Send me a hi resolution image of the bag (please make sure it is horizontal) and its contents, with some details about yourself and what you shoot. Oh and don't forget your contact details (twitter, flickr, tumbler et al). Send the bag shots here. Please understand that there is a long wait now as there is a backlog of submissions. Not all make the cut, so make sure yours is funny/interesting/quirky. And please make sure the shot is of good quality, as the ones that are not do not go up.
Cheers
Japancamerahunter