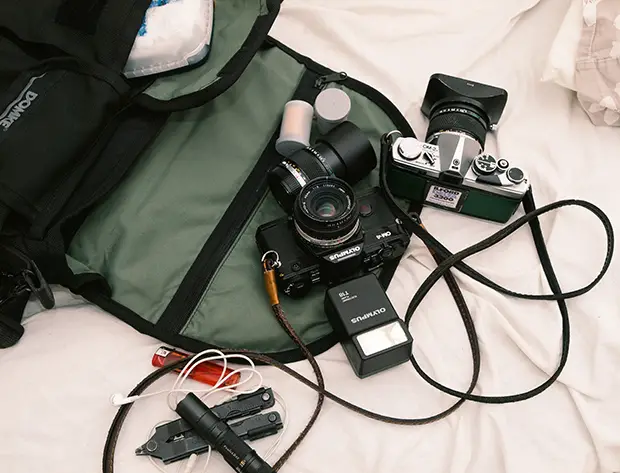 In your bag No: 663, Joona Sipi
We have a returnee today. Joona was first featured over a year ago as number 165, and now he is bag with a new setup for us all. Come and check out this cool bag from Finland.

Over a year ago I sent a shot of my bag to you. No I would like to share a refined version.
Here's what's in my bag today:
Olympus OM-4 with T18 flash and 40mm F2 Zuiko.
After shooting some time with both 35mm and 50mm lenses, I wanted to get a lighter lens than the Olympus 35mm F2. I also found my self shifting between from 35mm to 50mm a lot while neither fully matched my "vision". While I think I could have adopted to using just 35mm or only 50mm, I wanted to see if 40mm would be my thing. So far, I have loved the little 40mm pancake!
My good old black OM-2n died. Ok, the needle of the light meter died, it's otherwise functioning ok. Still, I got a reason to buy a new camera! I ordered an OM-4ti from an online shop, but they had just sold it. So instead they gave me this OM-4 and some accessories. I like the integrated hotshoe. Spot meter is also nice – when you have time to play with it without missing the shot.
OM-2n with 24mm F2 Zuiko
I have to say prefer OM-2n over OM-4. OM-2's viewfinder is huge and I find exposure compensation dial faster to operate than a spot meter. 24mm F2 is quite big lens and I seldom use it wide open. I have been thinking of changing to lighter 24mm F2.8 or 21mm F3.5 at some point.
85mm F2 Zuiko
Nice portrait lens. For more compressed telephoto look, a 135mm would be a winner, but I think 24/40/85 focal length combo works quite well for me.
Domke J-803 satchel
Great sturdy bag! A bit heavy, but that means it's going to last. It sits close to body with a very low profile. In my bag there's always assortment of stuff like film, lens pen, first aid kit, flashlight and multitool.
Oh, and both of my cameras have Cameraleather.com leatherette. OM-4's sporting "Contax black". OM-2n is clad to spring green. The straps are some cheap-o eBay stuff. Now I know I should have got Gordys'! Well, at least these are leather, so they won't freeze during the Finnish winter like the original OM straps do.
My tumblr: http://unkodakmoment.tumblr.com
My flickr: http://www.flickr.com/photos/jjsipi/
Best regards,
Joona
Thanks for sharing your bag with us Joona, I love the setup. Those OM's are lovely.
Check out the links and make sure you come and comment.
Keep them coming folks, we need more submissions, so get your bag on Japancamerahunter.com. Send me a hi resolution image of the bag (please make sure it is horizontal) and its contents, with some details about yourself and what you shoot. Oh and don't forget your contact details (twitter, flickr, tumbler et al). Send the bag shots here. Please understand that there is a long wait now as there is a backlog of submissions. Not all make the cut, so make sure yours is funny/interesting/quirky. And please make sure the shot is of good quality, as the ones that are not do not go up.
Cheers
Japancamerahunter