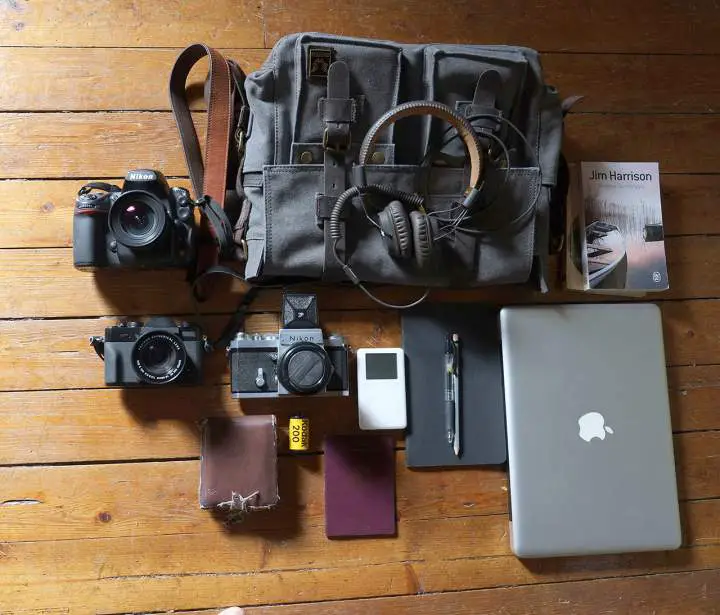 In your bag No: 1399, Benoît Coeuret
Ben comes from the delightful region of Normandy, in France. Today he shares with us his daily shooting bag, which contains not only a classic camera, but a classic i-Pod, lol. Check it out.
Hi there!
I'm ben, 36, I live in France Normandy, and here's a photograph of the gear i'm usually carrying around for my creative moments.
This is my canvas and leather Muchuan everyday bag I got a few months ago, after carrying no shape army second hand bags for a while in which I could not keep everything in order and completely safe. I can put most of my necessary and everyday gear.
My work horse is the Nikon D700, solid, fast and accurate enough to deliver some of my most beloved traveling photographs, and a trusty strong performer at hight iso, that can shoot easily when the temperatures drop down to -20C° in the middle of the Icelandic night in the winter. Along with a beautiful 20mm F2.8, the aurora night scapes I like to reach at the 66° north turn into magic each times. A versatile reference still not equalized.
The wonderful Fujifilm X-T10 coupled with the simple 16-50mm F3.5 zoom. It's been quite some time since I needed a cool and light toy to get my everyday photographs and private portrait. As an art teacher, it's also my students companion as we love to shoot light painting projects when they feel like walking on their hands with luminous sole shoes up in the air! Since Fuji has implemented many film simulations into their hybrid cameras, together mixed with the highest technology in a retro-style body and amazing sharp lenses, I just feel like I'm in heaven.
Nikon F with Waist level finder, ordered on ebay and brought back to my hands from the USA to Paris by someone special a couple of years ago. This is a great camera that I keep for special moments. As it works with all nikon lenses, I keep a 28mm 2.8 lens plugged on it. I've shot it in Iceland last winter and have not gotten all the film back yet. 3 shots to go still. Kodak film works fine in this everlasting machine. 
An old refurbished and modified Ipod from 2003 and Marshall earphones when I'm hiking. Works great still! 
Moleskine booklet and modified macbook pro go together as well, for thoughts, writings and processing. 
Passport and definitely destroyed wallet. (to be replaced soon?)
And my beloved Jim Harrison is never really far from me.  
Not shown: 
1. French Nontron pocket knife
2. Nikon F operate Ftn viewfinder
3. Nikon F black with Waist level finder
4. Lexar pro memory cards
My work https://500px.com/bencoeur
http://yourshot.nationalgeographic.com/profile/1316017/
Thanks for sharing your gear with us, Ben. A great bag you have there.
Check out the links and please come and comment.
Keep them coming folks, we need more submissions, so get your bag on Japancamerahunter.com
Send me a high resolution image of the bag. Optimum size is 1500px across. Please ensure there is a bag in the shot, unless you don't use one. The more you can write about yourself the better, make it appealing and tell us a story. Snapshots of your gear with a camera phone and no words will not be featured.
Oh and don't forget your contact details (twitter, flickr, tumbler et al). Send the bag shots here. Please understand that there is a long wait now as there is a backlog of submissions. Not all make the cut, so make sure yours is funny/interesting/quirky. And please make sure the shot is of good quality, as the ones that are not do not go up.
Cheers
Japancamerahunter