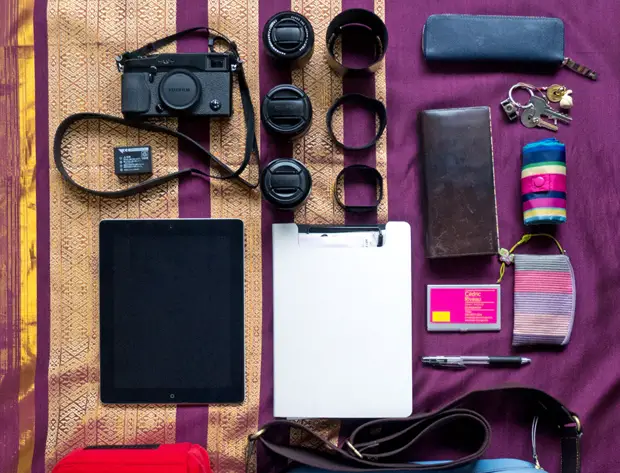 In your bag No: 527、Cédric Riveau
Wow, now this is a colourful bag. Bright and full of fun gear, this one is coming to you straight from Tokyo. Come and have a look inside this fancy bag.

Bonjour !
In advance, please forgive the poor English of a French guy.
My name is Cedric and I have been living in Tokyo for 12 years now. I am a photographer, I run a magazine about Tokyo's culture and I teach French (a man needs putting icing on the cake). I had an exhibition between 2012 and 2013. Right now, I am preparing a book on a project I have worked on all 2012: taking random strangers in the streets of Tokyo, talking to them and writing their story with their portrait. I took more than 1500 persons in 366 days.
Usually, I don't show the content of my bag but I like Bellamy's idea that seriously reminds me the work of Robert Holden "The burning house" (link: http://www.color-lounge.com/blog/2011/07/robert-holden-the-burning-house/)
I wanted to be honest and present my everyday bag and not all my equipment. Therefore, you will not find big camera bodies or lenses as I never carry them on an everyday basis. I have a suitcase for my Nikon equipment but that is different as I understood Bellamy's project as something you carry day to day. My iPhone is in my pocket and my tripod doesn't fit in a bag…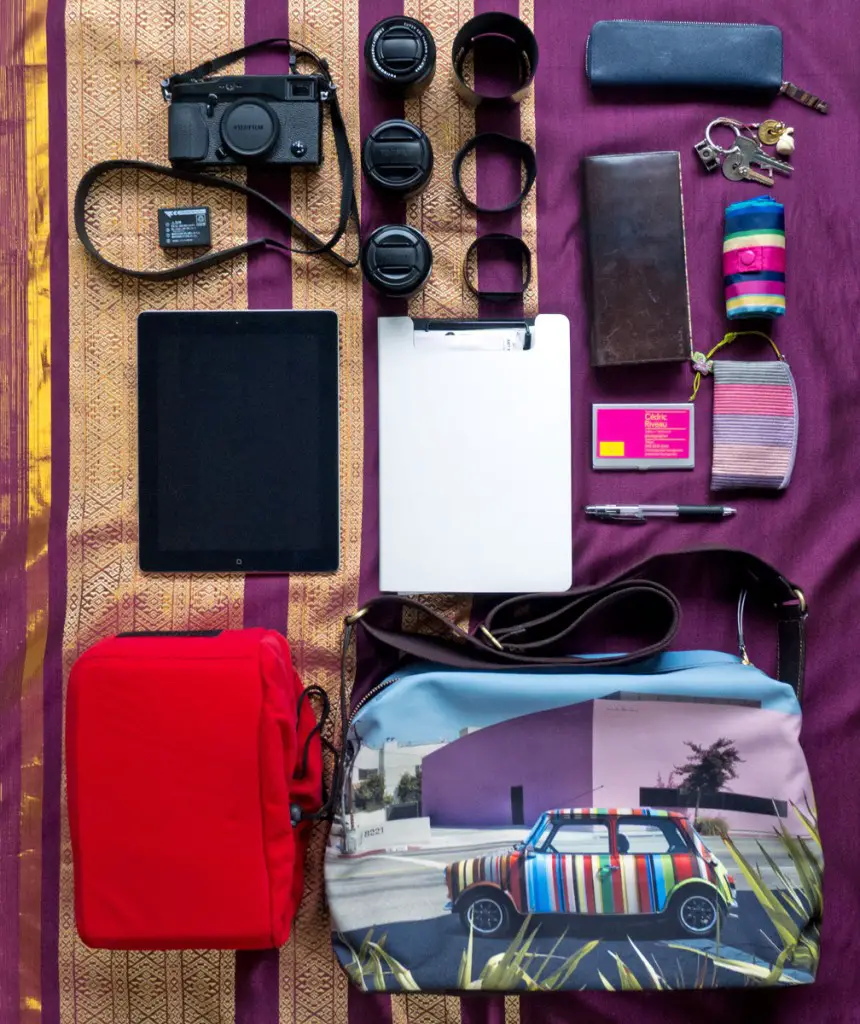 Allow me to present the exact content of my bag.
The body is the Fujifilm X-Pro1 with three lenses:
– XF14mm f/2.8
– XF35mm f/1.4
– XF60mm f/2.8 macro
each of them is side by side to its hood. Of course, I have a spare battery fully charged all the time as the battery life of the X-Pro1 is one of its weak point.
Under, you find my iPad, a great tool to show my work, I use it as a portfolio and people are reassured when they saw so many portraits in it. Next to my iPad, my notes cover contains the discharges for publishing rights to be signed. So I always have a pencil. As I am in Japan, people also are reassured when I give them my business card, just above the pencil.
On the right upper corner, You'll find a pen case, my keys, my wallet, a folded bag for shopping and a small pouch for emergencies.
The bag itself is showing a cute striped car and some of you will recognized the brand I am sure. The red bag is a padded protector bag for the photographic equipment. It has three storage zones in order to protect the body and the lenses.
I guess you noticed, I like stripes! ha ha
(BTW, the picture was taken with my Lumix LX5)
Cheers
My website : http://www.color-lounge.com
The 366 portraits of 2012 website : http://www.366portraits.net
My Twitter : https://twitter.com/colorlounge
My Instagram : http://instagram.com/color_lounge
Thanks for sharing your super colourful bag with us Cédric. That is a real dedication to the project portrait, 366 portraits. Well done.
Check out the links and make sure you come and comment.
Keep them coming folks, we need more submissions, so get your bag on Japancamerahunter.com. Send me a hi resolution image of the bag (please make sure it is horizontal) and its contents, with some details about yourself and what you shoot. Oh and don't forget your contact details (twitter, flickr, tumbler et al). Send the bag shots here.
Cheers
Japancamerahunter