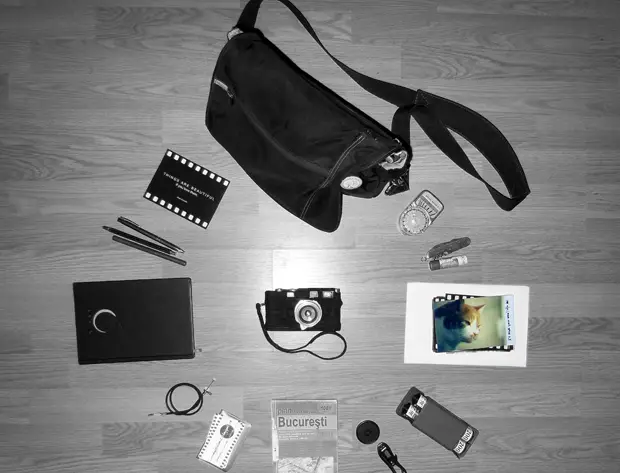 In your bag No: 518, Ned Kelly
Ned is back! He featured a bag in the past, and now he has changed everything and shares with us his new bag. And in a nice little twist, he presents it as a clack. Check it out.

I`ve been here before ( https://japancamerahunter.com/2012/08/in-your-bag-235-n-k/ ) , but "because things are the way they are, things will not stay the way they are", my life has changed and with it my gear, and to compose this metaphore in the picture bag i`ve arranged the items to resemble a clock, so let me take you to a tour in "time":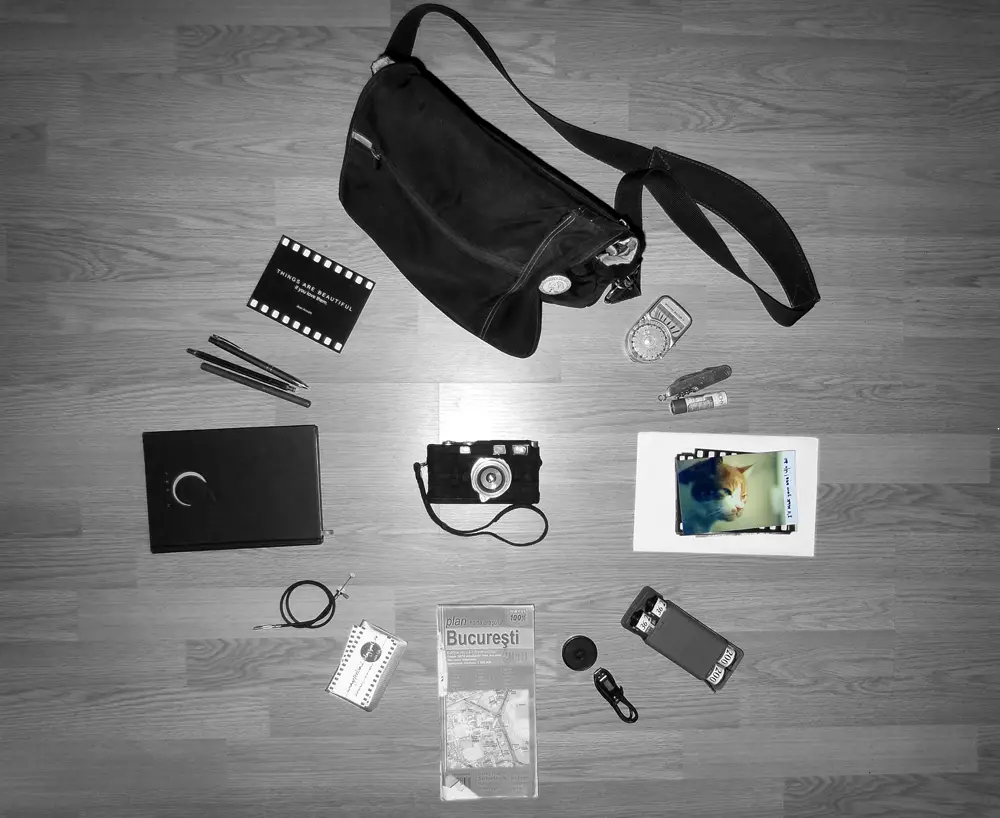 – in the middle of them all is the camera itself, last time i`ve posted here i was using 2 black Nikon FE`s (so underrated cameras), but because opportunity comes with patience…i`ve had the chance to buy a few months ago a Voigtlander Bessa R4A… that i think is the equivalent of the FE in a rangefinder body. That was a great camera, and when coupled with the Voigtlander 35mm 1.4 Nokton was just a great compact street photography machine. But if you persist in patience, opportunity will strike again, and a few weeks i`ve got myself the camera that i wanted for 2 years, the Leica M3, single stoke. The price for it was 250$. So this is what i use, and for those who want one, i can tell them to be patient.. buy a Nikon FE (they`re cheap as dirt), use that until the opportunity arrives and save some money in the meanwhile, and if the opportunity still dosen`t show off …contact Bellamy, he can negotiate with opportunity for you.  Back to the camera, it is a chrome version, but because i believe that a camera must be black, and only black… i`ve dressed it with some sort of gaffer tape.. but with a much better tactile quality.
– at 1 o`clock is my lightmeter, a Weston Master V. Great build quality, button for holding the iso setting so you don`t turn it by accident in the pocket.
– at 2 o`clock is the same penknife and lip balm
– at 3 o`clock is a white envelope whit picture to show / share with friends. The picture atop is with a special cat friend that died today, and because of his death i decided that i want to send you the bag photo today. For you all, enjoy your life and the time you spend with your love ones, that time is limited. And here`s a photo, and make sure you read the little text in the "info" button from down-right.  http://1x.com/photo/48332  And for those who don`t know 1x, take a look and you too just might be surprised.
– at 4 o`clock is a Hama Film-Safe X film holder, it takes 4 roles and is X-ray safe. Also made in the same country as Leica. For this year i will use only Fuji C 200, so that`s in the holder.
– at 5 o`clock is the lens cap fot the lens that`s on the camera. What lens? a 50mm f2 rusian Summicron, it is called Jupiter 8 and it`s a perfect copy made in Russia after a Carl Zeiss Sonnar. Google it and you might be surprised. I got it for  19$. Taking that into acount, and the words of Henri Cartier Bresson: "sharpness is a burgeois concept", the Summicron dosen`t make sense to buy. Not from my financial point of view at least. Also near it, it`s a usb cable for the small digital compact camera that shares the bag with the M3, and it was used to take the picture with: a black Samsung WB250F, a great camera.
– at 6 o`clock is the same city map
– at 7 o`clock is something special. the business cards for my site/blog. i decided to end the Vivian Maier aproach, so you can now find my photographs here: http://imagefeelsoul.blogspot.ro/  It`s the only place where i intend to put them, and i try to (and do that) update it daily. The comments are disabled, i belive photographs (sometimes) must just be looked at, felt and understood… and (sometimes) comments can stand in the way. If someone really wants to say something about a photo.. can go the email way, if not, then those thougts are just not that important even for the sender..
– at 8 o`clock is a cable release, upgraded to a model that has a screw to lock for bulb mode and long exposures
– at 9 o`clock is an agenda, black of course.. This is one of the best and simplest ways to get organised, and that`s a must especially when you begin your own business.
– at 10 o`clock there are some pens.
– at 11 o`clock is a simple quote that i like, it says "THINGS ARE BEAUTIFUL, if you love them"
– and at 12 o`clock is the same bag as last time, just with more wear out marks
So that`s in my camera bag, nothing more than what i need.
Wish you all great light, in your viewfinders and souls! Roger and out!
" As time passes by and you look at portraits, the people come back to you like a silent echo. A photograph is a vestige of a face, a face in transit. Photography has something to do with death. It`s a trace. " (Henri Cartier Bresson)
Thanks for sharing your new bag with us Ned, interesting to see how things have changed. I love the presentation too, very imaginative.
Check out the links and make sure you come and comment.
Keep them coming folks, we need more submissions, so get your bag on Japancamerahunter.com. Send me a hi resolution image of the bag (please make sure it is horizontal) and its contents, with some details about yourself and what you shoot. Oh and don't forget your contact details (twitter, flickr, tumbler et al). Send the bag shots here.
Cheers
Japancamerahunter