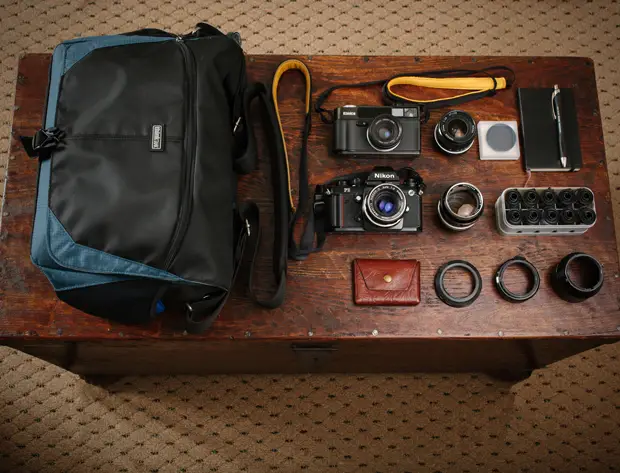 In your bag 378, Abram Goglanian
The last bag of the year, so I thought it should be something special…and then I realized, all of the bags are special. Every one of them is special. So here you go, a fantastic bag to ring out 2012.

I'm Abram Goglanian, a freelance photographer from Southern California, I'm also presently studying the field of Graphic Design and I aim to get my degree for it. I have been shooting for over 14 years, and commercially for the last 4, my greatest passion is photography and I can truthfully say that my world revolves around creating images. I have shot film since the beginning, but I had previously transitioned to digital completely in 2005, and started returning to film in 2009. I have since made it much more of a focus for my personal work. I do still shoot digitally as well, but it is typically just for client work these days.
I have worked in numerous categories and tested several genres, constantly searching for what inspires me the most. I have always had an interest in landscape and architecture photography, but I have started combining the two interests in exploring for places that have been forgotten. I also have a strong desire to improve my abilities as a documentary photographer, as I find that to be the most challenging, but most rewarding type of work that I've done. I still have so much to learn in that arena.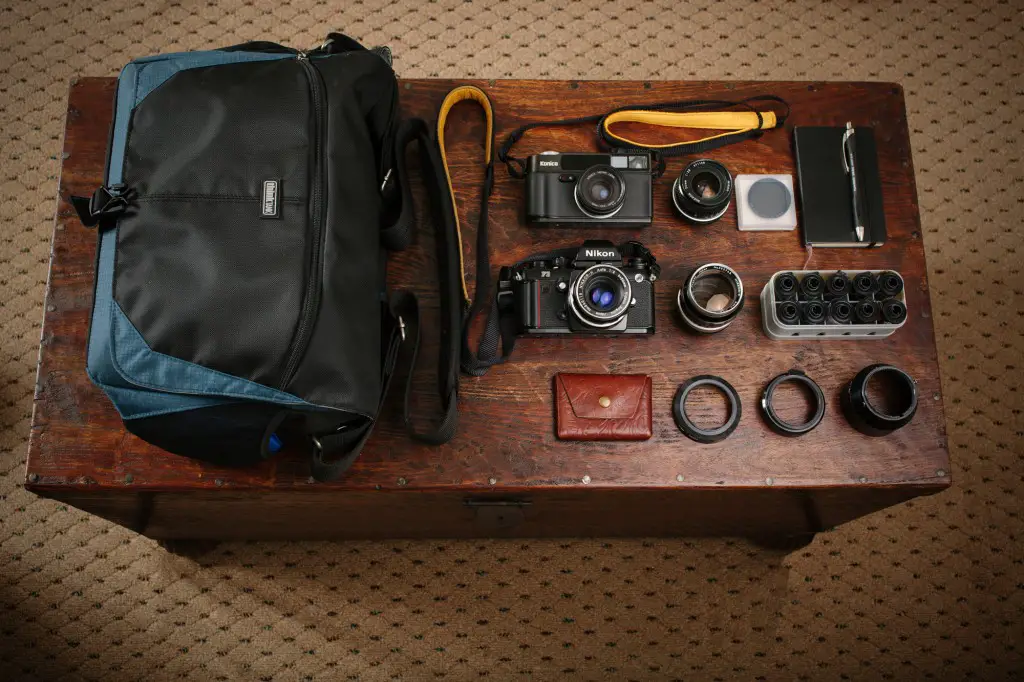 Bag #1 (35mm)
This is the bag I usually grab and take with me daily, sometimes there will be less things in it, but never more than this.
The venerable Nikon F3 – The finest manual focus SLR I have had the pleasure of working with. I went with the non-HP version for the higher viewfinder magnification.
Nikkor 24mm f/2.8 AI – A true classic wide angle, on the camera most of the time.
Nikkor-H 50mm f/2 (AI'd) – One of the sharpest 50s Nikon has ever made, and dirt cheap too!
Nikkor-P 105mm f/2.5 (AI'd) – A true legend in Nikon's lineup, this is the earlier Sonnar version which renders differently than the later Gauss-type version (Found in the AI & AI-S).
Konica Hexar AF – Quite possibly my absolute favorite 35mm camera ever. It is a complete joy to work with and it is extremely quiet. Often times I will take only this camera and several rolls of film.
Film case loaded with 10 rolls of film – Usually 5 rolls of tri-x for the Nikon and 5 rolls of Acros 100 or 160 ProS (or a mix) for the Hexar.
The rest is my usual EDC stuff, a small notebook, pens, business cards, and other small bits.
Lastly of course is the bag itself, I will often rotate between different bags as my tastes change, but right now the Think Tank CityWalker 20 is working splendidly for this kit, it's lightweight, very comfortable and holds everything easily.
Bag #2 (Medium Format)
This is a setup I'll bring out when I've got something specific planned to shoot (whatever that may be). This is a setup that forces me to work at a much slower and more methodical pace, but that's what I like about it.
Hasselblad 500 C/M – This ones an oldie (early 1970s) but it still works almost perfectly, though I imagine it could use a service in the near future. The 6×6 square format is a unique challenge in regards to composition as I used to work exclusively with the 6×7 format. I like it though, and I hope this is a camera I'll grow old with.
Zeiss 80mm f/2.8 Planar C T* – This old version of the 80mm standard is more compact than the newer versions, but I find it a little tough to focus with because the metal ribs are a bit rough on the hands haha! I will often leave that quick focus handle on as it does help significantly, and spares my fingers. Image quality-wise there is very little to complain about, it's a beautiful lens and renders in a very classical way.
Zeiss 150mm f/4 Sonnar C T* – Same age and generation as my 80mm, this is more of a portrait lens but don't let that stop you from using it however you like! This lens delivers a very interesting image as I found it to be almost painterly, particularly on B&W film.
2x A12 film backs – These are your typical 6×6 backs for a 'blad, I carry two so I can keep one loaded with color film and the other with black and white. Or one with slower film and the other with faster.
Spare film – I usually carry about 5 rolls with me, 1-2 color and 3+ B&W, right now I'm all out of color so I carry a mix of HP5 from Ilford and Acros 100 from Fuji.
I also usually bring my Sekonic light meter with me (The L-558r) to get a general light reading for the environment, and then adjust from there. Very easy to do thanks to the EV scale!
Lastly we have the bag, as with my other setup these rotate, but right now my well-worn Think Tank Retrospective 10 is my bag of choice for this kit, it holds everything perfectly and doesn't weigh much.
If you would like to see some of my work my personal site is: http://www.goglanianphoto.com, or I can be found on Flickr: http://www.flickr.com/agphotography
Tumblr: http://goglanianphoto.tumblr.com
Instagram: AbramG
Thanks for sharing your bag with us Abram, such a diverse set up you have there. Happy new year and happy shooting to you.
Check out Abram's links and make sure you come and comment.
Keep them coming folks, we need more submissions, so get your bag on Japancamerahunter.com. Send me a hi resolution image of the bag (please make sure it is horizontal) and its contents, with some details about yourself and what you shoot. Oh and don't forget your contact details (twitter, flickr, tumbler et al). Send the bag shots here.
Cheers
Japancamerahunter