In your bag 317, Robb Hohmann
Wow, just wow. Look at this amazing bag we have for you today. A Hasselblad lovers dream. It has just about everything inside. Check it out.

Hi, I'm Robb from Washington, DC. Shown here is a fairly accurate example of what I normally carry in my Domke F-6. Two Hasselblads, a 500C/M and a super-wide, some film, light meter, mini tripod, a few varied backs, and a couple of lenses.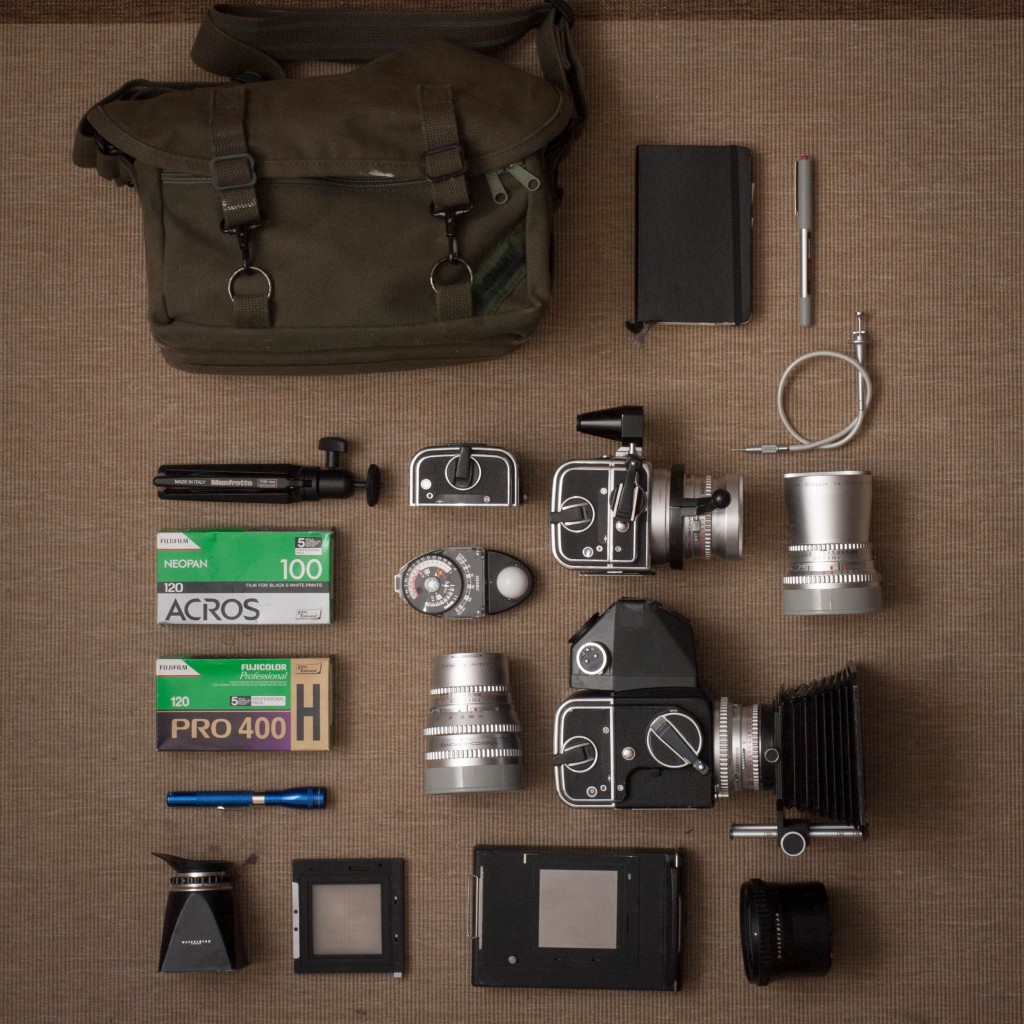 I acquired the superwide in February from a former Washington Post photographer. I'm trying to get into the habit of using it more, but it's a fickle beast. There's a basic finder in the cold shoe, but I prefer to shoot from the hip using the hyperfocal technique. It's a fun little camera for street portraits, which is something I'd like to shoot more of ( http://www.flickr.com/photos/therobbstory/6844429329/in/photostream ) There are frequent occasions, however, where I'll set it up on the mini tripod and leave the shutter open for a few minutes via the cable release. I find this to be the best way to shoot architecture (Which we have a lot of in the nation's capital), and often yields results like this:  http://www.flickr.com/photos/therobbstory/7494737922/in/photostream
The 500C/M with the 80mm on it is great for general use. The 150mm gets thrown on frequently for candid portraits. Having an SWC at my disposal means the 50mm often gets left at home.
I'm a software developer by profession, but photography has always been a part of my life. My dad handed me his Topcon Beseler on a family vacation in 1995 and I never gave it back. I've been shooting ever since. I've had a few digital cameras over the years–currently a Panasonic Lumix GF-1, but I've always preferred film. There's some kind of magic in that emulsion.
Cheers
Robb Hohmann
Flickr: http://www.flickr.com/photos/therobbstory/
Tumblr: http://therobbstory.tumblr.com
Twitter: http://www.twitter.com/therobbstory
Facebook: http://www.facebook.com/robb.hohmann
Instagram: therobbstory
Thanks for sharing this awesome bag with us Robb. I love the Superwide, it is a camera that I have fancied using for a while now.
Check out the links and make sure you come and comment.
Keep them coming folks, we need more submissions, so get your bag on Japancamerahunter.com. Send me a hi resolution image of the bag (please make sure it is horizontal) and its contents, with some details about yourself and what you shoot. Oh and don't forget your contact details (twitter, flickr, tumbler et al). Send the bag shots here.
Cheers
Japancamerahunter