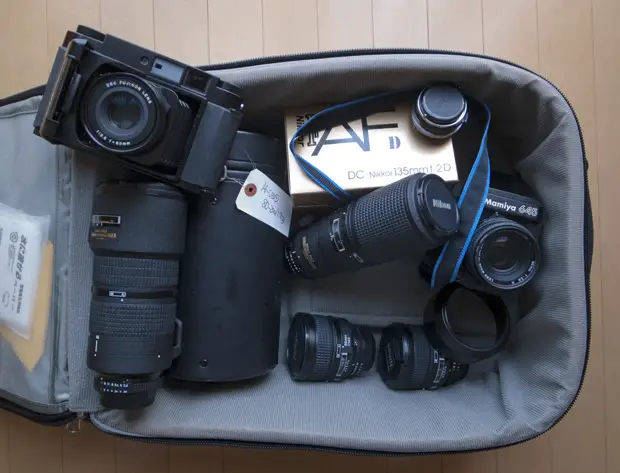 In my bag…my buying bag
I have been asked by several people what I carry around when I am out on the hunt, so I thought I would show you what I was using today. Come and have a peek inside my super buyers bag…

So this is my buying bag. Today was a bit of an epic day, so I thought it would be a good chance to share with you what I was lugging around. Sometimes it is the complete opposite of this, just a single bag because I am after a single camera. But today I was after a lot of stuff, so I needed to bring the big guns out.
When I know I have a large amount of stuff to buy I take out my ThinkTank Airport International. The bag itself is large enough to carry a whole load of stuff, but it also is extremely tough and can take all the punishment I will throw at it. I have had this bag for ages and it has never let me down yet. It has all of the space I need, plus all of the pockets I could possibly want. This is a dream buyers bag. Not too big, not too small and it can take a beating. In this weather it is nice to have a bag that can carry all of the lenses and cameras, a drink, some wipes, a towel and a spare t-shirt, because you really really need one at the moment.


So, this is what I have in the bag today. I have had a busy couple of days and there have been a number items that I needed to get, so here is a sample of what is in there now. Oh, and before you smartarses say anything, all of these items would normally be bubble wrapped, I took it off so you could have a better look.
Now I was going to list all of the items in there, but what I think would be much more fun was if you lot could guess what is in there. I can tell you that the big case has got a Nikon 80-200 f/2.8 AF-S lens inside, as you would never get that otherwise. But what else have I got in the bag? See if you can guess.
You know, it may be hot, but I still love my job and there is nothing more satisfying than finding that specific item that someone has been looking for and has entrusted me to find. I will keep on doing this for as long as people ask me to do it.
I hope you enjoyed my little bag. If you have any questions you can ask them here in the comments or you can mail me. If you want me to find a camera for you you can click here and some magic will happen.
Cheers
Japancamerahunter