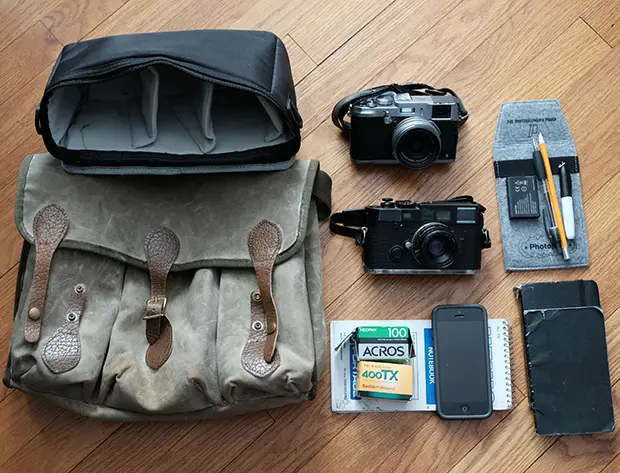 In your bag 1147, Aki Soga
It may be cold in Vermont, but Aki still manages to take this sweet setup out and shoot. Check it out.

Greetings from bitter cold Vermont.
I see photography as strictly a hobby, although I do have to snap the occasional picture for work. On the job (or when I used to photograph my kids playing sports), it's often big, heavy and DSLR (Nikon D7000). When I'm on my own time, I prefer film. I like the pacing and thought that I put myself through when I shoot film, and the wait and anticipation of seeing the film developed adds to the fun.
Just recently, I've picked up a Fuji X100S that's I've also been carrying around, but I've yet to really connect with this fun little camera.
Lately, I've been too busy to get out to shoot much so I'm fiddling with my gear instead. I've alway enjoyed the 'in your bag' feature, seeing what other people carry. So, here's what's in my current walk-around bag.
Leica M6 TTL with Summicron 35mm
A couple of random rolls of film. I usually prefer Ilford HP5 or Kodak Tri-X. I miss Fujifilm's Neopan 400.
Fujifilm X100s
Spare battery in a felt the Photographer's Pouch from Photojojo
Reporter's notebook (just in case)
Moleskine notebooks for photo and personal notes
Pens and a pencil (for when the ink freezes in the cold)
My iPhone.
The bag is an old canvas Leitz bag that I waxed for some protection from the weather.
I use a Jill E Camera Insert to protect my gear from bumps.
That's about it. I like to keep it simple and light.
See my photos here: Captured by Film
Thanks for sharing your bag with us, Aki. That bag is cool. I want!
Check out the links and make sure you come and comment.
Keep them coming folks, we need more submissions, so get your bag on Japancamerahunter.com. Send me a hi resolution image of the bag. Optimum size is 620×473. Please ensure there is a bag in the shot, unless you don't use one. The more you can write about yourself the better, make it appealing and tell us a story. Oh and don't forget your contact details (twitter, flickr, tumbler et al). Send the bag shots here. Please understand that there is a long wait now as there is a backlog of submissions. Not all make the cut, so make sure yours is funny/interesting/quirky. And please make sure the shot is of good quality, as the ones that are not do not go up.
Cheers
Japancamerahunter