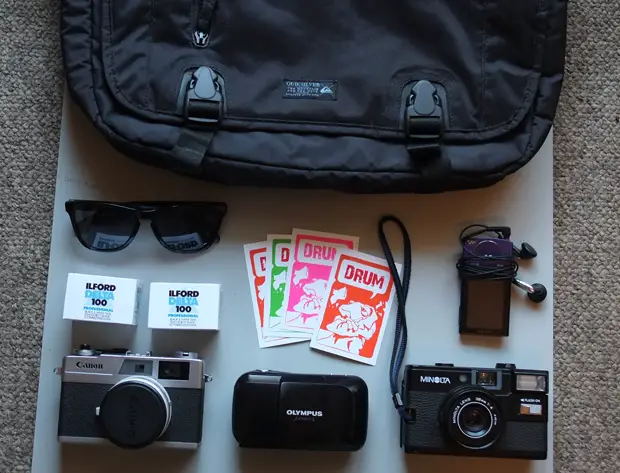 In your bag number 203 – Rolf Farstad
Todays bag is simple, cool and coming to you from down under. Rolf  may only just be starting out on his photographic journey, but he has chosen the right tools for the job.

G'day JCH.
My name is Rolf Farstad. I'm from one of the most isolated city's on the planet. Perth Western Australia.
I'm pretty new to photography, and my passion is street photography.
I don't know if I belong here but here's my bag.
Quicksilver messenger bag, dirt cheap and does the job.
Oakley Frogskins. A good pair of sunglasses are a must, Australia's ozone is crap and you need to protect the eyes.
Ilford film, I'm in a Delta 100 phase at the moment, HP5 is a favourite, but you can't go wrong with anything they put out.
Canonet 28 I love this camera, despite the battery issues. Always sharp, always classic! And very discreet in the street!
Olympus MJU1 This puppy company's me every where I go, work, shop, toilet. You get the picture. Sharp and awesome.
Minolta HI-MATIC GF Probably in my hand more than my d*#k. Built in flash, discreet, simple. An extension of me really (can't say if that's a good or bad thing;)
Walkman. It's not generally on whilst shooting, but find it provides a buffer between subjects and myself. I pretty much always thank my street subjects for letting me take there photos. But the occasional subject protest's, and (unreasonable) complaints are easily diffused, by pretending that I can't here them dude to listening to Beethoven's 6th symphony.
I'm also a sticker/street artist. And as photography and street art marry so well, I'm in hog heaven.


Whilst my rig is pretty ghetto, I know it and love it. Having said that, I've got an X100 on the way and will be looking to purchase an M6 in the next couple of months. JCH, keep me updated yo.
I love JCH and have learnt so much here. Props JHC!
R.
Thanks for sharing your bag Rolf, great to see someone shooting a Minolta Hi-Matic, I think they are great cameras. I hope that you continue to shoot and learn, and have fun.
Check out Rolf's link and make sure you comment.
Keep them coming folks, we need more submissions, so get your bag on Japancamerahunter.com. Send me a hi resolution image of the bag (please make sure it is horizontal) and its contents, with some details about yourself and what you shoot. Oh and don't forget your contact details (twitter, flickr, tumbler et al). Send the bag shots here.
Cheers
Japancamerahunter