Reveni Labs Camera Tester
Reveni Labs are back and with something really cool, the Reveni Labs Camera Tester. I cannot overstate how useful this is for the film camera community. They have put their incredible minds together to come up with a small and easy to use camera tester. Something that I am sure many enthusiasts and repair people will greatly appreciate. I know that I want one. Check it out.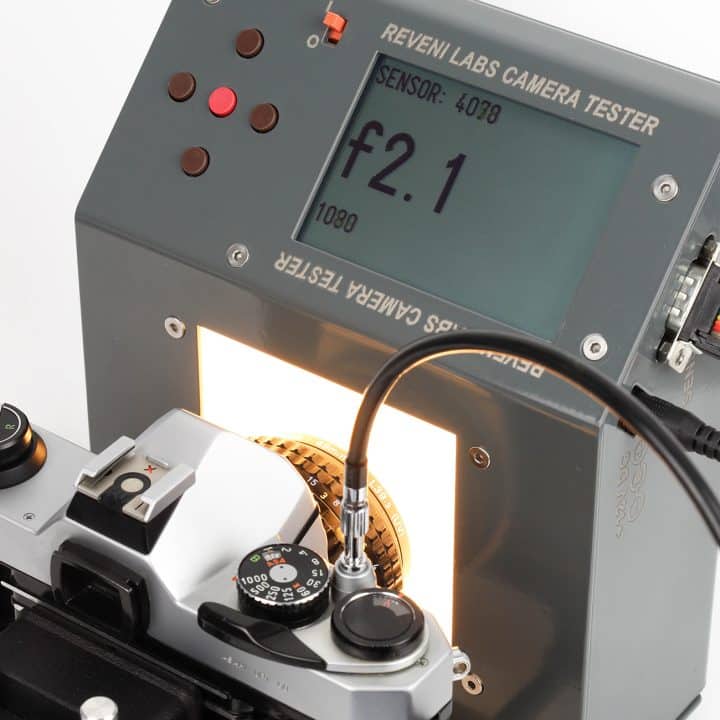 Reveni Labs Camera Tester is a professional-grade testing machine to analyze many functions of cameras and LF lenses/shutters. It is capable of advanced testing of the shutter curtains, leaf shutter, lens aperture, light meters, and more.
Our favourite film cameras aren't getting any younger. Just like any machine, they need care and maintenance to keep them working. However, the repair shops of the golden age of film are no longer in business, and many of the skilled technicians have passed away, taking their knowledge and experience with them. The tradition of passing down the trade to the next generation has broken.
The issue is understood, and lots of people are re-learning the craft of camera repair, but there are important tools needed for the trade which are also getting old and hard to find. Professional-grade test equipment can cost many thousands of dollars and is so old that they themselves are no longer reliable. It is difficult to start a camera repair business if you can't rely on the equipment you need to do your job.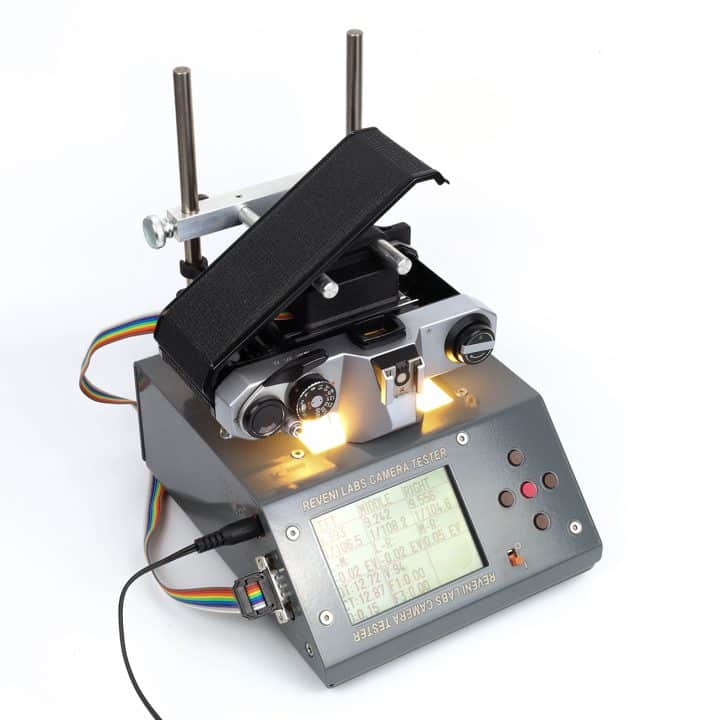 The Reveni Labs Camera Tester hopes to address this issue by providing a modern device capable of advanced camera system analysis, while using modern components and parts to reduce cost and size.
The Reveni Labs Camera Tester can be operated in a vertical or horizontal configuration, with or without a sensor holding jig, providing flexibility for different workflows, preferences, and camera types.
The Camera Tester is targeting professional and amateur camera repair technicians, as well as camera stores, film labs (to offer testing as a service to clientele/help debug issues with development results), eBay vendors, and serious collectors who wish to judge their cameras with a technical eye to determine when a CLA is necessary.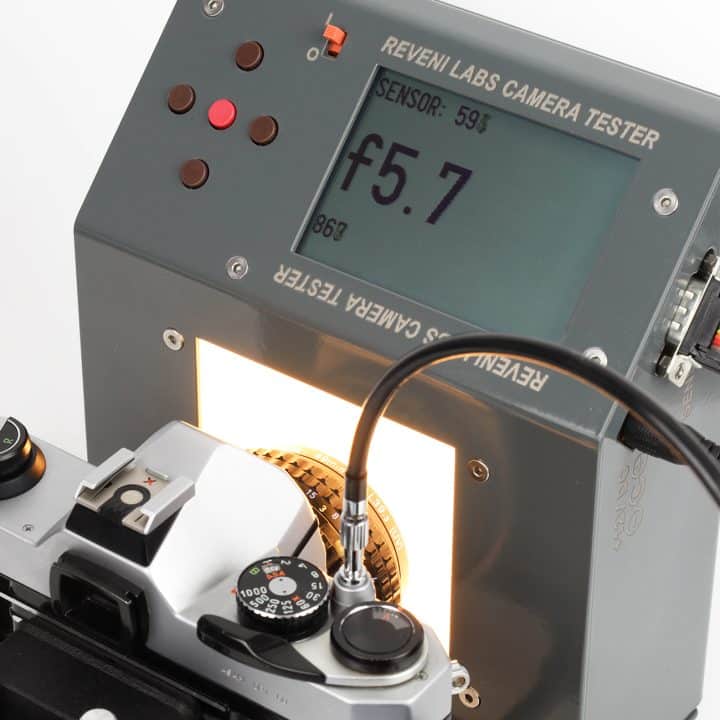 Key Features
Three-sensor horizontal and vertical curtain analysis
Curtain-velocity compensated timing for maximum accuracy
Single-sensor shutter efficiency and leaf shutter analysis
Aperture and lens transmission
Automatic exposure testing
Multi-sample averaging
Vertical or horizontal operating positions
Continuous shooting framerate
Flash sync input
Powder-coated aluminum housing
3"x3" (75mm x 75mm) LED light panel
Multi-detector sensor heads
Stainless steel sensor jig rods
Backlight LCD graphical display
USB software update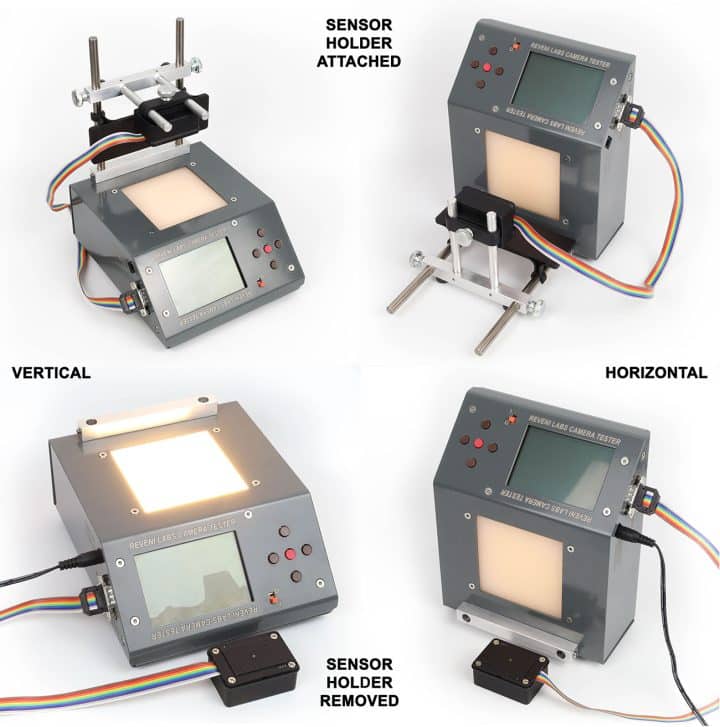 DEVICE SPECIFICATIONS
Weight (with sensor jig) – 

2 lb (900g)

Dimensions (main body) – 

6" x  7" x 3" (150mm x  180mm x 75mm) width x depth x height

Display – 

3.5" (89mm) 240×160 pixel backlit graphical LCD

User Input Interface – 

Five momentary pushbuttons

Power Requirements – 

12V DC 1A minimum pin-positive barrel jack wall adapter (included)
LIGHT SOURCE
Brightness Range – 

EV 17 to EV7

Variation Across Surface – 

<0.1EV at EV 17

Colour Temperature – 

2800°K TYPICAL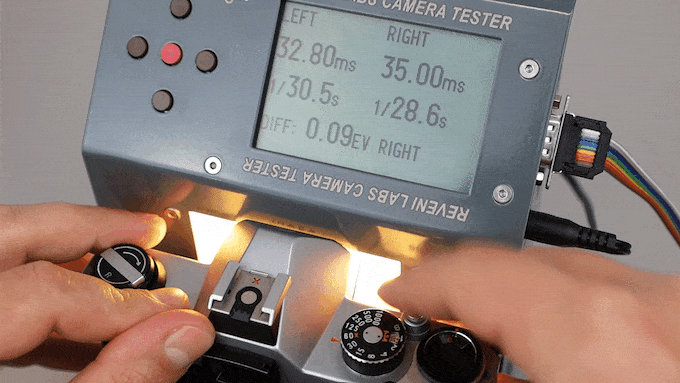 FOCAL PLANE SHUTTER ANALYSIS
Speed Range –

30s to 1/12000s

Sensor Placement –

Top left, middle, bottom right detectors

Accuracy – 

Better than 50us in most conditions (<5us in ideal conditions)

Precision – 

1 microsecond

Additional Readouts – 

EV error, Curtain open/close time, curtain velocity, flash sync time
LEAF SHUTTER ANALYSIS
Speed Range – 

1s – 1/2000s

Sensor Placement – 

Single central detector

Accuracy – 

Better than 50us in most conditions (<5us in ideal conditions)

Precision – 

1 microsecond

Additional Readouts – 

Leaf opening/closing time, wide open time, total time, computed effective shutter speed, graphical shutter plot
APERTURE TESTING 
Aperture Range – 

f1.4 to f32

Accuracy – 

< 0.1 EV

Precision – 

0.1f
AUTOMATIC EXPOSURE TESTING
Shutter Speed Range – 

As above, leaf shutter mode (leaf shutter mode is used for all shutter types in AE mode)

Aperture Range – 

As above

Additional Readouts – 

Aperture size, effective shutter speed, EV error for each, combined EV error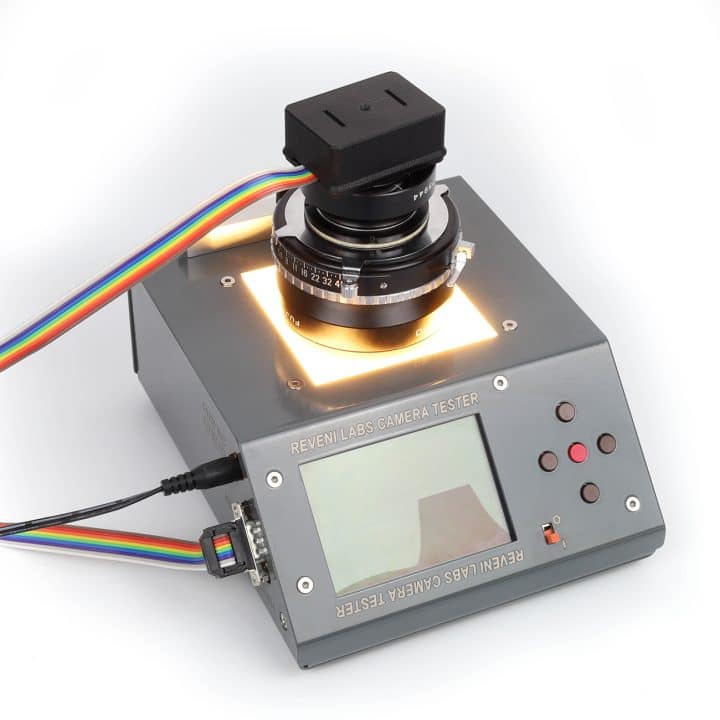 The Camera Tester has been launched on Kickstarter and is already close to its goal. And no wonder, it is a pretty fantastic product for a very fair price. It will be shipping in Spring 2024 for a price of $524 Canadian ($384 USD equivalent as of 2023-10-11) and will be shipping worldwide. Check out the Kickstarter link here.
Check out @revenilabs on Instagram as well. And their website https://www.reveni-labs.com/
Congratulations to Matt Bechberger, founder of Reveni Labs for this fantastic product. I hope there are many more wonders to come.
JCH