Reveni Labs releases the DunkBot!
You might have heard of Reveni labs before. This outfit from Canada (eh!) has already released a couple of successful products, including a spot meter and an incident meter, which you can read more about here. But Reveni wants more, they want to dunk you, well, dunk your film. So they have come up with this, the Dunkbot.
Looking like an industrial ice cream maker, this Dunkbot is actually a very clever, and most importantly, cheap developing option which Reveni are hoping to get funded on Kickstarter now. You should definitely check this out.
Dunkbot

The Dunkbot is an automated film processing machine for the home.  Designed to be as simple, affordable and easy to use as possible, the Dunkbot has no pumps or valves; the film is moved through chemical baths in a dip-and-dunk style instead of moving the chemicals to and from the film.  This makes the machine much simpler, cheaper, and made from easy to source off-the-shelf components.
For people who don't have a local film lab (essentially everyone outside of a large city) the only options are mail-in processing or home processing.  Home is cheaper and same-day results, but is time consuming, tedious and labour intensive.  If you shoot a lot of film, it takes a lot of your time.  Mail-order is very convenient, but takes weeks to receive results and adds to-and-from shipping costs, plus extra risk of damage or loss in the mail.
Dunkbot looks for a middle ground, bringing automated developing to the home for around $700 USD.  Like other at-home machines, you load the film and chemicals, then the machine takes care of the times, temperatures, steps and agitation to process the film.  You are notified when it is done so you can remove the film and hang it to dry.  This removes most of the labour involved in the process, and the biggest headaches of managing your process and temperatures manually.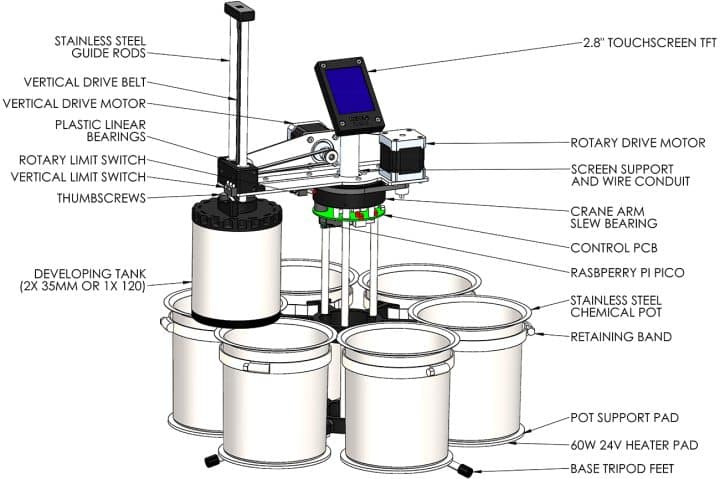 Dunkbot has six pots which contain 1 litre of chemicals or water, allowing for up to a six-step process to be run.  Each pot sits on a heated pad to ensure that the chemical temperatures are correctly maintained.  After filling the pots and loading the film, the machine will automatically heat them to the set temperatures and begin processing, moving the film through each step as configured by the user on the colour touchscreen.  Once finished, the machine beeps an alarm to notify you that the process is finished and your film is ready to be hung to dry.
Dunkbot can process three rolls of 35mm, two rolls of 120, or up to six sheets of 4×5 (using a 4×5 sheet holder reel, not included).  Two Paterson universal 120/35mm reels are included.
Dunkbot ships as a self-assemble kit for $950 CAD (around $700 USD) or a mostly-assembled unit for $1220 CAD (around $900 USD).  Assembly instructions, toolkit and how-to videos will be available at time of shipping.
Kickstarter page (running to April 16th)
Additional technical specifications
Assembled size – 15″ (450mm) diameter, 25″(635mm) maximum height
Power – 24V 6A in-line universal power supply (100V-240V 50/60Hz) with standard C13 connector (common to desktop PCs)
Heating time – approximately 1 deg F(0.55 deg C) per minute per litre of chemical
Film capacity – three rolls 35mm, two rolls 120, six sheets 4×5
Display – 2.8″ resistive touchscreen, 240×320 pixel 65535 colour, LED backlit
Processor – RP2040 on Raspberry Pi Pico module – user replaceable and updateable
Motor Drivers – A4988 microstepping motor driver – user replaceable
Temperature sensors – DS18B20 waterproof digital sensor in stainless housing
Heaters – silicone pad heater, 24V 60W each
Motors – NEMA17 200 step/rev 1.5A 42N/cm
Thanks to Reveni Labs for sharing this. Please go and show your support for this brilliant idea on Kickstarter.
Cheers
JCH