Camera Geekery: Mamiya RB67 with a 100 year old lens!
Recently I was browsing some of the photography pages on that hive of villainy, Reddit, when I stumbled across something really interesting. A Mamiya RB67 with a 100 year old lens mounted to it. I wanted to know more so I reached out to Broken_Perfectionist and got their story as to why they made something so unusual.
The Story
The Reddit title excitedly reads, "I made a 🥞 for my Mamiya RB67 ProSD using a 100 year old lens from a Kodak No. 1A Autographic Kodak Jr. Story in the captions. Photos at the end!"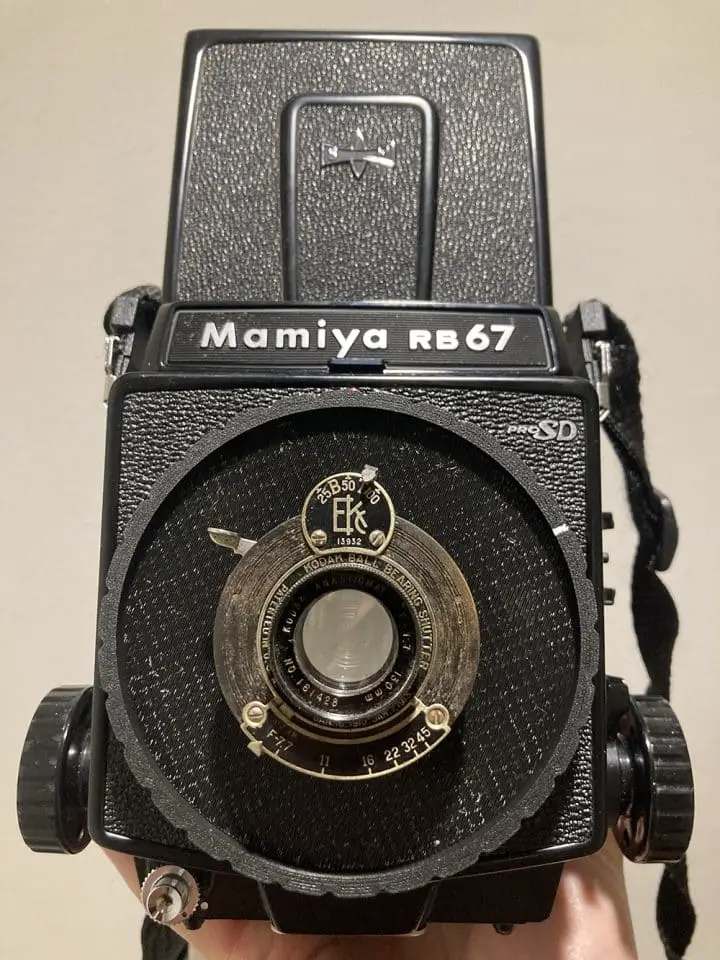 The first image is of the final design. Upon sharing my creation with one of my friends, "What's that Chinese character on the coin on top of the lens?" I chuckle and tell my friend, EKC stands for Eastman Kodak Company. The coin is the shutter speed selection dial. The camera is old but why's it mounted on a Mamiya.
Tattered
The camera came in USPS Priority Mail box, stuffed with what appears to be leftover Christmas wrapping paper. At the bottom of the box, I find the original leather Kodak carrying case. What was left of the top flap was a thin almost transparent tattered piece of leather veneer. The leather was literally hanging by a thread. One side was completely ripped. An good indication that this relic had a rich and probably storied history. The thought that it has probably seen what we've only witnessed in textbooks is one that lingers in my mind.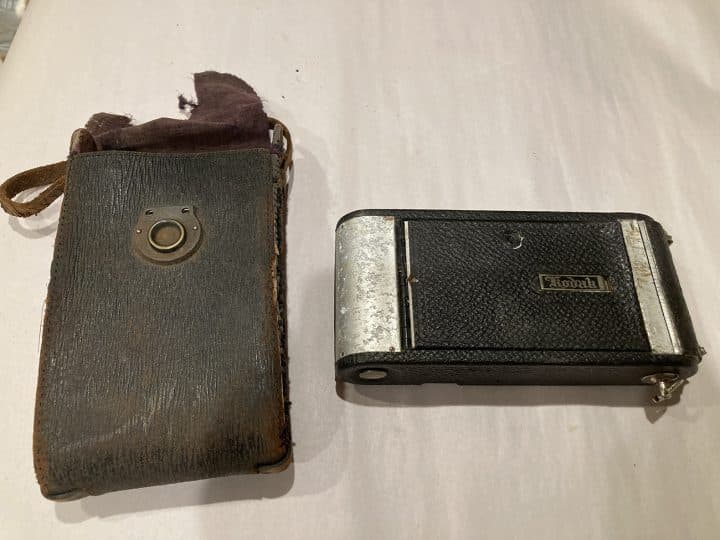 The camera's body shell was missing a piece of leather that was conveniently found in the carrying case. The metal looked slightly deformed. Something didn't look like it was seated right. I press a button to unlock it and begin to pull. With each creak and moan, metal rubbed against metal. The body seams appeared to have been rusted shut or simply filled with the crumbs from the carrying case.  Briefly I ask myself if I should visit Butkus.org to see the camera manual… maybe there's another lock I'm overlooking… Suddenly, the body shell finally opens with reluctance.
Unfortunately, like other Kodak folders, time was not kind to the bellows. There were many holes, well beyond the potential rescue of liquid electrical tape. Handling this camera usually leaves you with a modest pile of camera crumbs consisting of dried glue, aged leather, deteriorating bellows, rust, and hitchhiking debris from the carrying case.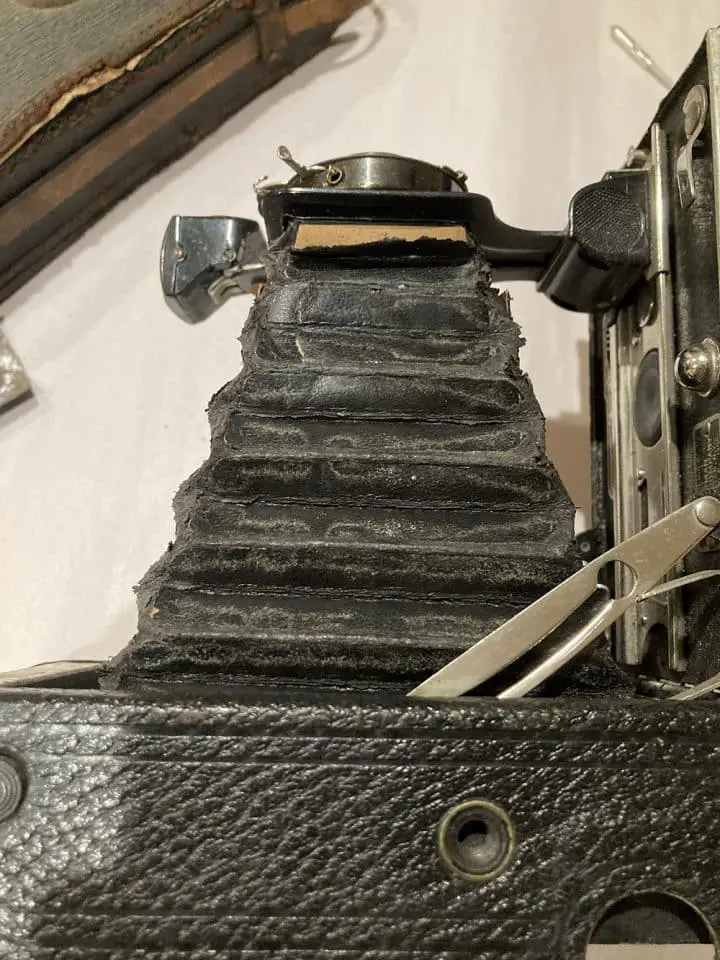 Dusty
You come to realize that the Anastigmat f/7.7 lens and camera body have been married together for over a century. The lens showed signs of fungus and what can literally be described as a century of dust. The viewfinder was cloudy and embedded with debris of its own making. The rails worked but the locking tabs for scale focusing were bent and could not be trusted.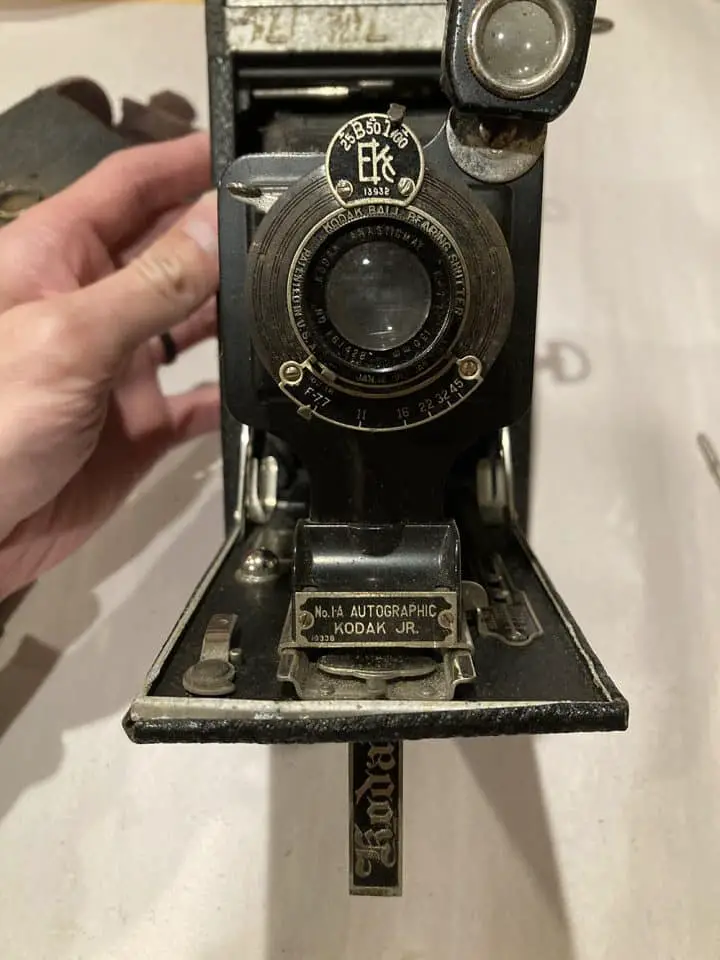 This project came to mind many months ago but many searches through eBay left me with a feeling of guilt to have to pry apart a century pairing of lens and camera. I looked through many listings and started searching for "as-is" condition cameras to help ease the feelings of what I planned to do next. Many of the earlier cameras had simple lenses. I've designed simple lenses for my Nikon and in my past life as an opto-mechanical engineer, I knew a simple lens wasn't what I was looking for. I wanted Kodak's best lens offering at the time but also one that I could give a second chance at life. I found her one early morning when I should have gone to bed, it was a Kodak No. 1A Autographic Kodak Jr. This was it!
The lens was filthy upon first inspection but showed promise.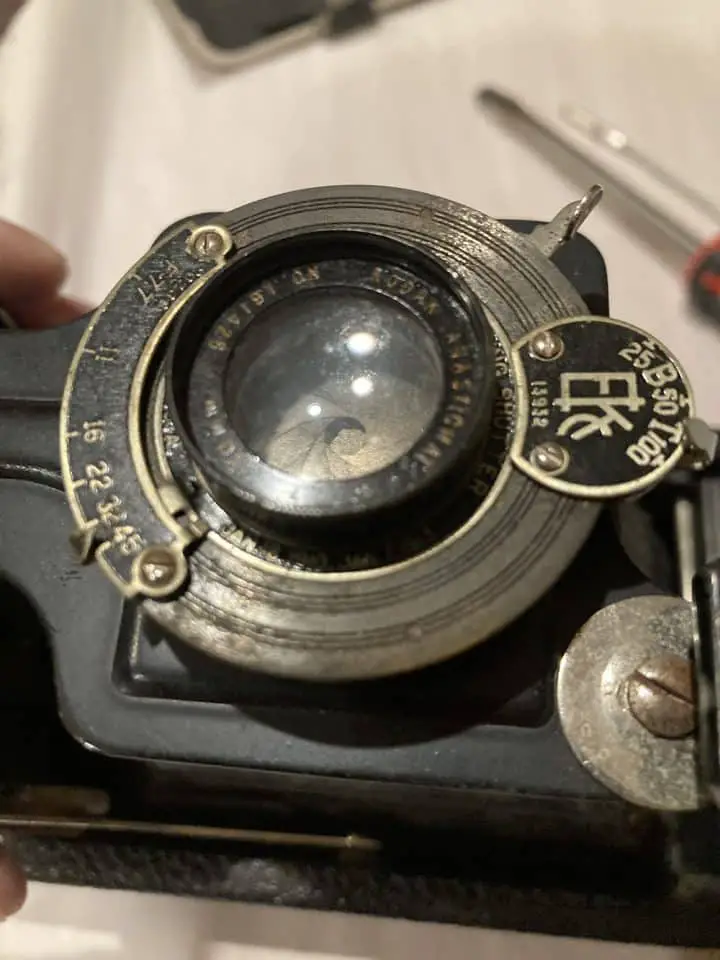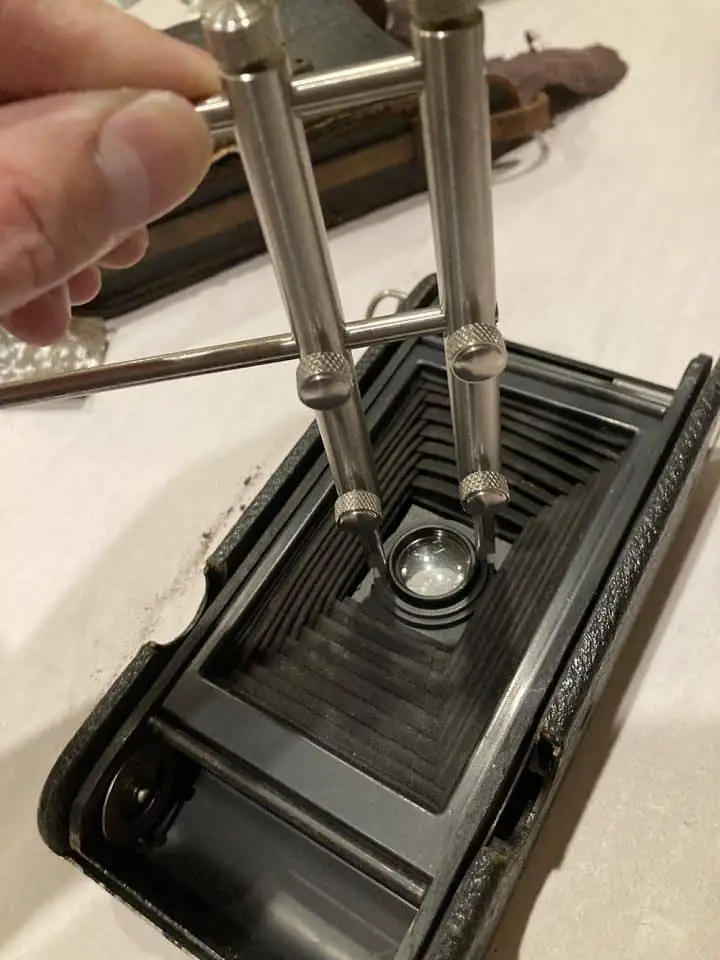 The optics were in fairly decent shape after some cleaning. Thankfully, the lens was uncoated and appears to have never been disassembled.
1915 meets 1995. Effectively, it's still the same 100 year old shutter, it's just benefiting from the RB67's bellows and ground glass focusing. At f/7.7, the RB67's viewfinder was bright enough for outside golden hour work but you had to make sure you looked on-axis otherwise the focusing screen can mislead your eye.
Compact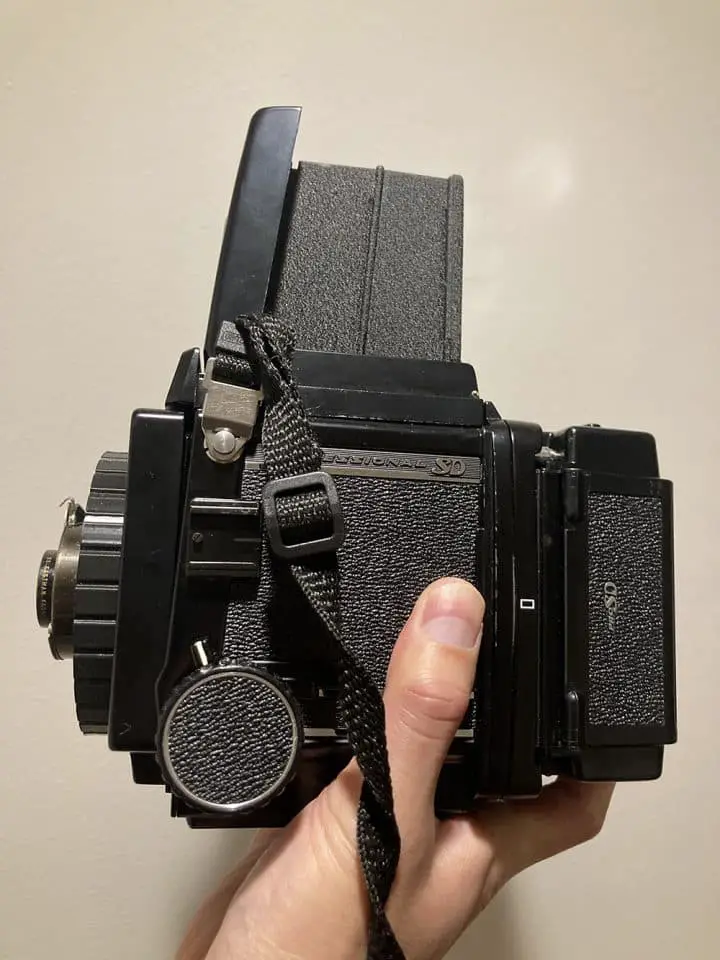 I have a Mamiya 127mm f/3.8 but this 130mm f/7.7 lens is nice and compact. The lens operates essentially like any Mamiya lens in mirror lockup mode. Since I mostly shoot on a tripod, shooting in M-mode on the Mamiya was second nature.
The process generally went like this, set the shutter to the T setting. Press down on the shutter lever to open the lens. Your viewfinder comes to life! Focus and compose your subject. Get a meter reading, calculate the right exposure combination with the limited settings you have available. Press the shutter lever again to close the shutter blades. Set your shutter speed and aperture. Thread the cable release cable. Remove your dark slide. Press the shutter release button on the camera to raise the mirror. Then fire your shutter release cable on the Kodak shutter to make the capture. Sounds way more complicated than it is but if you're familiar with the RB67 or even large format photography, this should all flow rather intuitively.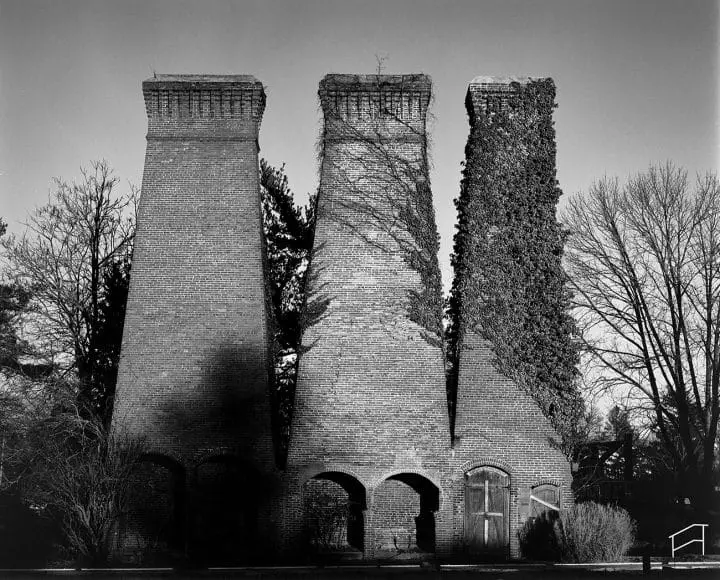 Mounting
To mount the lens, I reverse engineered the body cap and then figured out infinity focus by focusing the lens on a faraway light source using a plain flat 3D printed body cap. Then I measured how much the bellows had to extend to get infinity. I transferred this precise offset to the body cap which moved the Kodak shutter/lens forward. Now my RB's infinity focus matched the Kodak lens infinity focus. This was a totally optional step and will vary from camera-to-camera and lens-to-lens. If I didn't do this, I would simply focus past infinity which would require more toggling back and forth to confirm critical focus. By figuring out infinity focus, I can simply use the RB's hard stop to know that I'm at infinity.
The lens is dim at f/7.7 but the range of apertures gives you some options with the limited shutter speeds of 1/25, 1/50, 1/100, B and T. January 18, 1910 and January 7, 1913 are written on the assembly, I wish I knew what they signified.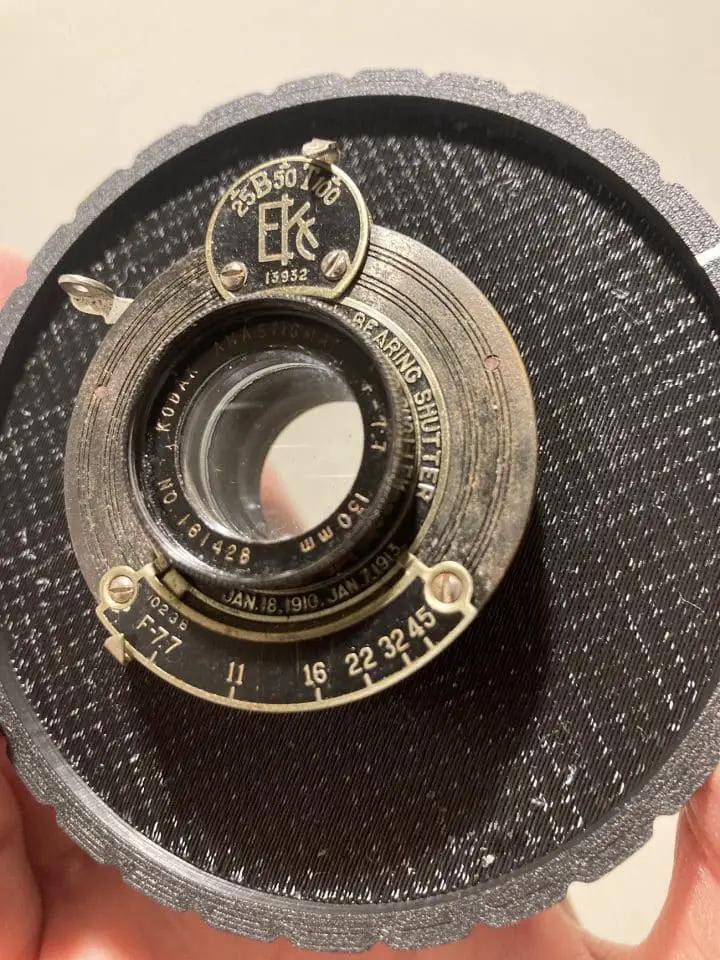 Results
Overall I'm very pleased with the results. It's still plenty sharp for a 100+ year old lens shot on Kodak Verichrome Pan that expired in 1980. I rated the ASA 125 film with an EI of 50 and developed it in Diafine for 3 mins Part A and 3 mins Part B. By modern standards, this lens can hold its own. This Kodak folding camera was around for World World I and II, the 1918 Flu Pandemic and now the Covid-19 Pandemic. It would be a shame for it to relegated to shelf queen or some kind of decorative mantel piece.  Instead, mated with the RB67, it's ready for another century of adventure!
Here are some sample photos from my first outing:
About Me
See more posts like this from Broken_Perfectionist over at Reddit by clicking here.
Thanks for sharing this amazing camera project. It is really cool to see people tinkering and making use of modern technology to revive old glass.
JCH