IN YOUR BAG 1754 – JUMAHAT LEMAN
For this week's "In Your Bag" we have Jumahat and his Leica MP!
Hej! I am Jumahat Leman, an ex-graphic designer and now a healthcare worker based in Singapore. I appeared before in this column in 2018 as no 1612. Photography is still an outlet for me to capture moments I see around me.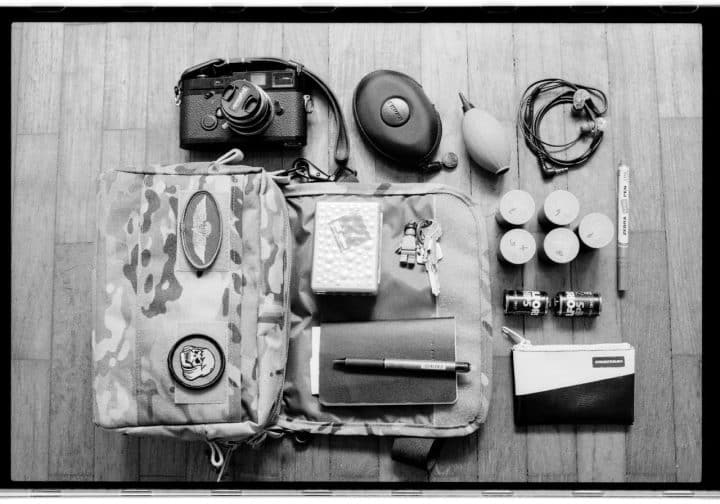 I chose a Domke F-5XB Camo version as I do not carry much when out shooting and prefer the lighter nylon material. And who wouldn't like the cool camo look? I've since switched the original strap to a Wotancraft version as it is lighter and not as stiff, and I pasted skull He-Man and Travis Bickle para-wing patches on the velcro to lessen the noise.
What is in the bag:
MP black paint with Voigtlander 35mm f2 Ultron – I traded 3 cameras (M6 0.85 TTL, Leitz CL, and FM3a), 2 lenses and paid a few hundred dollars for the body 1.5 years ago
Rolls of bulk rolled film – either Ilford HP5+, Kentmere 400 or Foma 200, also rarely Vision 500T + any available marker for writing on film cannister caps
Daler Rowney pocket size sketch pad + any available pen for notes
Shure SE215 in-ear phones for music – only while travelling to and from destination (public transport bus or MRT rail system)
Small air blower + "camera-survival-kit" in a small IKEA Föremål tin box (contains spare batteries, wet and dry lens cleaning paper, coin for unscrewing camera battery compartment, guitar picks as name cards)
Freitag coin pouch for cash, coins and assorted cards + house keys with Lego hulk
The MP is not my go-to camera, though I am trying to shoot with it as much as I possibly can since it's such a joy to use. I own a few other camera kits that I reach for when the image making purpose, intent or location needs it – FM2n, F3P, XA-2, XA-3, Pen D and CL. The FM2n was used to capture the photos of the bag.
Last year after I left my job of 12 years, I decided to sign-up for a photography workshop. I was thinking the formal learning will equip and help me with choosing the "best" images I made from 2016 onwards to be properly compiled, sequenced and be made into a self-published photozine. Instead, I was introduced and educated into the world of documentary photography and photojournalism. Of course, there's still a part about choosing the right images and sequencing them.
Now, I am about to self-publish a photo zine documenting an old housing estate that is slowly emptying and soon to be demolish as the whole area will be developed into a modern housing and commercial area. I am also about to start a personal project on therapy aides working in a care center for seniors.
Thanks for reading!
Instagram: https://www.instagram.com/jleman.film/
Website: https://j-leman.com/
––––––––––––––––––––––––––––––––––––
Send me a high resolution image of the bag. Optimum size is 1500px across. Please ensure there is a bag in the shot, unless you don't use one. The more you can write about yourself the better, make it appealing and tell us a story. Snapshots of your gear with a camera phone and no words will not be featured.
Oh and don't forget your contact details (Instagram, Twitter, Flickr, Grainery et al). Send the bag shots here. Not all make the cut, so make sure yours is funny/interesting/quirky. And please make sure the shot is of good quality, you are a photographer after all. 
Cheers
JCH