Camera Geekery: Konica AiBORG
The Konica AiBORG is placed among the pantheon of all time ugliest cameras. Akin to bad Anakin's bucket, the Darth Vader Camera, as it became to be called, indeed looks like a Sith Lord's premium point and shoot. It is also infamous for being one of the worst cameras ever made for its fecal matter-esque ergonomics. I've always been wary of such subjective conclusions and besides I think it looks kind of cool. After perusing the instructions manual, the Konica AiBORG actually is jam-packed with interesting features. Is this another example of biting more then one can chew and over-ambition?  Or do we have amongst us here a sleeper hit?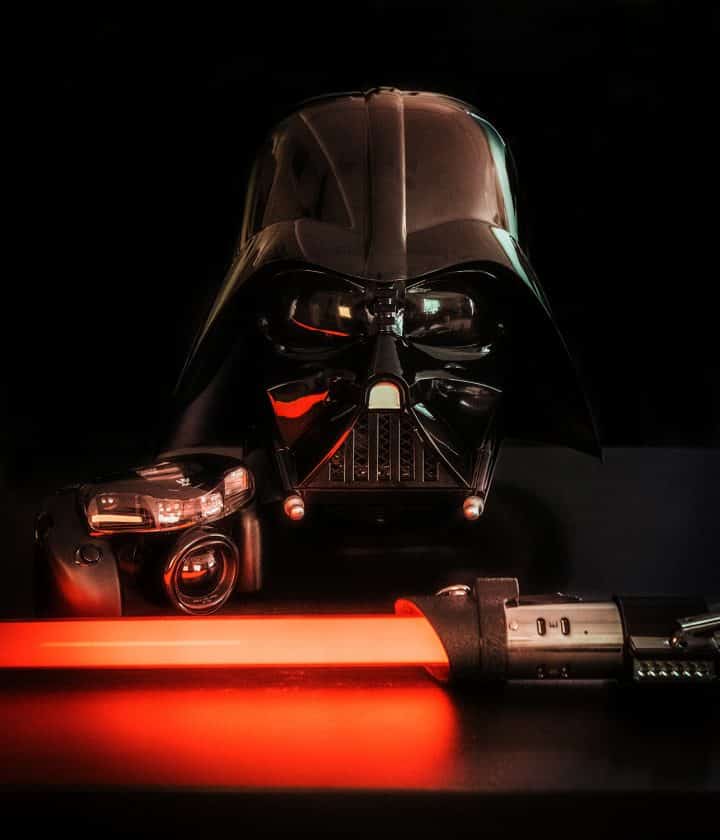 Konica AiBORG Background History
Konica gained their reputation from the 1950's onwards with their excellently regarded rangefinder cameras and then their venerable line of Hexar lenses like the UC-Hexanon 35mm f2.  The Konica C35 AF was the world's first AF camera when it was released in 1977 and featured a design that has been emulated by many other manufacturers over the years.
However, they never could really crack the high-end market with intense competition from neighboring big dogs Nikon, Canon, Minolta, etc. and was resigned to focusing mainly on entry level point and shoots in the 1980's. The Konica AiBORG from 1991 is most likely the company's last effort to make a high-end camera with advanced features and cutting edge camera technology. "AiBORG" is a portmanteau of Artificial Intelligence and cyBORG, probably a 90's attempt to sound as futuristic and high-tech as possible.
Konica AiBORG Tech Specs
Film Type: 135 (35mm)
Lens: 35 – 105mm f/3.5-8.5 coated Konica Zoom Lens 13-elements
Focus: CPU Controlled Autofocus 0.8m to Infinity
Shutter: Electronic Leaf
Speeds: 6.4 – 1/500 seconds
Exposure Meter: Yes
Battery: 2CR5 Lithium Battery
Flash Mount: None – Built in Flash
Dimensions: 14.5 x 8.5 x 9 cm
Weight: 570g
Manual: http://www.cameramanuals.org/konica/konica_aiborg.pdf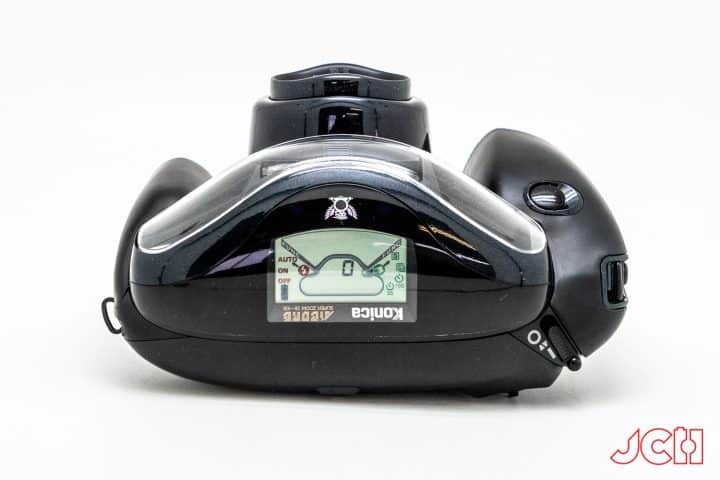 Konica AiBORG Features and Ergonomics
The Konica AiBORG earned its poor ergonomics review in large part to the grip. Many gripe that the shutter release button is too low for their index fingers. Indeed, there is only 5cm from the joystick on the thumb to the index finger on the shutter release. It is a little awkward to hold and control with one hand, given the weight distribution of the body and is not exactly feather light at over 500 grams.
The lens zoom whirrs and sounds like what you would expect from 90's tech motors. Not exactly quiet or cool, but comfortable in a nostalgic kind of way.
Joystick
The joystick on the back of the camera is a novel design idea and controls the zoom as well as the focus point indicator. When looking through the viewfinder, you see a focus scale from 0.8 – 10 m at the bottom with a flower icon above the 0.8 number and a mountain icon to the right of the 10 number.
The focus point can be adjust to 5 different positions and is adjusted by toggling the joystick left and right in the direction you want to move it. A nice idea in theory and it does work but IRL feels plasticky, fiddly and cheap. The finder itself is tiny and has that warped soft edges look that is trippy like a Holga though not as bad. But it is parallax corrected!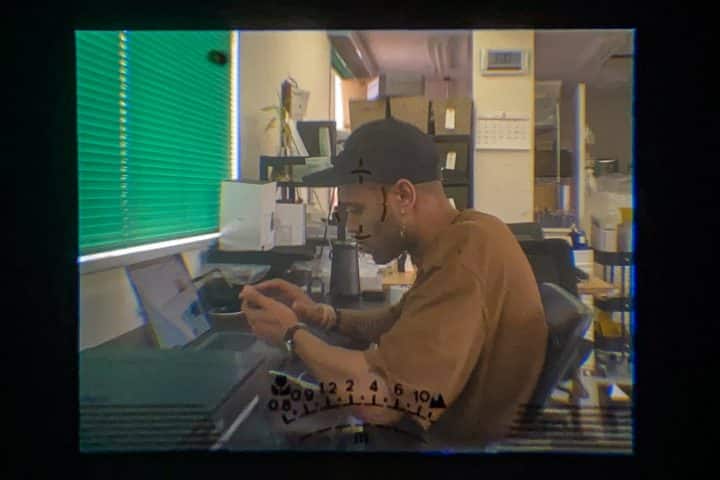 Top LCD
The top LCD display is a crazy array of information smashed into a 35 x 20mm window. The bottom left shows the battery status, above that is the flash setting. Towards the top is a funky looking window where you can toggle through the myriad functions such as portrait mode, night mode, and the quirky action sequence mode. More on these later. Under that to the right you will find the drive mode and self timer. I like how the frame counter window is in the shape of the camera and also has the film roll icon to indicate the roll has been correctly loaded; a little cheesy and unnecessary but I like it. Yes, it is quite busy but with all the information it conveys, perhaps it is the better option than multiple displays.
Back Buttons
All the myriad functions possible in the top LCD are controlled by these crazy buttons on the back to the side of the viewfinder. It really is as cumbersome and daunting as it looks to scroll through the menus with these, especially by modern standards. The buttons are tiny and the recess they are placed in are tiny as well and are quite difficult to reliably press even with my smallish fingers.
Lens Cover
Nothing much to say about it other than it's a semi-transparent automatic sliding lens cover that looks kinda cool.
Date Imprinting
There are various formats you can choose from to imprint date and time onto your frames however according to Konica, the world will cease to exist on December 31st, 2019 as that is the latest date you can set.
Konica AiBORG Sample Images
The following images were shot on Kodak Gold 200 and self-developed with Cinestill CS41 in a Ars-Imago Lab Box. They were then scanned on Plustek Opticfilm 8200i.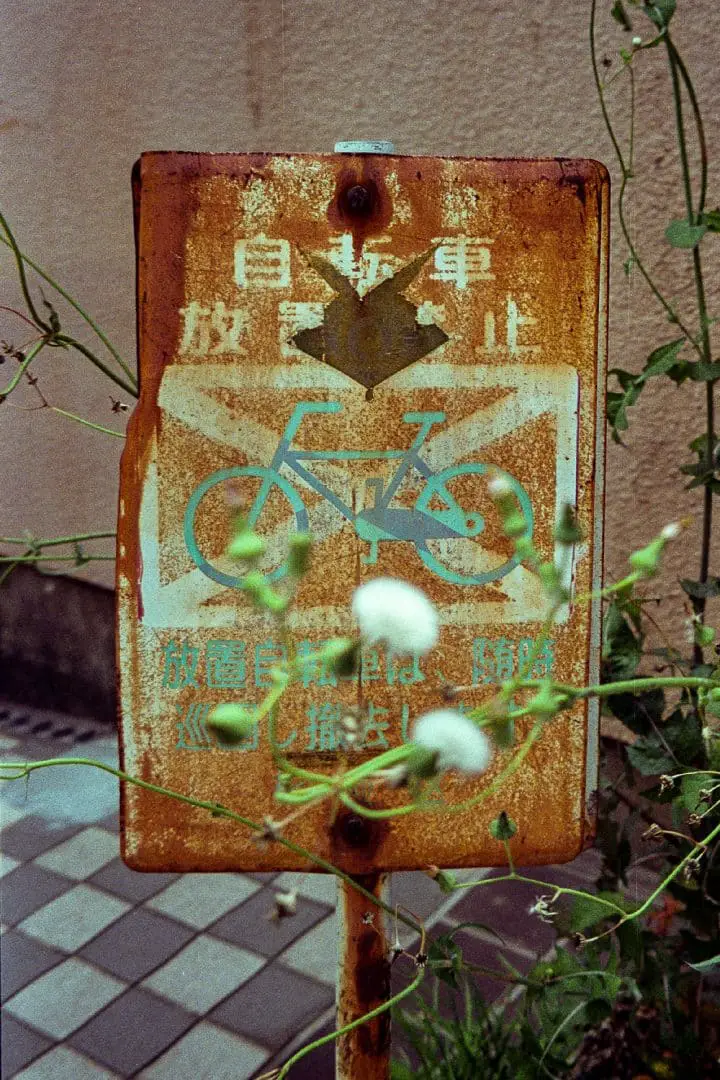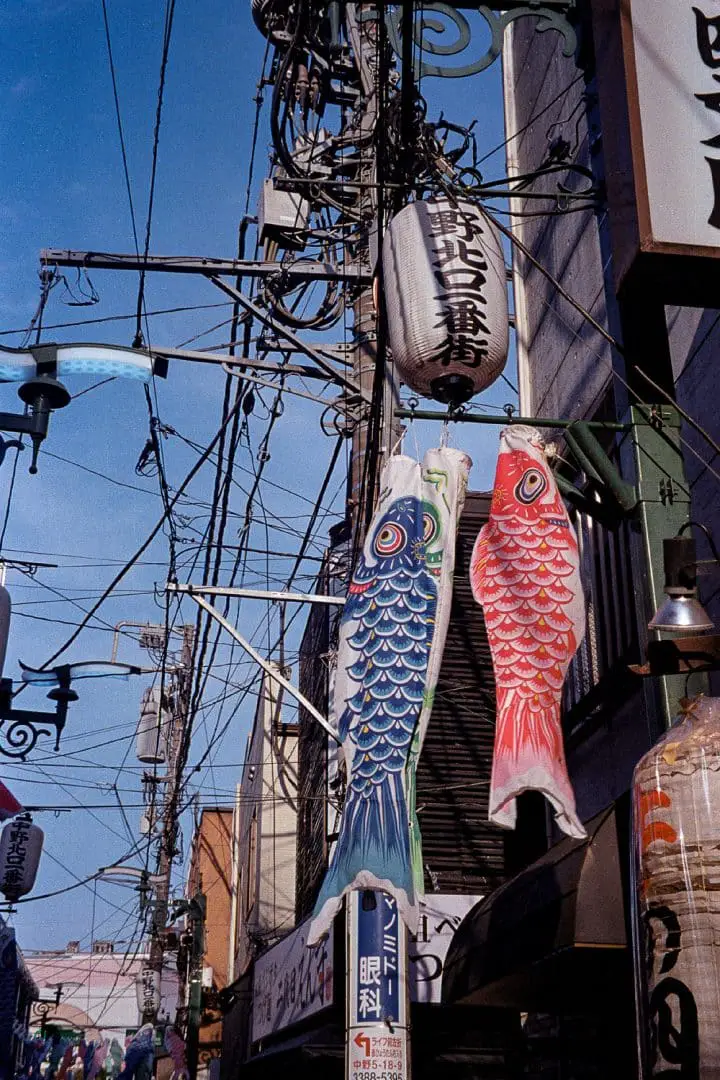 Special Functions
I will not show examples of every function of the AiBORG but will highlight some below.
Flash
I don't know the guide number of the flash but the cute AF illustration from the manual indicates a range of 6m. A bit of embellishing there but nevertheless still handy.
Macro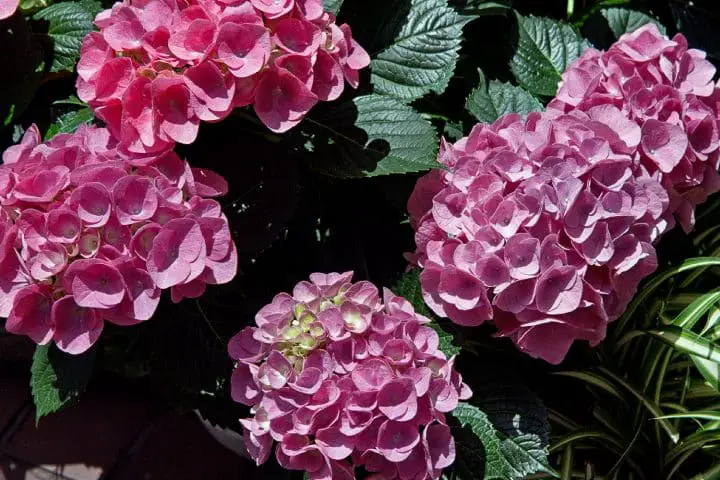 The macro mode label is an example of false advertising as the lens can only get to 0.8m. I don't know how they can come off as calling that macro.
Night Mode
Night mode forces the camera into a long exposure mode to compensate for low light.  Interestingly, this mode can optionally be used with the flash as well.   The leaf shutter is a bonus for being able to hand held most scenes.
Portrait Mode
This is the mode that most embodies the A.I. of the AiBORG as as it automatically uses the camera's zoom to detect a person and changes the focal length of the lens to "properly" frame the person's head and shoulders for a portrait. It is kind of unsettling in use as it basically forces the composition on you but yeah, works for standard, by-the-rules framing. Not recommended if you want to get more creative.
Action Sequence Mode
The most interesting function is the Action Sequence Mode and toggling this will allow you to shoot 6 exposures in quick succession on the same frame. A twist on multi-exposure mode, the camera takes a metering of the scene and shoots each image at 1/6th the exposure value of the image so that laid over each other, the image is not overexposed. A very niche situation where it can be applicable but I find it a fun function to experiment with. Using a tripod is definitely recommended.
Final Thoughts
I like the Konica AiBORG, I think I like it the way people like pugs; ugly and dysfunctional but somehow endearing. It was bred to do too much but I respect that ambition to swing for the fences similar to the concept behind the Rolleiflex SL66. The stories of terrible ergonomics and perplexing menu logic are true for the most part. Even my smallish hands find the AiBORG not that comfortable to handle with one hand. It really needs two hands to operate reliably. Today's attention span and impatience is a bigger picture problem but 7 clicks through a menu to get to exposure compensation of +1.5 for a backlit scene is kind of ridiculous.
With all the gripes aside, Konica have always produced nice lenses and the 35 – 105mm f/3.5-8.5 lens in the AiBORG is no exception and has a decent range and is no slouch in IQ. When speed is not of the essence, it can be a capable carry-around-all-day all-rounder. Would I recommend one though as a go-to daily compact zoom? As my Aussie wife would say, "yeaa naaah." But if you appreciate ambitious designs and want an infamous and fun toy in your collection, then the force is strong in this one.
MN