In your bag No: 1652 – Nasos Papathanasiou
Check out some of the eclectic goodies that Nasos has selected to cover all situations on his travels.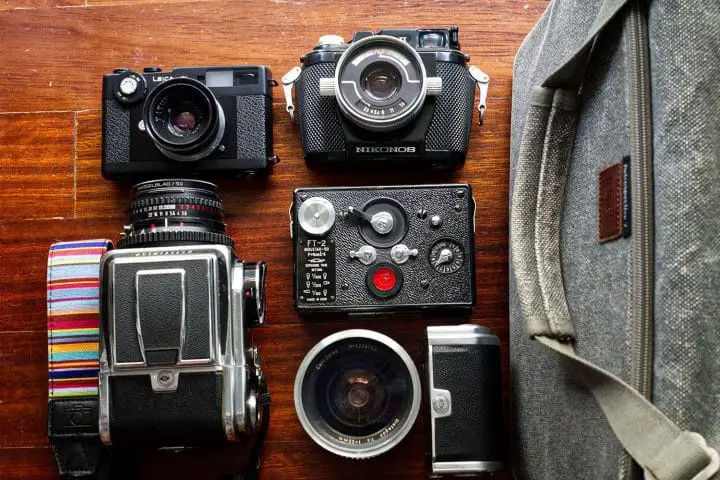 I took this photo with my old Pentax K7. The K7 is a very well built DSLR camera. It's solid, weatherproof with a beautiful shutter sound. It has an old sensor which does not handle low light well, but as a friend says its major drawback is not that. It is the absence of a film compartment. You can't load film in it!
Now don't get all excited and start with the film vs digital debate! I don't care. I am an amateur, I use both but I prefer film. A word to those debaters if I may… in order to have a fair opinion you have to judge each in its terms. That means for film you have to shoot on film, process and most importantly print in a darkroom…
Anyway I respect my K7 and all digital cameras because digital made it possible for many amateurs like me to acquire cameras that in the analog days were out of reach. So back to the photo.
The Think Tank retrospective-7 camera bag in the photo will try very hard to fit the cameras pictured. But it is irrelevant as I don't want to have them all with me.
The Hasselblad 500C with the Carl Zeiss Planar C 80/2.8 lens is my medium format choice from my small collection of cameras. I usually carry it with me all the time, even at work. Depending on where I am heading I might add the extra back with a different film or the Carl Zeiss Distagon C 50/4 lens. Or maybe switch and take only the 50 as I did in a recent trip.
What I kind of missed in that recent trip was a panoramic camera. The KMZ FT-2 would be it. I love it. Although I have an easier to use Horizon panoramic, I prefer the FT-2. I am fortunate to have two cassette sets for it and it works great. A 1,30m x 0,35m b&w canvas print of Castel Sant'Angello in Rome and a 1,70m x 0,45m colour canvas print of Culloden Viaduct in Scotland hang in our living room walls. Both taken with the FT-2 back in 2015 and 2016. If you want to see great images with a similar camera, look at Jaroslav Poncar's old photos.
So the Hassy with the FT-2 are my first choice. For the occasional snapshot I use my mobile phone unless I want to add 135 film. Then the choice is the Leica CL with the Jupiter-12 or the Nikonos II.
I got the Compact Leica very cheap due to a non working light meter. I altered the inside of the camera in order to mount the Jupiter-12. Why? Because I like this lens character and it's price is unbeatable. The Nikonos II with its zone focus operation is pure simplicity, has a very nice Nikkor 35/2.8 lens, a great shutter release sound and doesn't care about the weather.
Choices on film vary based on what I can find in the local market, unless I order on-line. I process b&w film on my own and sometime I will reinstate my 40's Kodak Precision A 6×9 enlarger.
My name is Nasos and I live in Greece.
https://pnasium.wordpress.com/about/
https://www.flickr.com/people/45484920@N00/
Thanks for sending us your bag shot Nasos. Makes me want to add a panoramic film camera to my bag as well…
Keep them coming folks, we need more submissions, so get your bag on Japancamerahunter.com
Send me a high resolution image of the bag. Optimum size is 1500px across. Please ensure there is a bag in the shot, unless you don't use one. The more you can write about yourself the better, make it appealing and tell us a story. Snapshots of your gear with a camera phone and no words will not be featured.
Oh and don't forget your contact details (twitter, flickr, tumbler et al). Send the bag shots here. Please understand that there is a long wait now as there is a backlog of submissions. Not all make the cut, so make sure yours is funny/interesting/quirky. And please make sure the shot is of good quality, as the ones that are not do not go up.
Cheers
Japancamerahunter