In your bag No: 1378, Hamish Gill
Todays bag is from my mate Hamish, who runs the wonderful 35mmc.com. Hamish has basically put together the dream bag for many of us. Some superb gear to get the weekend going.
What's in my (work) bag
I've submitted one of these "what's in your bag" posts before. The first time around it was a holiday bag, this time it's a work bag. I have quite a few cameras of various shapes and sizes so struggle a little bit sometimes to define what is in my day-to-day camera bag – even a hypothetical one. This is largely because I don't really carry a bag. Nine times out of ten when I go out I just pick up a single camera and a roll or two of film. This can vary depending on mood from one of my compact cameras to one of my rangefinders, but whichever camera I pick up, it usually gets strapped over my shoulder or chucked in a pocket; very rarely does it go in a bag.
That said, over the last year I've found myself bringing my film photography more and more into my professional photography career, and in doing so I've more and more found the need for a camera bag. Not only that, but every time go out with the cameras for work, I find I've taken more or less the same kit in the same bag. Duly, I thought it about time I submitted another post for Bellamy's "In your bag" series.
A bit of backstory first
I've been taking photos as part of my job for years. I run a creative agency (F8 Creates), and for a long time I did a lot of the photography. About a year ago, in a bid to free up my time, we started using another photographer for most of our digital output. James, (the chap who took over the photography) and myself have become good friends over the last year or so, mainly through our shared interest in photography, but perhaps also through a specific shared interest in film photography. Through the endless rambling conversations we have about photography, at some point in the last year we decided it would be worthwhile to commercialise film photography – 'Shoot Rewind' was born!
I actually have a lot to thank James for. He's invested a lot of cash, he's bought a large format scanner and all the gear to develop large format in both colour and black and white. Despite me frequently telling him he's biting off more than he can chew, he's repeatedly ignored my advice, persevered and succeeded in all he's set out to. Which really has made large format quite accessible to me. Thanks James!
The LF Gear
Initially this meant was that my old MPP 4×5 field camera had become part of the contents of the bag I carried when going on jobs. Though it didn't take long to make me realise that large format was going to be a growing part of what really makes me tick as a photographer. As such, I felt I needed a slightly less wonky old camera and so bought myself a Walker Titan SF – in fact I bought myself the last Titan SF Mike Walker was to ever build. So far I only have a single 150mm for it, though actually I don't find this too limiting for the sort of work I like to shoot with it.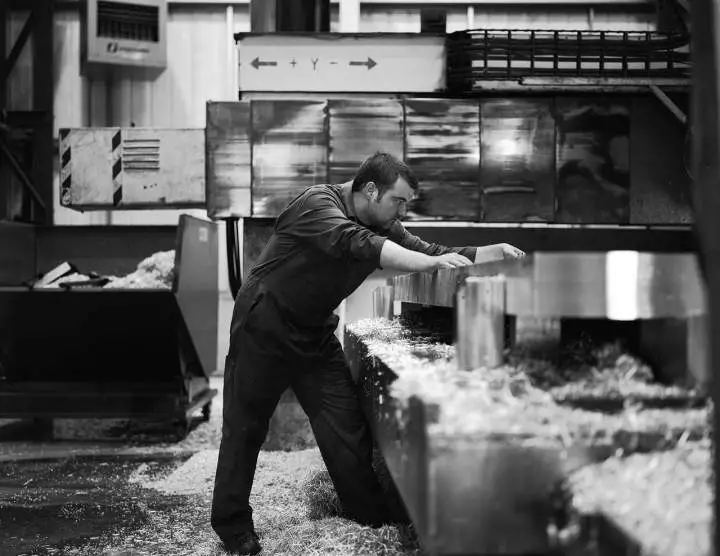 https://www.flickr.com/photos/hamishgill/22706067359
Alongside the Titan sits a very basic loupe, a couple or three double dark slides a Pentax Digital spotmeter, a cable release and a 3LT 'Tony' tripod (much of which isn't pictured – I couldn't be bothered to carry it all home to take the photo, sorry).
The 35mm gear
Whilst I've started shooting more large format, by no means does this mean I've turned my back on my roots. I write a blog (35mmc.com) that almost entirely focuses on 35mm compact film cameras and rangefinders. It doesn't matter how much fun I get out of large format, 35mm will always the main format for me. Lately, at least for my part, the blog been mostly about 35mm rangefinders and lenses. My familiarity with these cameras has grown exponentially throughout the last few years, to the point in fact that I now have one of my Leicas on me or near me probably about 95% of the time.
Whilst the collection of Leicas increases and decreases around my whims as someone who likes to write about them, there are two that have become more of a constant in my life. The M3 and M-A have become the two cameras that I recognise most as my "tools"; the cameras that combine to offer me all that I could possibly need from a pair of cameras. When shooting for work, I tend to load one of them with HP5, a film quite often gets pushed a couple of stops almost regardless of the light I'm shooting in. I then load the other with Portra 400. The over exposure latitude of Portra 400 regularly gets abused with me quite often shooting my lenses at wider apertures with little regard for the box speed. It's the freedom given by shooting these two films in this way that's become one of the big draws to shooting film for me. It's also one of the things that gives me so much confidence to shoot film commercially – the way I shoot, it feels like it can't really go wrong.
Alongside the Leicas and film, there is of course the lenses. My primary lens is the 50mm ZM Sonnar. I am a fully signed up, smitten, bitten by the bug, fully on board advocate of the Sonnar (if you don't believe me, have a read of my review). My only frustration with this lens is the fact that I didn't buy it sooner. It really is as close as I've come to a magic bullet when it comes to taking photos. When I shoot with it, almost invariably the results come out as good if not better than I expected. I also shoot a 90mm Elmarit-M which whilst not used as much is also a cracking lens. Finally there's the 28mm Elmarit-M Asph which I'm currently giving a run for its money against the Voigtlander 28mm 3.5 Color-Skopar I've been shooting for a year or so. Between these three focal lengths, I find myself completely able to achieve all I need to within the subject matter we shoot for work.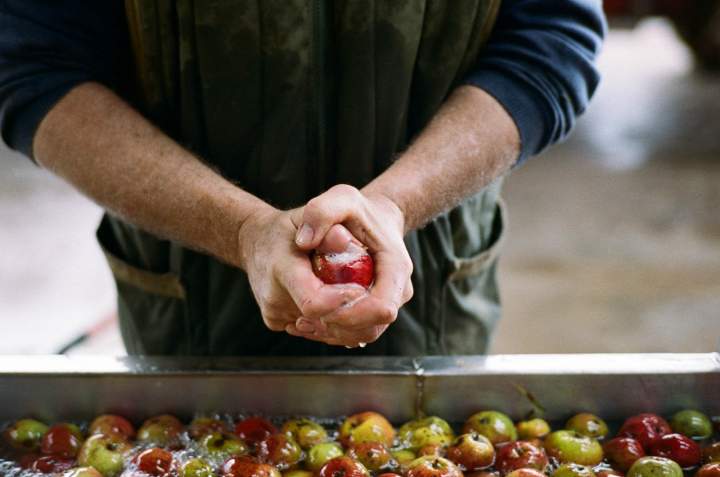 https://www.flickr.com/photos/hamishgill/24906219204/ )
Last but not least, you might have noticed the X-pan ii, 45mm and 90mm lenses. I've not actually shot this for work, in fact I've not shot it much at all yet. Mainly because when I got it the rangefinder was out of alignment and I only got it back from repair yesterday. I've included it in the picture because as times goes on I can see myself using it more and more for work… And obviously it's awesome, so I just wanted to show it off! :)
The bag it all goes in is a Kata of some sort. I've had this bag for years, it's probably the single most practical camera bag I've ever owned. It has a section with dividers at the bottom for the smaller gear and the Titan fits in the top section. It even has room in the back for a laptop.
So that's that, the kit and the bag I've been using for work. In case you are interested in what I am doing with it, you can check out our little film photography enterprise – Shoot Rewind. And if you want to read some 35mm camera reviews, you might also like my blog – 35mmc. Cheers for reading, Hamish.
Thanks for sharing your bag with us, Hamish. You are always welcome here. Congrats on the new project, I will definitely check it out.
Check out the links and please come and comment.
Keep them coming folks, we need more submissions, so get your bag on Japancamerahunter.com
Send me a high resolution image of the bag. Optimum size is 1500px across. Please ensure there is a bag in the shot, unless you don't use one. The more you can write about yourself the better, make it appealing and tell us a story. Snapshots of your gear with a camera phone and no words will not be featured.
Oh and don't forget your contact details (twitter, flickr, tumbler et al). Send the bag shots here. Please understand that there is a long wait now as there is a backlog of submissions. Not all make the cut, so make sure yours is funny/interesting/quirky. And please make sure the shot is of good quality, as the ones that are not do not go up.
Cheers
Japancamerahunter