In your bag No: 1651 – Elijah Howe
Elijah explores isolation and fragmentation in his current project and these are his analog soldiers on the battlefield of light.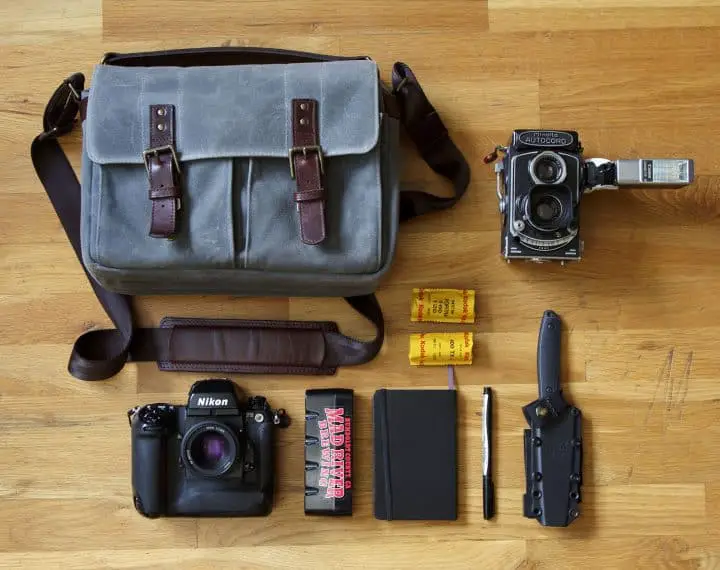 My name is Elijah Howe and I am from Eureka California. This bag is set up for my current photographic project and has an emphasis on speed and adaptation to the situation at hand as the project is somewhat photodiaretic.
My bag is an Ono street prince and contains a Minolta Autocord with Canonet flash, a Nikon F5, lots of film, a notebook to record inspiration, and my knife.
My work explores place by combining individual details to construct a whole scene. The reoccurring themes that are present in this work are isolation and fragmentation. I am interested in the way that a photograph captures an instant in time and reveals small details of the surrounding world. This project takes many different images of one scene. Each frame exists as its own unique picture and only when combined, will they tell the whole story. Because the fragments are not taken in the exact same moment, each frame exhibits a change in time, light, and slight variation in vantage point that creates a finished image. This composition is displayed as a complete scene and conveys a single instant evolving into an experience.
Beyond the photographic method I use, my subjects create a loose narrative based on my personal life and experiences. The photographs are taken on a 35mm camera with aperture priority using gritty black and white film. The ability of the nearly point and shoot camera to be on my person at all times allows me to document moments, objects, and scenes that I comes upon in my life without needing to seek out these instances or return with a camera after having observed something of interest. After a year of collecting, I will select images and sequence them together in a book that makes these seemingly fragmented and distant images part of a greater whole.
Much like how the collector/publisher Uta Grosenick speaks of JH Engstrom's images, "these disparate photographs become individual stars that when connected through the book form create a constellation." My work combines the fragmentation of image seen in David Hockney's photographic work and imbues it with the photo-diary narrative structure of JH Engstrom's projects. I make these pictures to explore the isolation and destruction of the modern landscape and recreate the flitting gaze of the photographer. My work combines the crumbling of our modern environment with the isolation of the human experience.
My website is www.ElijahHowe.com
See www.elijahhowe.com/home-vision for work from this ongoing project
Instagram @ElijahHowePhoto
Thanks for sending us your bag shot Elijah. Looking forward to seeing the final product.
Keep them coming folks, we need more submissions, so get your bag on Japancamerahunter.com
Send me a high resolution image of the bag. Optimum size is 1500px across. Please ensure there is a bag in the shot, unless you don't use one. The more you can write about yourself the better, make it appealing and tell us a story. Snapshots of your gear with a camera phone and no words will not be featured.
Oh and don't forget your contact details (twitter, flickr, tumbler et al). Send the bag shots here. Please understand that there is a long wait now as there is a backlog of submissions. Not all make the cut, so make sure yours is funny/interesting/quirky. And please make sure the shot is of good quality, as the ones that are not do not go up.
Cheers
Japancamerahunter