Top 10 Film Packaging Designs of all time
With Ilford recently announcing a tweak to their film package designs and us over here at JCH HQ feverishly working on a Streetpan 400 update as well, I realized the information super highway has been remiss to rank the best film packaging designs throughout photographic history.
Just like humans, the best films didn't always look the best and vice versa but a sweet looking canister/carton always helps. So without further ado, I give you the internet's first list of the top 10 film packaging designs of all time (in no particular order).
1980's Kodak Ektachrome
An iconic design that inspires instant nostalgia. I've always loved that faded "K" logo, though a little dated, it definitely symbolizes and harks back to the glory days of film. Most people I imagine will mention the Kodacolor 200 box but the rainbow colored logo gives a somewhat childish impression to me. The blue and yellow color scheme of Ektachrome had good contrast on the shelves and gives a positive, fun yet cool aura reminiscent of a beautiful California summer day. Fingers crossed, I hope the phoenix will rise again soon with an equivalently cool design.
1970's Tasma 32,65,130,250 Black and White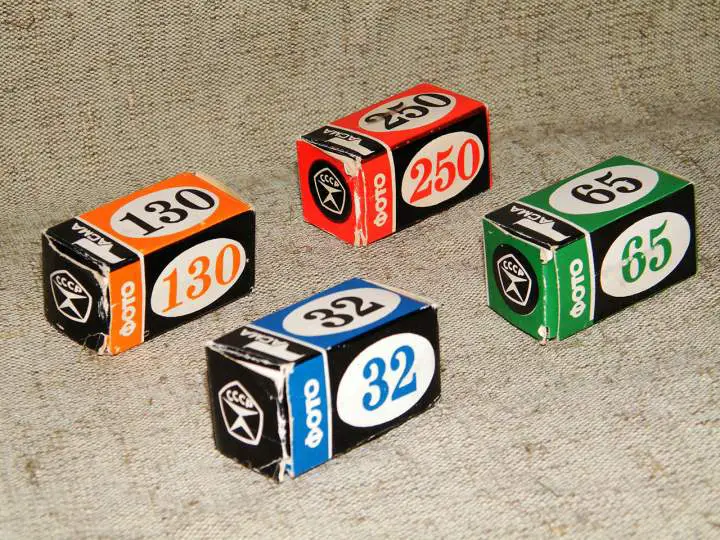 A relative unknown in the West, Tasma were the most common black and white negative films in the USSR until 1990 and the subsequent dissolution of the Soviet Union. The Tasma box designs of the 70's and 80's were pure genius as they worked in all colors and across their lineup. Different colors were used for ISO ratings but maintained the same design aesthetic, an important aspect of what good design is. Loved how the colors are inverted from each side of the box, brilliantly simple and subtle.
1970's Kodak Kodacolor II
Kodachrome was of course the seminal legend of the era but the choice to go with that yellow and red scheme always somehow gave me a weird Mickey D's plus Communist China vibe. An inferior film by virtually all measures but the box and canister design of Kodacolor II in my eyes was superior with bold blacks and that sweet striping on the caps. Excellent use of negative space as well.
1980's SvemaColor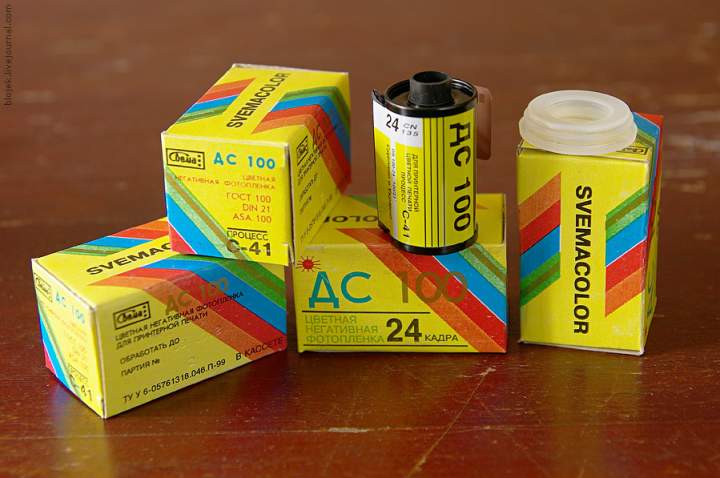 Another entry from Mother Russia (well, actually the Ukraine), Svema's design game was on point as well. Another major film manufacturer for the USSR until losing market share to imported products after the fall of Communism in the 90's. Soviet graphics were often associated with either intimidating boldness or melancholy beauty and in challenging times they managed to create a box that was bold and fun but still maintaining a stylishly graphical sense.
1940's Fuji Neopan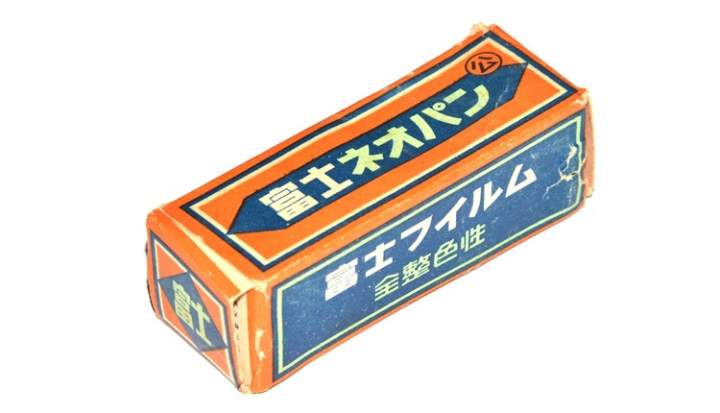 Everyone recognizes modern Fuji Neopan (well there aren't any Neopans anymore ): for retro greens and black but pre-war they were much more bolder in their color choices and still incorporated Japanese characters in their designs. Reminds me of some of the beautiful matchbox designs from back in the day as orange and blue was often used in the Edo period. To me this design better encapsulated the sights and smells of wandering through the alleys of Tokyo snapping away in bewildered curiosity.
2000's Ilford FP4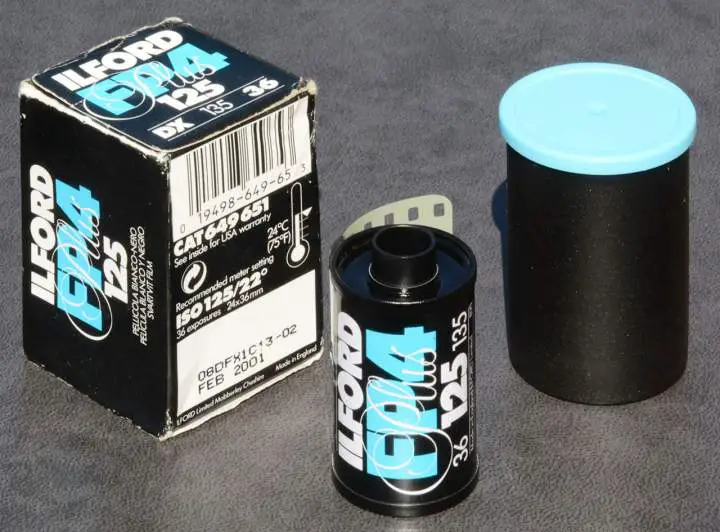 As with the Tasma designs, Ilford maintained a constant design theme throughout their lineup and was simple yet conspicuous in a refined, classy way especially with the FP4. Mixing cursive fonts always poses a challenge but Ilford did it beautifully and wasn't shy from using non-traditional colors like this blue or the pink on the SFX 200. The matching colored canister caps are also a nice and appreciated touch.
1990's Kodak Holographic SO-253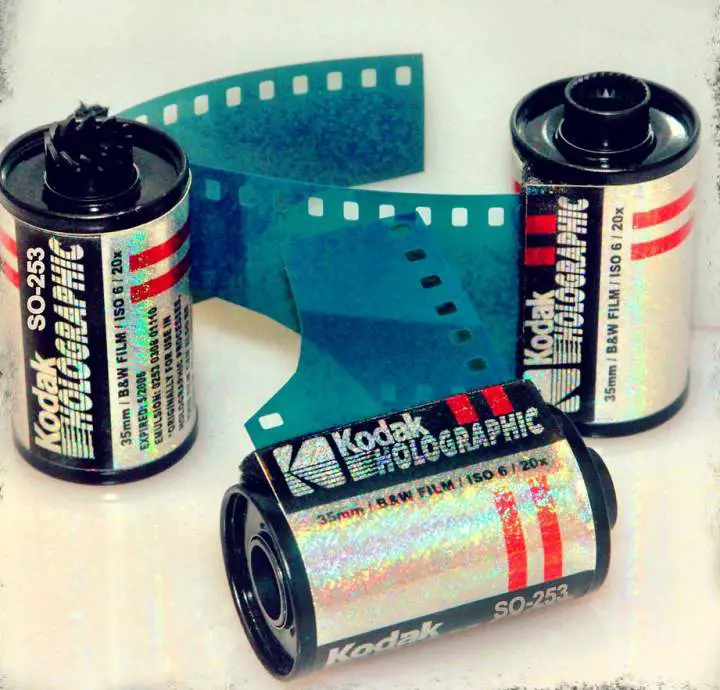 A rarefied film I had never heard of prior to speaking with Lance from Labeauratoire, this film was originally produced for use in making holograms with helium-neon, or krypton lasers. It can also be used in traditional still cameras to produce mega fine grain B&W images and has a very unique spectral sensitivity with an ISO of 6(!) That shiny print though. It works so well with that black title band and I love how the lines from the "K" logo extend into the italicized Holographic text.
1980's-90's Valca Black and White
Another obscure one, "Valca had a fairly good reputation in Spain but most of us outside the Iberian Peninsula have never heard of it". During the mid-20th century they provided Spanish photographers with an affordable option to imported black & white negative films and x-ray materials until their unfortunate demise in 1993. I love the squashed hexagon surrounding the retro-cool typography. The use of colors and stripes as well gives it a distinctively sexy Latin flavor.
1960's Ogapan
Not much information available on these ancient school German emulsions but somehow I really love the Bauhaus look of these boxes. Like certain movies, these colors are so bad that they're good somehow. Accidental genius or not, these would've stuck out on any shelf and I'm sure I would have grabbed one to try on this merit alone.
Now(?) Ferrania P30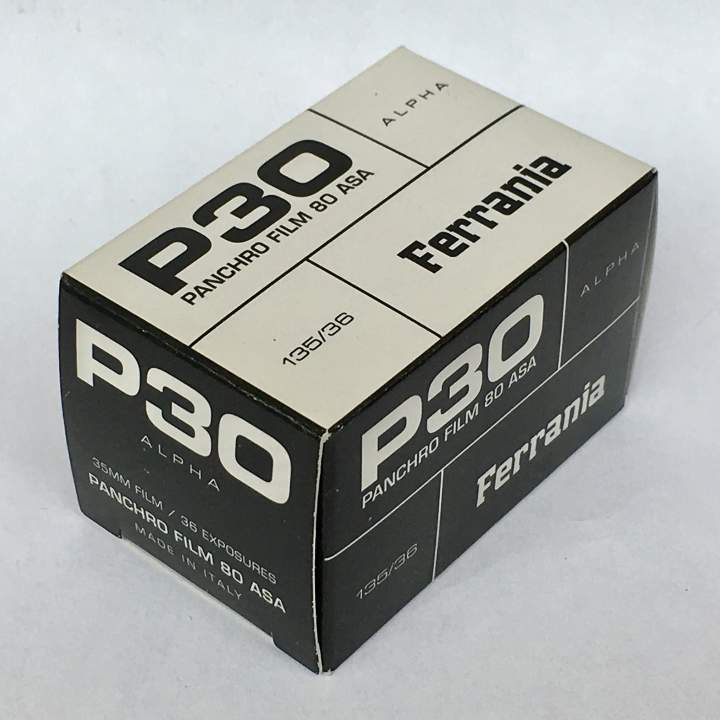 Ferrania's long awaited return to the game has conjured much hype but they're in the hands of very few people. We haven't seen them yet here in Japan but the box design has definitely upped its game since the Solaris days. Modernly simple with a slight retro twang, again I love the inverted colors of the top panel. It reminds me of 2001: A Space Odyssey. Font sizes are all balanced so well, dare I say I like this better than the old FG series.
Well there you have it folks, a quick look at the world wide web's first ranking of the top 10 film packaging designs of all time. Thanks again to everyone who generously allowed me to use their images. I'm 1000% sure I'm missing something and that the majority of readers will disagree so I would love to hear everyone's feedback and suggestions below.
MN