Camera Geekery: Konica C35 FD Review
A nice long guest review for you all to enjoy. Johan Van Huyssteen shares his experience with one of the great fixed lens rangefinders. Sit down with a nice drink and enjoy.
It's too heavy!
My first 35mm film camera was a properly banged-up Fujica ST605N, paired with a surprisingly sharp, macro-enabled Vivitar 28mm f/2.8 MC lens. The whole story set me back ten pounds sterling, but the pleasure it begot me was second only to the innumerable number of shutter actuations.
As an opponent of digital gear-junkies, I swore my first film camera purchase would be my last, but that changed when I moved to the unending metropolis that is Seoul, Korea. I soon realized that camera weight would become a physical hindrance I could not ignore. Enter the void that is: finding the world's most compact, shutter-priority, rangefinder… with a fast lens!
Is my lens sticking out too much?
The population density in megacities like Seoul and Tokyo simply defy belief. Ergonomically, this means you will bump your protruding lens into every metro door, groin and Ryan Kakao cellphone cover imaginable. Good luck hauling around a Nikon F4.
I oscillated from one extreme to the other. I needed to cut weight and find a camera with really tiny dimensions. The Nikon EM seemed to check the weight box, but it still had a prism. Even with a pancake lens, it was going to bump into too many objects for my liking.
I was starting to really like the idea of owning a Pentax System 10, but the smaller negative did not sit well with me, as it was one of the main reasons I ditched digital cropped sensors for casual shooting. I knew about the Olympus XA, but so many people seemed to have one, that I became an obnoxious snob.
After months of choking on my own ignorance, I finally made the move to get the XA and was completely blown away by its image quality, size and the unthinkable, 225 grams of weight. It's still the only camera I can comfortably slip into the front pocket of my denims and take to the beach without a worry. Thank you Maitani san!
It wasn't all sunshine and rainbows though. I remember once scanning a roll of very special New Year's Eve memories and being horrified as I realized each of the 36 exposures rendered streaky lights rather than people's faces. I loved running and gunning the XA during the day; but f/2.8, aperture priority and lack of manual override made it impossible at night. I needed something that was almost as compact, but faster.
Is f/1.8 fast enough?
Luckily, a few years and cameras later, I stumbled upon an excellent Yashica Electro 35CCN 35mm f/1.8, which as of 2018, still produces some of my favourite images. It adds an inherent warmth and creaminess to photographs, similar to how cinematographers choose Cooke lenses for their warm properties.
The Yashica was dirt cheap, the shutter was completely silent and the camera body looked amazing. The film advance lever and rangefinder patch were prone to mechanical issues, but I learned to live with it, because of the pictures. My first real gripe though, was the ASA being limited to 500. This meant I couldn't push ASA 400 film to 800 as I usually do.
Some labs really bitch about pushing film, as their 'machine dependent' workflows don't allow any sort of customized timings. In central Sydney for example, none of the 8 labs I visited offered pushing/ pulling. Now imagine trying to ask them to push it by one third of a stop!
Lucky for me, the lab I use back in Johannesburg had no issues pushing by odd timings like a third of a stop, because they develop by hand. Just be mindful of these things when deciding on a camera purchase.
A theme started creeping into my pictures. As much as I loved the Yashica, every time the sun dipped below the horizon, the aperture priority mode would default to crazy slow shutter speeds, between 4 and 8 seconds in dark scenes! The increase in lens speed, still wasn't nearly enough to convince the meter that acceptable-looking images could be produced at night. I never touched aperture priority again.
Now I was facing a dilemma. I didn't like SLRs, because I could never guarantee focus like a rangefinder. My mind ventured in the direction of a fully manual Yashica Lynx 14e with f/1.4 lens, however; only when holding one in your hands do you realize how massive that lens really is. That amount of light comes at a price: weight. Full circle.
It's too heavy! (but the pictures are pretty)
For a year or two I shot only the Olympus 35 SP. What a machine! It's very hard to take a bad picture with its coated G.Zuiko lens, program auto exposure and full manual override. Olympus went bonkers with this camera and even chucked in a spot meter. Take that Leica!
I seriously want to dedicate at least one sentence to how gorgeous the 42mm focal length is. There are many articles one can read online about it being a perfect 'normal' and a 50mm being too 'long', but honestly; just buy one right now from eBay. I cannot believe the prominence the 50mm focal length has in the marketplace, when a 42mm is aesthetically so much more pleasing.
I was sold on the 42mm, but the weight; as always, started working into my neck muscles on long days of shooting. The 35 RC did cross my mind, but it would mean f/2.8 territory again.
The all-rounder
Enter the 'Konica C35 FD' (Japan only model). The identical, western model is called 'Konica Auto S3', but I wasn't going to settle for something with the word 'Auto' printed distractingly large on the face of the camera. The far subtler typography and golden 'FD' of the Japanese model seemed more appealing to me.
I picked up a silver model on eBay for 200 USD. The black models are extremely rare and go for 300 USD. You can find them quite easily on auction sites.
After so many years of trying different cameras, I'm still not sure why this one escaped my radar. Being Japan's oldest camera manufacturer, I probably should've taken Konica more seriously. Let's skip the small-talk and go straight into the engine room.
The works:
Hexanon 38mm f/1.8 lens with 6 elements in 4 groups. Dynamic Color Coating.
Straight helical action focusing, 45 degrees. Close focus distance 0.9m.
Copal automatic shutter using shutter speed priority, with speeds between 1/8 sec. to 1/500 and Bulb. Full stop increments. X-synchro flash contact, built-in self-timer.
Automatic exposure adjustment, using a Cadmium Sulphide (CdS) operated Electronic Eye (EE) system. One 1.35V mercury battery cell needed.
EE coupling range is EV 4.7 (f/1.8 @ 1/8 ) to EV 17 (f/16 at 1/500 sec.), EV 1.7 with ASA 800.
Film speed scale ASA 25-800 (DIN 15-30).
Bright frame finder, 0.55x magnification, close-up compensation mark, aperture scale, exposure warning marks, synchro mark indicator.
Single eye, double-image rangefinder. Alignment type, colour compensation mirror, effective base length 14.2mm.
Auto Flashmatic System with guide numbers 22, 32, 45, 64, 90, 128 and 180 (ASA 100, in feet). Cordless flash contact and female PC sync port.
49mm screw-in type filter thread.
112 x 71 x 61 mm. 410g.
The Konica C35 FD is the most underrated 35mm film camera I've shot in years. The lens however, is not. There are countless online forums, where techies froth over the absurdly sharp lens (again; to search online in English you'll find it under the western moniker of 'Auto S3').
Many people refer to the 'Modern Photography' review which states "center values between 64 to 82 lines per millimeter of resolution providing Leica-class performance", but I have yet to find this elusive article.
Some less esoteric sources have placed it above the Leica Summicron-C 40mm f/2 for sharpness. Even wide open, the lens shows almost no vignetting, chromatic aberration or perceptible falloff of sharpness. To avoid sounding like hyperbole wrapped in clickbait, I'm going to let a few images do the talking. They illustrate real-world sharpness, rather than resolving power from test charts (the images are compressed for web-reading purposes):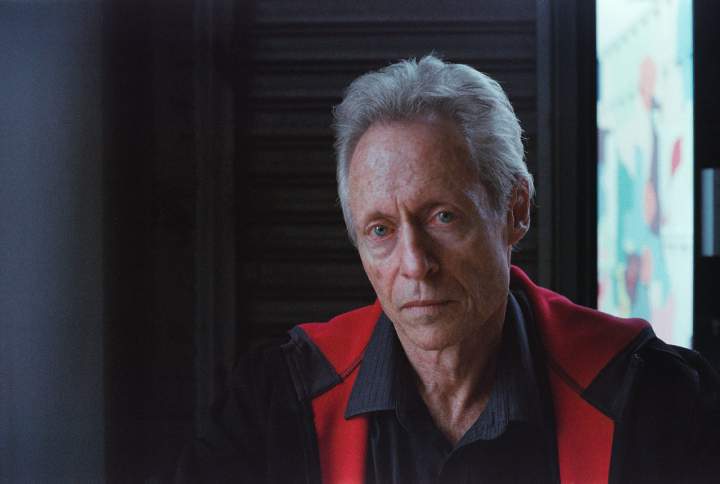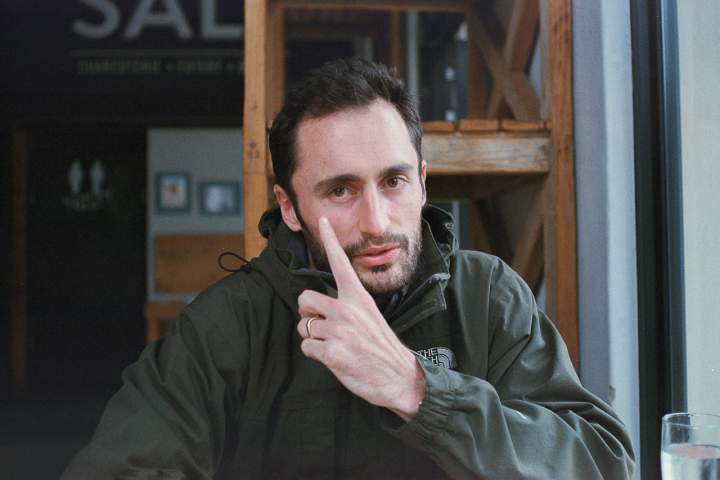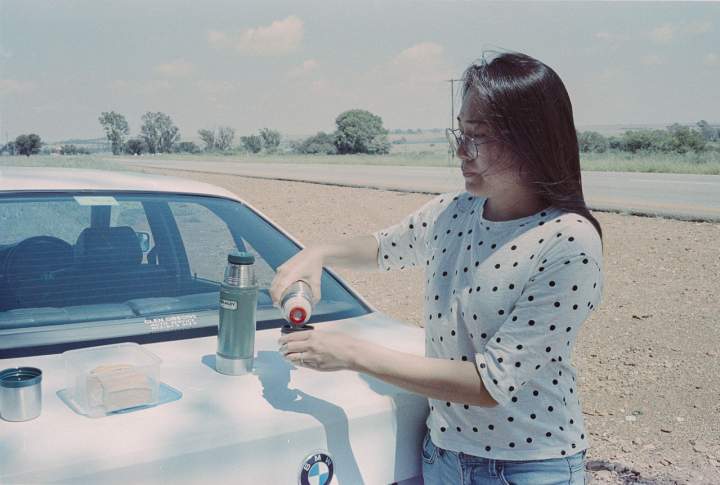 So why, you may ask, did I claim it's underrated, if the lens is so highly rated? It's because of the the guts of the camera. It shares roughly the same Cosina frame that was used for the Minolta Hi-Matic 7sII, Vivitar 35 ES and Revue 400SE.
There are wildly varying claims about the weight of each. I have downloaded the manuals of each. The closest competitor is the Hi-matic weighing in at 460g. The Konica weighs only 410g. In the compact rangefinder segment, 50g makes a lot of difference.
There are a few other cameras that share this frame, like the Prinz 35 ER. It's also the only one with a lens as wide as the Konica. One reviewer claimed it weighs 370g, but I couldn't verify this from the actual owner's manual I have. Even if it were true, it has a slower f/2.7 lens.
The Konica is the lightest, shortest, narrowest, ASA 800, shutter-priority rangefinder in existence, with arguably the sharpest lens in its class. Surely then the only the closest competitor is the Hi-matic with its f/1.7 six element lens?
The Hi-matic sports the same exposure lock feature as the Konica. It even has a similar fill flash system to boot; but that's where you're wrong. The Konica has the best fill-flash system ever created for a compact rangefinder. It's simply in a league of its own. Let me make a heading for it:
The Flashmatic System
The Synchro/Flash system of the Konica C35 FD balances fill flash with ambient light painlessly. In some ways, it can be called a predecessor to modern systems 40 years its senior, like Canon's easy to use E-TTL. Remember, this camera is 45 years old! Don't expect flash exposure compensation. It wants to give you 18% grey exposure all the time.
Pop on any electronic flash – preferably a Konica X14/ X20 for their cuteness – into the hotshoe and stand in awe as the camera automatically adjusts the aperture based on the meter reading and then simultaneously re-adjusts it based on the distance focused.
A third, overriding factor is the ability to slide the camera's guide number lever (crudely put, the maximum flash distance) to match the flash's. This helps the Flashmatic System know how by how much to reduce or increase the aperture. This can of course, also be swopped, to be the first step in the process.
It gets even better still. Fully manual operation is a feature only thought to exist with larger rangefinders such as the Olympus 35 SP, but the Konica has a hidden feature, not listed in the manual.
Sliding a flash (or coldshoe tripod mount, or a folded piece of cardboard) into the hotshoe provides metered manual control. A green synchro flash indicator bar pops up in the viewfinder. After shutter speed selection and focusing; turning the guide number lever now means the green synchro flash indicator is actually your selected manual aperture.
The main, black needle still shows meter-suggested aperture, so you can ignore that for long exposures and bulb. It's still useful for daylight shooting, displaying suggested aperture so you can bracket or compensate exposures to your liking. I usually turn the flash off for this hack so I can take long night-time exposures. By the way, the flash sync couples at all speeds, 1/8 to 1/500 and bulb.
Now let's look at some basic handling and ergonomics. Loading and unloading film is a breeze. I did have one roll that didn't transport properly, despite the sprockets lining up with the perforations in the film. I was being lazy though.
The camera wants the film to be very tight. This can be accomplished by turning the rewind crank a few times when the back cover is closed. The film advance lever is silky smooth and despite needing about a 160 degree turn, it feels like an effortless half turn as your thumb's position is so close to your palm. The frame counter is very legible and goes to 36.
The finder is the brightest I've ever shot and the rangefinder patch is super contrasty and large enough to read objects in very dim light. The finder window on the face's side, does feel like it can possibly come loose with too much finger pressure, but mine is fine for now.
Focusing the helicoid is really smooth and fast. The rangefinder is nicely calibrated. I've never once had a shot out of focus other than selfies of me and my wife, which at 0.9m close focus distance isn't quite close enough. It needs to be between 0.8m and 0.85m to be able to do that.
The shutter release sound is modest, but not nearly as quiet as the totally silent Yashica Electro 35 CCN. Shutter speeds are consistent with their markings, throughout the range, when viewed side by side with my serviced Nikon F4.
Bulb mode has a switch that must be pressed while turning the shutter speed ring. Speaking of bulb mode; long, night-time exposures work like a charm with any threaded shutter release cable. Oh, and handheld night-time shots are good up to 1/8 sec. but razor at 1/30 sec.
The lens's legendary merits are mentioned above and illustrated with pictures, but a few additional things are worth mentioning. In bright light, the contrast is good, but not nearly as good as the mythical Nikon 28mm f/2.8 AI-S, which is very punchy (read better).
Colour rendition is too cool for my liking. You need to shoot warm stocks to get it to look neutral. I recommend Portra 400 for negs or Provia 100F (interchangeable with Agfa Precisa CT 100) for slides. There is to my perception, no visible vignetting as can be seen below: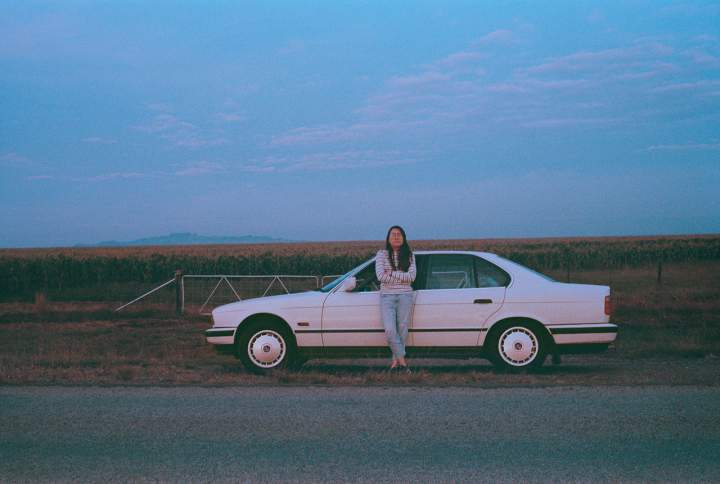 Usually photos like the one above – with large areas of constant colour – show very heavy vignetting. I really abhor vignetting and chromatic aberration. The former is surprisingly intrusive in a few luxury compact film cameras like the Minolta TC-1, Contax T3 and even the Ricoh GR1v.
The lens has only a slither of barrel distortion in the extremities of the frame, as can be seen below. It is only visible on the bottom row of bricks.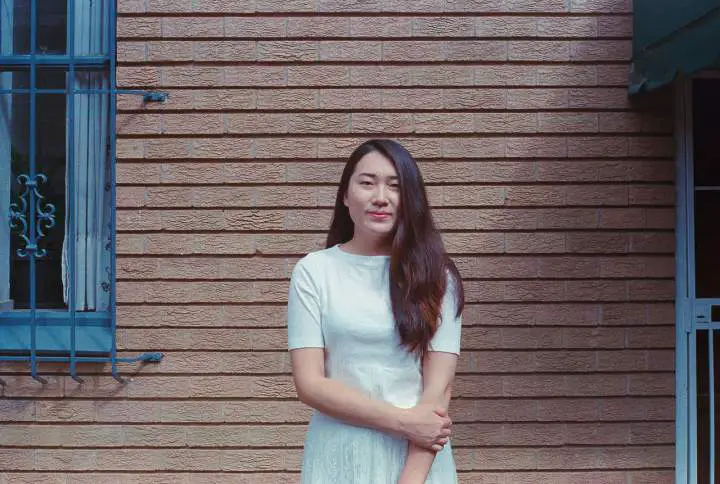 Ergonomically the camera feels amazing in hand. The single-mold aluminium chassis feels like the glassy trackpad of a Macbook Pro. The leatherette is especially tactile and grippy to the touch. I can't imagine someone dropping it easily.
It's also hard to feel wrist fatigue with a camera this small and light, even when shooting one handed and showing friends how to pose with the other hand.
The focusing helicoid can be operated with one finger. The guide number lever is intentionally steppy. The shutter speed ring less so, with a nice ease-in-easy-out action between stops.
The back-case locking mechanism is very secure and requires some exertion to close. This will never fall open, mid-shooting.
The film rewind button is the long, click-in type. The tripod socket is of the ¼ inch variety and the battery chamber screw is plastic. I would've liked an aluminium one, but it's minor. The self-timer lever works flawlessly and is set for 10 second timings.
Just a note on lens hoods. Forget it. These aren't really compact rangefinders so much as micro-rangefinders ala Olympus XA. A circular lens hood with a thin profile can possibly work, but will intrude the viewfinder. The badass-looking rectangular ones (even the ones with holed-out corners, see my 1st image) will block up to 30% of your view as the rangefinder and viewfinder are very close to each other.
The Electronic Eye metering system is located on the lens barrel, so it functions similarly to TTL metering. It means filter use is compensated for automatically. Over- and underexposure indicators are located top right and bottom right in the viewfinder respectively.
I can't live without exposure locking, which is activated by half-pressing the shutter release. The meter is amazing in bright scenes and very dark scenes, but classic mixed scenes – like people inside a church with large windows – underexposes by slightly more than two stops. Again, the exposure lock can negate this problem if used properly.
Mechanically the camera can function without batteries, but the aperture and shutter speed will be locked at f/1.8 and 1/30 sec. respectively. I use regular 1.45V hearing-aid batteries in mine. They've lasted over a year now, as they're only used to power the meter and hotshoe coupling, but I can't help but wonder if the above-mentioned mixed scene metering would improve if I had the recommended 1.35V zinc-air battery (or possibly the mercury we all know is best?).
Conclusion
In closing I'd like to mention the focal length of 38mm. I am well aware that the obsessively sought-after Contax T2 also sports a 38mm, but I just don't like it at all. It's an 'inbetweener' focal length. Think of how a 50mm composition can so easily feel awkward, because it should be a 42mm (god bless you Maitani san). I feel that the very natural POV-look of a 35mm lens is missing from the Konica's 38mm.
I personally find it a pain to frame anything, especially portraits. Maybe if it's this hard I'm learning something useful, but still, I'm edgy about it. I've actually put gaffer tape on the finder so it forces me to frame like a 35mm lens. The camera seems tough too. I went hiking with it for 3 days in the Drakensberg recently, in constant rain and high humidity. The lens fogged, but only enough to still make the picture below.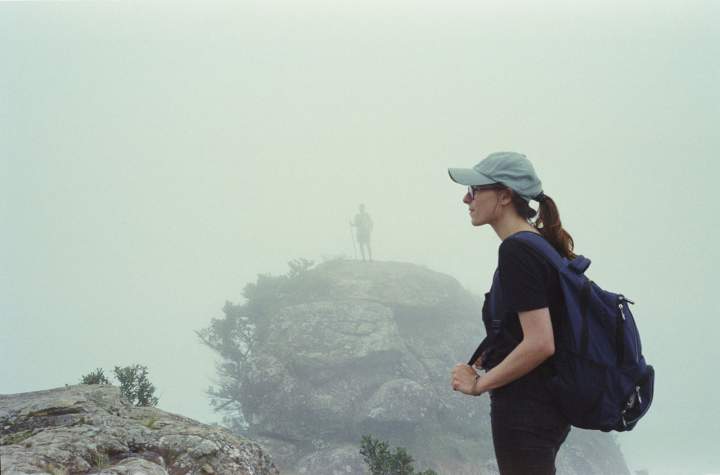 I put it in an air-tight Tupperware container with rice for 3 days and the viewfinder's never been clearer. Apart from the focal length, the Konica C35 FD is the most versatile fixed-lens rangefinder I've owned. It won't replace my Nikon F4 with AI-S lenses for night-time cityscapes, nor my XA for the beach or my Olympus 35 SP for suave, train-riding luxury, but for everything else in-between, it's a little champ.
*All images are taken by me and I am the sole copyright owner.
You can see some of my work here:
You can find high-resolution, unretouched samples of the images in this article here:
Thanks for the great review, Johan.
Comments and thoughts are of course welcome. Offensive comments will be moderated.
JCH