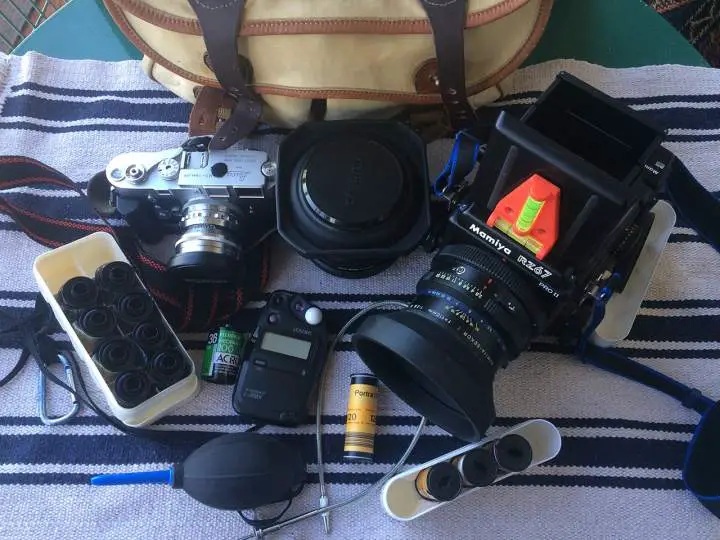 In your bag No: 1490 – Mark Foreman
Mark is a first timer to the site and has a lovely setup for us. A Japanese and a German camera shot by a Kiwi. Check it out.
Hello JCH Readers! My name is Mark… and I'm a film photographer. I'm from New Zealand but now live in London with my wife and four children. Actually, two of my children are cameras…so two human children and two adopted camera-children, one from Germany, and one from Japan. Right…on with the story.
 My first camera many years ago was a Nikon Fe2 which was stolen off the back seat of my Ford Escort, Doris. I still miss Doris, and the metering needle in the Fe2 as it was so intuitive to work with. I then had a tryst with a lovely Pentax LX which made a wonderful travel companion, especially with the SMC 40mm pancake. I eventually sold that camera to a shop in Shibuya just as digital began to hit its stride (it has a heart-shaped ding near the frame counter Bellamy, if you ever come across it!). 
I returned to photography last year after a long hiatus, and to my immense delight, digital seems to have pushed film into a nostalgic niche, albeit resurgent (I haven't tried it yet, but JCH, you launched your own film!!). I say delight because while so many are distracted by the latest megapixel sales pitch, I've been able to get my hands on two particular cameras that I had previously only ever coveted in dreams or 'shop tested' (i.e. a roll of film snapped out of the shop window while the sales chap sizes me up in case he needs to run me down).
I know that I am not alone in my belief that the picture-taking and viewing experience ranks right up there with the image itself. Whilst the Fuji X100F tickles my fancy a little, as you can see in the picture, I'm not comfortable with planned obsolescence when it comes to cameras. My picture-making instruments hail from the 'Boris the Bullet-Dodger' school of photography – "Heavy is good, heavy is reliable, if it doesn't work, you can always hit him with it". I don't use a flash, and only occasionally use a meter for incident readings. I do use autofocus though; my fingers automatically focus the lens manually when I need something in the frame to be in focus (#dadjoke). As you can see, the KISCG principle is strongly in use here: Keep It Simple Camera Guy.
The Leica M3 is my run about camera. This marvel of German brass and other bits is over half a century old and not merely still going, but still more than enough camera for me. Its comparative quality and simplicity excites me more now that at the beginning of my photography. As many owners have noted in one way or another, using it is like swimming in melted butter, then sliding down a marshmallow into a pool of warm ice-cream. Voigtlander instead of Leica glass I hear you ask? As a fifty mill guy, I went for the Nokton 50mm f1.5 ASPH which I find to be a great performer, mostly because I have children, other hobbies, and a used Summilux costs more than a used Ducati. You may have read about how this sort of camera just 'gets out of your way'. Thankfully, this is true. I love this camera because there isn't much to 'do' or fiddle with on it and I'm in my own way so much when shooting that to include the camera in that equation would be like two people trying to drive the same car at the same time. If I wanted to fight with a camera it would be a Sony anyway, wraps only, no biting. Finally, while some consider a grip on an M3 heretical, I admit I am a little clumsy and would prefer not to drop it.
Then there's the RZ67 Pro II. Although 'out of the way' photographically, the conspicuousness of this beast means that it is completely in the way all the time physically. When the human kids see me begin my short yoga warm-up routine, they know its Mamiya time. And when its Mamiya time its game time! Sekor Z glass (50mm and 110mm) is exceptional, and for what you tend to pay for it used and in good shape, means it must be the biggest bargain in photography. This camera brings out a more serious side in me that can only be described as 'Gurskyesque'. Shame my results fall so far short of his. I'd recommend this camera to anyone at all. It looks intimidating at first, and you'll need to be able to bench press a medium sized watermelon, but It is such as great camera that it would be worth training for.
I'm not too fussy with film choice and will shoot just about anything. Thankfully, there is still a lot of choice out there for film people, however, there is one that I would love to have resurrected…AFGA Scala 200 (who's with me??). I mostly shoot black and white in both cameras and develop at home, although Portra 120 came recommended so I might mix things up a bit. I also occasionally shoot and develop E6, but this is more time consuming so is reserved for special occasions. I like to print stuff out from 120 and also mount and project 35mm slides. The bag is a battered old Billingham.
For a mixture of old and some new work:
Instagram: @whitecloudceramics
Flickr: @HD4MAN
Thanks Bellamy
Thanks for sharing your bag with us, Mark. I shall lookout for that camera, you never know.
Keep them coming folks, we need more submissions, so get your bag on Japancamerahunter.com
Send me a high resolution image of the bag. Optimum size is 1500px across. Please ensure there is a bag in the shot, unless you don't use one. The more you can write about yourself the better, make it appealing and tell us a story. Snapshots of your gear with a camera phone and no words will not be featured.
Oh and don't forget your contact details (twitter, flickr, tumbler et al). Send the bag shots here. Please understand that there is a long wait now as there is a backlog of submissions. Not all make the cut, so make sure yours is funny/interesting/quirky. And please make sure the shot is of good quality, as the ones that are not do not go up.
Cheers
Japancamerahunter