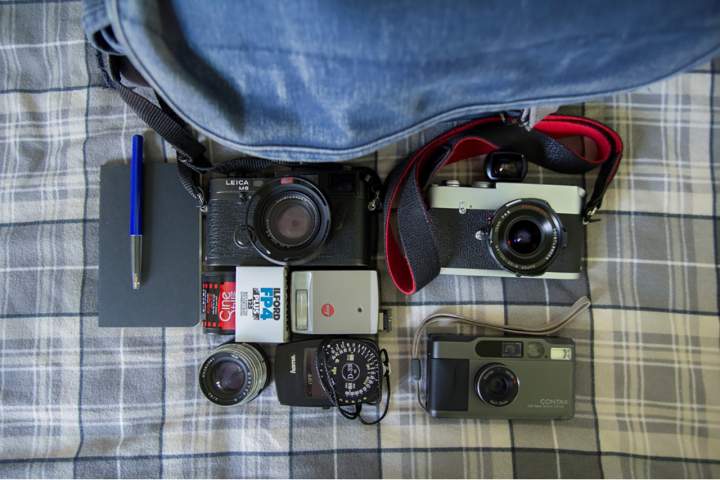 In your bag No: 1439, Maarten Evers
Maarten shares with us his straightforward and purposeful bag today. He knows what he wants from his cameras and shares his personal views on them with us. Check it out.
I am Maarten Evers, 23 years old and I am a photographer, based in the southern part of The Netherlands. I shoot documentaries mainly, but I shoot a lot on the street as well.
When I was a little boy, I got a little red point and shoot camera. This little camera, which had lightleaks all over the place, sparked my love for film photography. When I studied photography, we were told to use digital, but it felt robotic to me, press a button and there is a picture. It felt too easy. 4 years ago, a friend of mine gave me a Petri 7s he had laying around. This camera was the spark that set my love for film on fire again (and for rangefinders). Sadly I lost the lens cap, which meant the selenium lightmeter was exposed to light constantly, so the lightmeter went flat soon after. Several cameras later, I ended up with this pack of cameras to use on the street.
I just got back from New York, where I shot with these cameras:
Leica M6.
My workhorse, I love to work with it, it feels nice in the hand, and working with it is a treat. I was lucky, and could buy it for not too much money. I bought it knowing the camera hadn't been used for over 10 years, but it worked flawlessly. A few months ago I had it sent away for a CLA, just for a peace of mind it wont break down suddenly. Now it works buttery smooth, just a great camera to work with.
The lens I use on it, is the Voigtlander 35mm f1.4. Some people find it an atrocious lens, but I quite like it. And its always nice to be able to use your camera in low light situations. Nice combo if you ask me.
The little golden Leica flash is the Leica CF, which originally belongs to the Leica Minilux. I bought it on a photofair for a good price to use on the M6, when I occasionally want to take portraits, or different situations where the flash might be needed.
The silver lens you see beneath it is a Jupiter-8, a Russian copy of a prewar Sonnar design. Works quite nice, but it has some quirks, like an aperture ring which doesnt have any resistance, but the images it takes are gorgeous.
Leica MDa.
A few months ago, I had the idea of buying a wider lens than 35mm, to use for landscapes and wider cityscapes. The Leica options were too expensive for me, so I looked at Voigtlander again. Then I saw they had a 15mm lens, which needed an external viewfinder to work.
While I was wondering if that wouldn't slow down my pace, with changing lenses and such, a friend of mine said Leica made some cameras without rangefinders. They were mainly used in laboratories in combination with microscopes. So I did a quick search, and found out about the MD series Leica produced. I decided to buy such camera, and its a really nice combination to work with on the street.
I need to have a hand held lightmeter with me, so I can read the light quickly, but it works great, and actually doesn't slow me down too much. I start to see the appeal of the M2, M3 and M4 ;)
Attached to the Mda is a nice Artisan&Art strap, its a bit of an eyecatcher, but it looks great, and if it draws the attention too much, I can turn it around to its black side.
Contax T2.
I wanted to try a camera which had autofocus, and had a nice lens on it. I've had a Ricoh GR1 for a little while, but it had an issue with the motor winding the film, it was very loud and not suited for streetphotography. So I sold the Ricoh and got a Contax T2. Only ran a few films through it, but it works like a treat! Autofocus is reasonably fast and the manual zonefocus works quite nice too.
Only a tiny issue is, the way the camera indicates whether the picture is in focus when you focus manually, is by showing a little red arrow pointing to the left or to the right. Which is exactly the same way the M6 measures its light. So my first instinct is to change the aperture on the lens, which doesn't help at all… Still a great camera, and I look forward to using it in the future. I have gotten the first results back a few days, its very sharp and the autofocus seems to be spot on.
Very happy with it!
Film:
Most of the time I shoot with colour film, I have the know-how to develop and print black and white, but sadly I am not able to develop my black-white film at home. So mostly I shoot colour, preferably Kodak Ektar and Portra 160 or 400. For black and white, I adore XP2, Delta 400 and FP4+, all made by Ilford.
Miscellaneous:
I also carry with me a Moleskine booklet and a pen, to write down new ideas and write my thoughts down. Apart from that I carry some paper napkins,
Bag:
The bag is a Domke F2, I bought mine for cheap on Marktplaats, the Dutch Ebay. It had seen quite some use, the straps were done, but it still worked. A friend of mine could replace the straps and handle with a nice new strap for cheap, so I got a great bag which holds everything I want and some more. If you can pick one up, I really would do it.
My Instagram: @maartensview
My website: www.maartensbeeld.nl
Thanks for sharing your bag with us, Maarten. A lovely setup there.
Check out the links and please come and comment.
Keep them coming folks, we need more submissions, so get your bag on Japancamerahunter.com
Send me a high resolution image of the bag. Optimum size is 1500px across. Please ensure there is a bag in the shot, unless you don't use one. The more you can write about yourself the better, make it appealing and tell us a story. Snapshots of your gear with a camera phone and no words will not be featured.
Oh and don't forget your contact details (twitter, flickr, tumbler et al). Send the bag shots here. Please understand that there is a long wait now as there is a backlog of submissions. Not all make the cut, so make sure yours is funny/interesting/quirky. And please make sure the shot is of good quality, as the ones that are not do not go up.
Cheers
Japancamerahunter