In your bag No: 1436, Federico Grechi
Frederico is a pharmacist, and he has exactly the medicine we need. Ooof, I think I might need to see a doctor, that pun was the worst. Check out Frederico's awseome bag.
My name is Federico Grechi, I am an Italian pharmacist from Milan living and shooting in Dublin, Ireland.
I have been into street photography since I got my hands on my dad's Topcon RE Super with its 58mm 1.4: a superb lens, very sharp and fast. 
In the past couple of years I extended my camera collection, starting from a Rollei 35 LED, guilty of getting me hooked on rangefiders.
My go-to camera is a Leica M8 coupled with a gorgeous Leitz Summicron C 1:2/40mm, extremely compact and razor sharp, but I am recently enjoying shooting the streets with a Leica IIIF from 1953, and a Leitz Elmar 50mm 1:3.5. The camera is a little fiddly, but once you get a grip on it is a real pleasure to shoot: extremely light and solid.
When I am out shooting I keep my cameras in a leather messenger bag by The Bridge.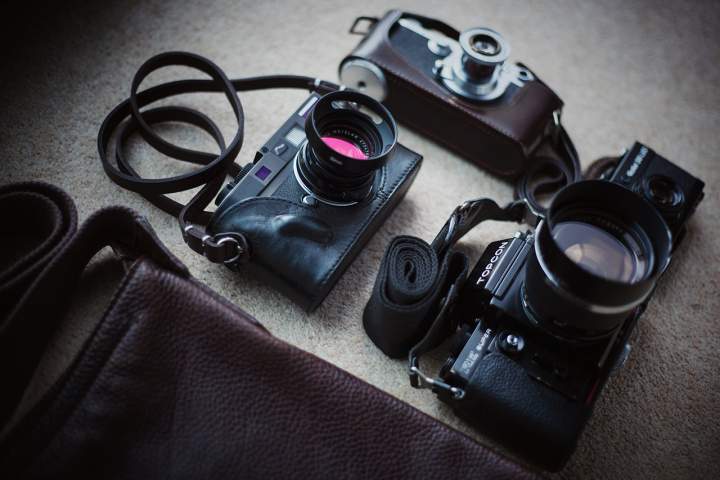 You can find my internet portfolio on Flickr, here:
https://www.flickr.com/crankinguru
Thanks for your time!
Keep up the good work Bellamy, really enjoy your videos and blog!!
Thanks for sharing your bag with us, Frederico. Lovely kit you have there.
Check out the links and please come and comment.
Keep them coming folks, we need more submissions, so get your bag on Japancamerahunter.com
Send me a high resolution image of the bag. Optimum size is 1500px across. Please ensure there is a bag in the shot, unless you don't use one. The more you can write about yourself the better, make it appealing and tell us a story. Snapshots of your gear with a camera phone and no words will not be featured.
Oh and don't forget your contact details (twitter, flickr, tumbler et al). Send the bag shots here. Please understand that there is a long wait now as there is a backlog of submissions. Not all make the cut, so make sure yours is funny/interesting/quirky. And please make sure the shot is of good quality, as the ones that are not do not go up.
Cheers
Japancamerahunter