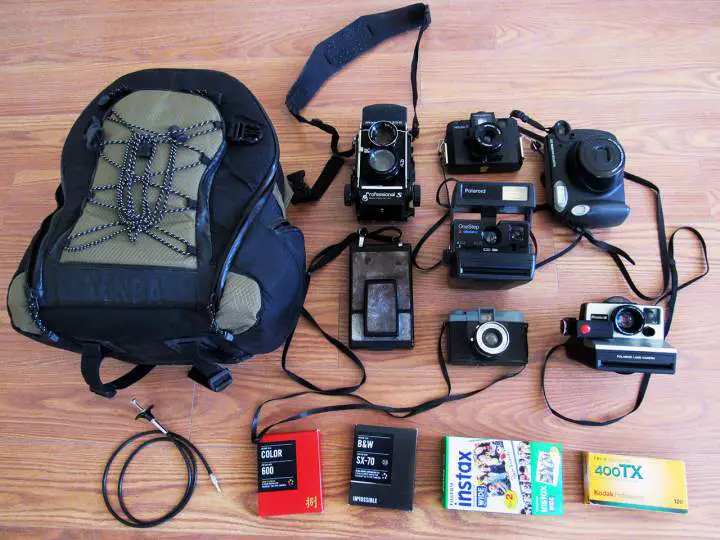 In your bag No: 1416, Diana Pinto
Today we have a bag from Los Angeles. Diana shares her instant packed bag, including the roughest looking SX-70 I have ever seen. Come and check it out.
My name is Diana Pinto and I am an Italian American photographer living in Los Angeles. I first got into photography when I was 11 and took a film photography/darkroom course during a summer camp, but it wasn't until I was about 14 that my work shifted to self portraiture. 10 years strong and it's still my primary love, though I also enjoy shooting portraits as well and what I affectionately call "non fiction" photography. The only thing that has changed over time is the gear.
Up until about a year and a half ago my work was almost entirely digital, though I was never afraid of film before that and shot it mostly for vacations and everyday life. 2014 was a terrifically disappointing year and come 2015 I felt the subconscious tug for a start page in my life, one of those being a change in my mediums. I've been happily shooting film ever since, and though it's given my work a different feel I'm very happy with where this new chapter in my artistic life is taking me. I do not do photography professionally. In fact, I major in Music Education with a minor in American Studies with the intent to teach and perform as a singer some day.
This bag does not by far represent the entirety of my collection as I've been accumulating cameras for the past 8 years, but it's unique in that these are the only cameras I have brought with me this summer to Montana, where I work for a few months during the summers. My rule was I could only bring what could fit in this bag (although I cheated and brought one or two outside of it). I chose based on projects I see myself working on.
First off, the bag. It's a Tenba I got ages ago and I'd be lying if I said I use it all the time. Well, I always use it for storage and transport, but it 85% of the time I don't take it with me when I'm shooting.
Moving clockwise from the upper left, I have my Mamiya C330 Professional S. This was my first "serious" medium format camera and I love it very much. It's sturdy, fairly dependable, and makes for a few positive, inquisitive looks and questions if I take it out on the town. It's currently fitted with a 90mm lens but soon I hope to acquire the 105mm DS Mamiya Sekor for it (self timer capability – important for a self portraitist!). These days it's actually used more for a project I'm working on called "Beautiful and Lost," where I interview and shoot fellow Italian Americans for my own personal ethnographic emotional needs. I intend to hunt down the few IAs in these parts…
Next is my Holga 120CFN. I got this a few years ago but honestly did not start working with it sincerely until a few months ago. What can I say, until I can afford a Pentax 67 bundle medium formats under $50 are the way to go for me. I mostly plan to shoot landscapes with it while I'm here, but I'm planning on getting some wicked, futuristic modifications done to it in the near future to facilitate its use for my self portraits.
Following is my Instax Wide 210. You see here that half of my tow is instant film cameras, which are very crucial to my work since I made the film switch last year. For some reason instant film speaks my language and is the most satisfying for me to work with for reasons too flowery to begin verbalizing. I bought this one several years ago, though, and have made many pictures that I love with it. Soon I plan to upgrade to the Lomo'Instant Wide because, you know….self portraits. And manual functions. But it's with me here in Montana to document the little town I'm staying in.
Underneath that is a Polaroid Pronto! B. If I'm shooting self portraits in Polaroid format, this is the camera I'm doing it with, as evidenced by the self timer attachment. Even if it was almost the only option available for Polaroid self portraits, I'm pretty happy with how the images come out. It's currently being used to shoot my 52 week self portrait project, though I have other plans for it once I finish the current pack…
To the left is my Traceflex. Obviously it's a Diana (ha!) clone, but as every Diana and every clone of the Diana it has its own unique characteristics. I do enjoy toy cameras as well for this reason, though these quirks, in my opinion, shine through best on black and white film. I acquired it unopened since its manufacture in the 1960s a few months ago, and aside from a funky shutter here and there I'm very pleased with it. I have a self portrait project planned soon with this one that calls for a very unique setup to trigger the shutter so fingers crossed that it actually works.
To its left is my beloved SX-70 Alpha 1 Model 2, clearly in desperate need of reskinning. The day I read in 2008 that Polaroid was shutting down production of its film I hopped on my scooter (I was 16, in my defense) to the nearby Walmart to put my money on a Visa gift card so I could buy an SX-70. I intended to hoard Polaroid film and shoot it merrily, but my diabolical plans never bore fruit and to my embarrassment I never used this camera until last year. Yes, that was 7 years of me not using this wondrous device. All I can do is apologize. Anyway, when I shoot portraits on Polaroid I generally do it with this.
Lastly, to immediate upper right is a Polaroid OneStep Close Up. I inherited this from my stepfather Tim who inherited it from his Aunt May, but only popped some film in for the first time a few weeks ago. This camera is either wack or the Lucky 8 film I'm putting into is because the photos are extremely unpredictable. No matter, I like that. I'm now using it it my advantage shooting a little series on summer storms in Montana.
Thank you if you stuck it out to the end. I could write essays on my favorite gear all day, but I will spare you further.
My website is www.dianapintophoto.com if you want to see what I do (more projects will be added soon). I also have an Instagram (@dvep) where I've documented all the cameras in my collection with the hashtag #dvepcamfam
Thank you for your time,
Diana Pinto
Thanks for sharing your bag with us, Diana. I hope you manage to get the SX-70 re-skinned, it is a cracking camera.
Check out the links and please come and comment.
Keep them coming folks, we need more submissions, so get your bag on Japancamerahunter.com
Send me a high resolution image of the bag. Optimum size is 1500px across. Please ensure there is a bag in the shot, unless you don't use one. The more you can write about yourself the better, make it appealing and tell us a story. Snapshots of your gear with a camera phone and no words will not be featured.
Oh and don't forget your contact details (twitter, flickr, tumbler et al). Send the bag shots here. Please understand that there is a long wait now as there is a backlog of submissions. Not all make the cut, so make sure yours is funny/interesting/quirky. And please make sure the shot is of good quality, as the ones that are not do not go up.
Cheers
Japancamerahunter