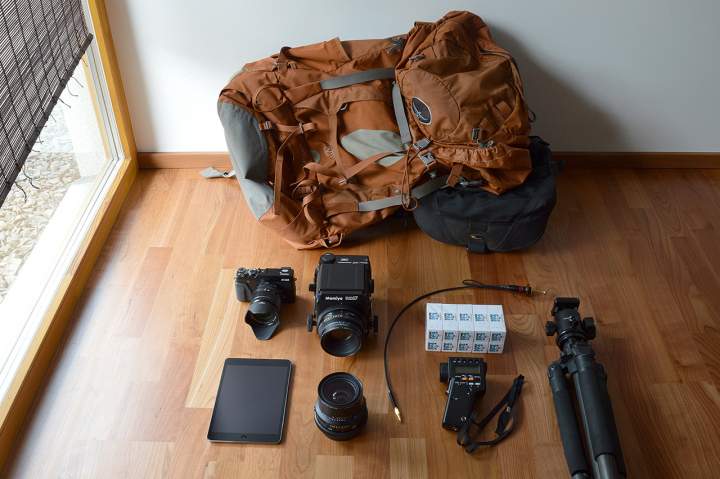 In your bag No: 1411, Greg Large
We have a proper travel bag for you all today. Greg has put this bag together for a 3 month journey to Japan, and he is packing a monster of a camera for the journey. Check it out.
I am a Hungarian born nature and landscape photographer. I am 27 and have been in the "business" for more than 12 years. My photography has been through some big changes in the recent years, with one of the biggest being a return to film photography. I have written a post about this on my blog: www.greglargephotography.com/blog/personal-evolution-in-photography
These days, my portfolio only consists of black and white digital and analog pictures.
Since I finished high school, my life has revolved around photography and finding freedom. I have traveled in many countries, mostly by hitchhiking. It has become a saying for me that, I am either travelling, or saving money for travelling. I've had many different jobs in the past, from being a tour guide, to a kitchen hand.
I love making connections with people and I love to find amazing landscapes and places. However, I am not good at photographing people, and never have been. My main profile has always been centered around nature.
On my first six months of traveling (from Hungary to Australia), I was geared up with Nikon cameras and lenses. My bag was more than 30 kilograms. It was unbearable, especially when it came to hitchhiking. I promised myself: never again! Right after I returned home, I sold all my gear and I changed to a Fuji system. However, I wasn't totally satisfied. It was then that I decided to buy a medium format camera. I knew that the 35mm's quality wouldn't be enough for me, but I also knew I couldn't handle a 4×5 camera, only because the style of my traveling. 
Initially, I had a Fuji GW690III, but for my photography a range finder system was unusable. There were too many possibilities for error with framing because of parallax and uncheckable depth of field.
Now I have a Mamiya RZ that I am more than satisfied with.
The Mamiya RZ is for my personal work, like the "See the forest" (www.greglargephotography.com/see-the-forest/).  With only two lenses. The 65mm when I need a little more of a wider angle, and the 110mm for tree portraits. I always use a tripod – mirror lockup – cable release combination for landscapes. My favorite film is Ilford fp4.
I use the Fuji X-E2 with the 18-55 for my "Sky and Land" (www.greglargephotography.com/sky-and-land/) project that consist of random nature pictures; most of the time handheld. Moreover, I use my iPad Mini to post pictures onto different social media sites.
I realized soon enough that none of the camera bag manufacturers are capable of satisfying the needs of a nomadic traveller with camera gear. I always bring my tent, mattresses, and sleeping bags with me, so I needed enough space for everything. I could only manage it with a proper hiking bag. 65-75l is usually enough, and I put my Lowepro Stealth Reporter in it. Like this, I can remove my gear any time I have to shove my big bag into a belly of a bus or airplane.
Lowepro Stealth Reporter D300 AW
Osprey Aether 85
Mamiya RZ67 Pro
Mamiya 110mm f/2.8
Mamiya 65mm f/4
Minolta Spotmeter F
Fuji X-E2 with 18-55mm f/2.8-4  
Cable release(s)
Induro CT213 Carbon Fiber tripod with Induro BHD1 ballhead
Ilford FP4
Spare batteries
Ipad Mini
If anyone needs any advice of long term traveling and photography, together feel free to write:) I am more than happy to help.
www.greglargephotography.com/blog/
www.facebook.com/greglargephoto
www.instagram.com/greglargephoto
Thanks for sharing your bag with us, Greg. Those spot meters are so hot right now.
Check out the links and please come and comment.
Keep them coming folks, we need more submissions, so get your bag on Japancamerahunter.com
Send me a high resolution image of the bag. Optimum size is 1500px across. Please ensure there is a bag in the shot, unless you don't use one. The more you can write about yourself the better, make it appealing and tell us a story. Snapshots of your gear with a camera phone and no words will not be featured.
Oh and don't forget your contact details (twitter, flickr, tumbler et al). Send the bag shots here. Please understand that there is a long wait now as there is a backlog of submissions. Not all make the cut, so make sure yours is funny/interesting/quirky. And please make sure the shot is of good quality, as the ones that are not do not go up.
Cheers
Japancamerahunter